The UK's Royal Wedding has almost reached its one month anniversary. Now, the basketball world is set to have a Royal Wedding of its own. Jasmine Jordan, daughter of Michael, and former SU star Rakeem Christmas got engaged over the weekend.
Happily Engaged | 💚@R_Xmas25 pic.twitter.com/sfmN3H81Yo

— Jasmine M. Jordan (@MickiJae) June 10, 2018
The engagement brings up some interesting potential for Syracuse. Could the school take the step up from Nike to its daughter company Jordan?
A lot of history suggests this partnership is a long time coming.
For starters, we've seen Jordan expand its brand towards colleges a lot in recent years. Michigan started the domino effect in 2016 when it left Adidas for Jumpman. Since then, Oklahoma and Florida have both upgraded from the standard Nike sportswear to Jordan Brand. All three schools are using Jordan for both its basketball and football apparel.
By my count, there are currently nine schools sporting Jordan on the court. While that number seems small (which it is), the running number of schools wearing Jordan has spiked 50 percent over the past two years.
Along with the expansion, SU has major ties to Jordan. Yes, Christmas is engaged to the daughter of the man himself, but Jasmine is also an SU alum. She majored in sports management at the David B. Falk College of Sport and Human Dynamics, which is named after her dad's agent David Falk. Falk is a 1972 grad of SU and currently serves on the university's board of trustees.
One of Jordan's most notable figures is Carmelo Anthony. Although it's been reported that the brand is discontinuing its "Melo" shoe line, Anthony still figures to be a major part of the Jordan label. In fact, Melo just got a Jordan Retro 9 colorway in his honor. The shoe actually signifies Anthony winning the 2003 National Championship by sporting Carmelo's number 15 on the heels and having splashes of gold and brown, which are the colors of the trophy.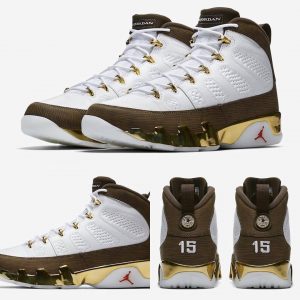 There's a hefty correlation between having an alum signed with Jordan and a school sponsorship. Of course North Carolina was the first in line, but here's a list of some of the ties between programs and the brand:
UNC – His Airness
Florida – Steelers cornerback Joe Haden
Marquette – Timberwolves guard Jimmy Butler and Heat guard Dwyane Wade, who was originally a Jordan athlete prior to deals with Converse and Li-Ning
Michigan – Former Yankees shortstop Derek Jeter, who was originally committed to the school
Oklahoma – Pistons forward Blake Griffin
Since SU is a Nike sponsored school and the Swoosh is the parent company of the Jumpman, players are allowed to wear Jordans in games. In past years, we've rarely seen SU players in Melo's signature shoe, but some have occasionally rocked J's on the court. Jason Hart may have started the trend with Concord 11's back in the day. Carmelo wore some custom 9's throughout his magical freshman season. Kris Joseph also rocked the 9's at times throughout his career. And Dion Waiters added a variety of Retros to Jim Boeheim Court. Aside from in-game attire, I've seen plenty of players wear Jordans in the locker room or out and about.
We even saw former SU commit Darius Bazley boast some Syracuse custom 10's on his Twitter account.
Picked up my shoes today🍊🍊🍊 pic.twitter.com/PiYTi6mN6j

— Darius Bazley (@BazleyDarius) October 21, 2017
Too soon still? Sorry.
MJ isn't going to give his label out to just anyone. But Syracuse certainly makes sense given its ties. It also makes sense for SU to seek out this deal.
For starters, it's a monster recruiting tool. What aspiring player wouldn't want to be rocking a Jumpman logo on their jersey or kicks. Not to mention the countless free gear as well. In football, Oklahoma coach Lincoln Riley and UNC coach Larry Fedora have both acknowledged that having Jordan has helped as a recruiting tool. Recent trends would indicate that SU football would make the switch to Jumpman as well, given that the last three programs to switch have gotten both football and basketball deals.
This would also send fans flocking to stores to get the latest Syracuse Jordan apparel. It may also behoove Jordan to start dipping its toe deeper into the collegiate market after Adidas recently dethroned Jordan as the second biggest footwear seller behind Nike, which is measured separately from Jordan.
The marriage makes too much sense between these two. Syracuse is a historically elite basketball program and Jordan represents just that through its owner. Some may think that given Melo's long ties to the company, the fact that a partnership hasn't already happened means it never will. But maybe Rak and Jasmine can convince His Airness to drop the bag for their alma mater.
Can you imagine Jimmy B sporting some Gamma Blue 11's with his blue suit on the sidelines? Or Dino Babers with assorted Jordan jumpsuits (but hopefully not a camo Jumpman hat)? I sure can and would love every second of it.
Would you welcome a change to Jordan? Comment below or tweet at us @OrangeFizz.
(adsbygoogle = window.adsbygoogle || []).push({});