If Dino Babers were an emoji, there would be a bunch of expressions that people could use. From focused to celebratory to sullen, there are many adjectives that could be used to describe Babers' emotions at various times during Syracuse football games.
With the Orange's first game of the season on Friday, here is a look at the top five Dino Babers facial expressions:
Upset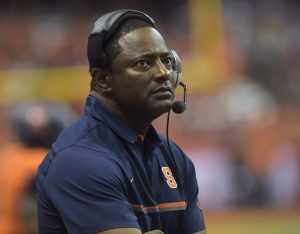 Although Syracuse fans do not want to focus on it, it is only the truth that SU football has had its lows over the past few seasons to accompany some of its highest highs. When the Orange blew a 17-0 lead over the South Florida Bulls in 2016 and when Syracuse lost to Middle Tennessee State in 2017, this was the face Babers and many SU fans were making.
Poised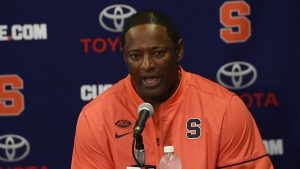 Be it after a dramatic win or a loss, Babers keeps his cool in postgame interviews. Sitting at the microphone, Babers calmly sits and waits questions, answering them in a poised manner. He'll give the facts, and he'll give some inspirational metaphor to explain what's going on. This is the face of keeping your cool.
Agitated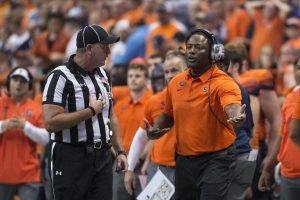 One ingredient that slows down Babers' cake from baking is when officials make questionable calls on the field. Or, at least questionable calls from Babers' perspective. In the past, Babers has been seen sprinting down the field toward the officials, headset attached, to argue his point when calls go in an opponent's favor. Babers and fans alike most likely are making this facial expression while shouting out their own opinions.
Focused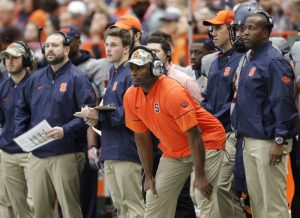 From the sidelines, Babers is an engaged as it gets. Every play, no matter how quick it is, he is deadlocked on the action. Standing as close to the field as the sidelines allow, Babers would definitely beat you in a staring contest.
Celebratory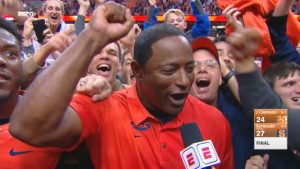 If Babers is celebrating, Syracuse fans are probably celebrating as well. There is no better feeling than for Syracuse football to win a big game (or, recently, actually win a game). Hopefully, Orange fans will see a lot of this face in 2018.
Oh, and one for good luck: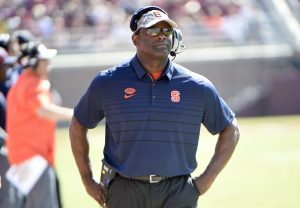 I mean, you have to stay cool in this summer heat.
Published: David Edelstein
(adsbygoogle = window.adsbygoogle || []).push({});