Well, we're halfway through. Syracuse has played six of its 12 regular season games as it enters a bye week. The Orange dropped a tough one to Pittsburgh on Saturday, but can still be proud after its first six games.
Syracuse had one of the better starts to a season in program history, going 4-0 for the first time since 1991 and nearly ending a 17-year absence from the AP Top 25. Even after two straight losses, the Orange still sits at a respectable 4-2, but a look back at program history would suggest that the rest of this season may be hard to predict.
Syracuse has been here before, but has finished with mixed results. With that, here's a glance at past Syracuse teams to start 4-2. Which side of history will this year's squad end up on?
First, some fast facts. In its history, the Orange is 68-38-4 after starting a season 4-2, a position it's been in 24 times total. Despite an encouraging overall record, past Syracuse teams have ended with mixed results that range from bowl game victories to no more wins all year.
More recent Orange teams to start 4-2 haven't always kept up with squads from further in the past. Syracuse has started 4-2 four times in the 2000s, going a combined 13-13 after doing so.
Now, here's a look at some notable individual Syracuse teams that began their seasons 4-2. Below are the first, last, best, and worst finishes by Orange squads to start 4-2:
First: 1900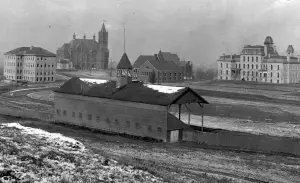 Led by first-year head coach Edwin Sweetland, Syracuse beat Amherst 5-0 to reach the 4-2 mark. From there, the Orange would not lose again for the rest of the season. SU's win over the Lord Jeffs (now the Mammoths) was the first of four straight before tying Brown to finish the year 7-2-1.
Last: 2011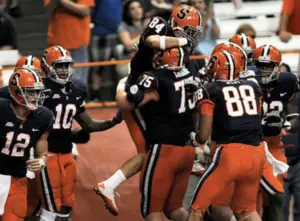 This year's Syracuse team will certainly look to avoid finishing like the last one to start 4-2. In 2011, the Orange got there after beating Tulane, but the best and worst were both yet to come. The next week, Syracuse upset a 15th-ranked West Virginia team led by Geno Smith. Even with the tough slate of games that followed, many saw the win as a potential turning point in the season. To be fair, those many were right, but it sure wasn't an upward turning point. After beating the Mountaineers, the Orange lost all five of its remaining games to finish 5-7.
Best: 1991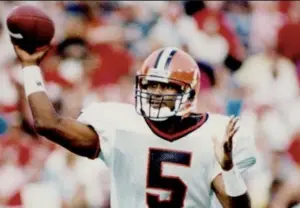 Before this season, this was the last Syracuse team to start 4-0. Also like this year's team, the '91 squad dropped two straight after a perfect four-game start. What followed was an end result this year's team would love to replicate. The Orange never lost again, bouncing back to win its final six games, including the Hall of Fame Bowl (now Outback Bowl) over Miami (FL).
Worst: 2011
Beating out the 1933 squad here, this was the most recent Syracuse team to start 4-2 before this season. However, out of all teams to do so, the 2011 squad very arguably had the worst finish. The 1933 team lost both of its remaining games after starting 4-2, but that's just two games. On the other hand, after starting 4-2 in 2011, the Orange closed out the season 1-5. As mentioned, Syracuse followed up its promising start with an upset over West Virginia, but its collapse in 2011 makes that team's finish the most disappointing of Syracuse teams to start 4-2.
All told, if one was to rely on history, it would be difficult to forecast the rest of this season for the Orange. SU has produced a winning record 14 of 24 times after starting 4-2, but only two of four times in the 2000s. Realistically, each year is different, but history sometimes does repeat itself. Hopefully for the Orange this year, it happens in positive fashion this time around.
(adsbygoogle = window.adsbygoogle || []).push({});