2018 was obviously a year of triumph for Syracuse football, and its victory over West Virginia in the Camping World Bowl was a perfect way to cap it off. Even if the Mountaineers were missing some key pieces.
SU's win over WVU was a tremendous accomplishment for the 2018 squad, which cracked the rankings and spun off double-digit wins, both for the first time in 17 years. However, the Orange's commanding showing also added plenty of hope for next season, even with some key departures destined to loom large.
Players like Eric Dungey, Jamal Custis and Cody Conway will not be back, but Syracuse still has plenty to get excited about, and here's a few of those things:
The Transfers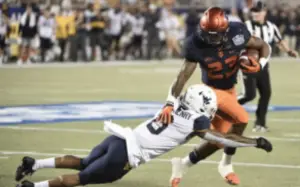 Prior to its bowl game, the Orange had three offseason transfers cleared to play against West Virginia. Two of which are players expected to make sizeable impacts on The Hill in 2019: junior running back Abdul Adams and junior receiver Trishton Jackson. The exciting thing here is that both players found the end zone in their first games for SU.
Adams, a tailback from Oklahoma, averaged a whopping 9.2 yards per carry in 2017 for the Sooners. As a sophomore, he tallied totals of 825 rushing yards (on 112 carries) and 103 receiving yards on eight catches (12.875 yards per reception). That's impressive.
Furthermore, to the delight of Orange faithful, Adams made his Syracuse debut in the Camping World Bowl and scored two times on eight carries, including an impressive display of determination at the goal line to on his first touchdown.
Based on Adams' prior body of work and bowl game performance, there's plenty of reason for Syracuse fans to feel confident in their team's backfield production in 2019. Between Adams, Moe Neal and Jarveon Howard, the Orange could have a lethal three-headed horse on the ground.
Additionally, wide-out Trishton Jackson also found the end zone on his very first touch for SU, a 14-yard reception that put the Orange up 24-18 (after an Andre Szmyt extra-point) in the third quarter.
A junior next season, Jackson came over from Michigan State, and is expected to help fill the void Jamal Custis leaves behind in 2019. A presumable option on the outside for Syracuse, Jackson should be a nice compliment to Taj Harris and speedster Sean Riley in the year ahead.
The Defense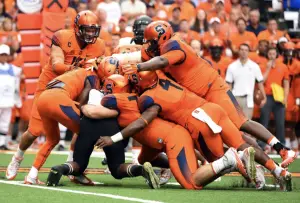 Man, Dino Babers has to be amped about this unit. SU shot from worst to first in the ACC in takeaways, improving from 12 to 31 (T-3rdin nation) turnovers forced over the course of just one year. What's scary is that despite a few significant names, the Orange returns plenty of key contributors to its much-improved defense.
For one, both Kendall Coleman and Alton Robinson will be back, which has to mean a fierce pass rush is in store. Like Robinson, Babers also expects McKinely Williams to return to the defensive line next season after missing the team's bowl game. Let's not forget that Josh Black will be back as well. All told, not sugarcoating anything here… opposing ACC offensive lines may have some work on their hands.
Behind the front four, Syracuse does lose its top two leading tacklers in linebackers Ryan Gutherie and Kielan Whitner, but the hope is that between Andrew Armstrong, Shyheim Cullen and Tyrell Richards (or maybe Lee Kpogba and/or Mikel Jones?) the drop-off won't be felt too severely.
In the secondary, several players return including standouts Andre Cisco (7 INTs), Chris Fredrick and Trill Williams. The talented and now more experienced group completes what should be a rather dominate defense in 2019, and one Syracuse fans should absolutely be excited about.
Dino's back, baby!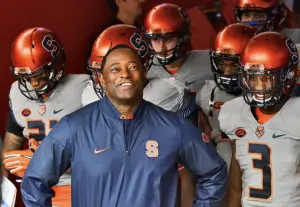 Last but certainly not least, Syracuse fans can look forward to another year of Dino, who magically guided the Orange to ten wins after back-to-back 4-win seasons at the helm.
After leading SU to its breakout campaign, there was speculation about Babers being plucked away from The Hill, but he instead signed a long-term contract extension.
That means 2019 will be year No. 4 under Babers, which is certainly no problem at all. If Syracuse is going to build on its 2018 success, it's going to be with Dino at head coach.
(adsbygoogle = window.adsbygoogle || []).push({});