Nearly all of the attention that Syracuse fans have to spare is currently focused solely on SU basketball and for good reason. The Orange have put themselves in a great spot to make the NCAA Tournament and are coming off a dominant win over Wake Forest, before welcoming No. 2 Virginia to the Dome on Monday. Needless to say, things are looking pretty good right now for Jim Boeheim and company, but let's not forget about Syracuse football.
Coming off its best season in nearly two decades, Dino Babers' bunch opened up spring practice on Sunday and with it came the very first depth chart of the 2019 season (*tries to contain excitement*)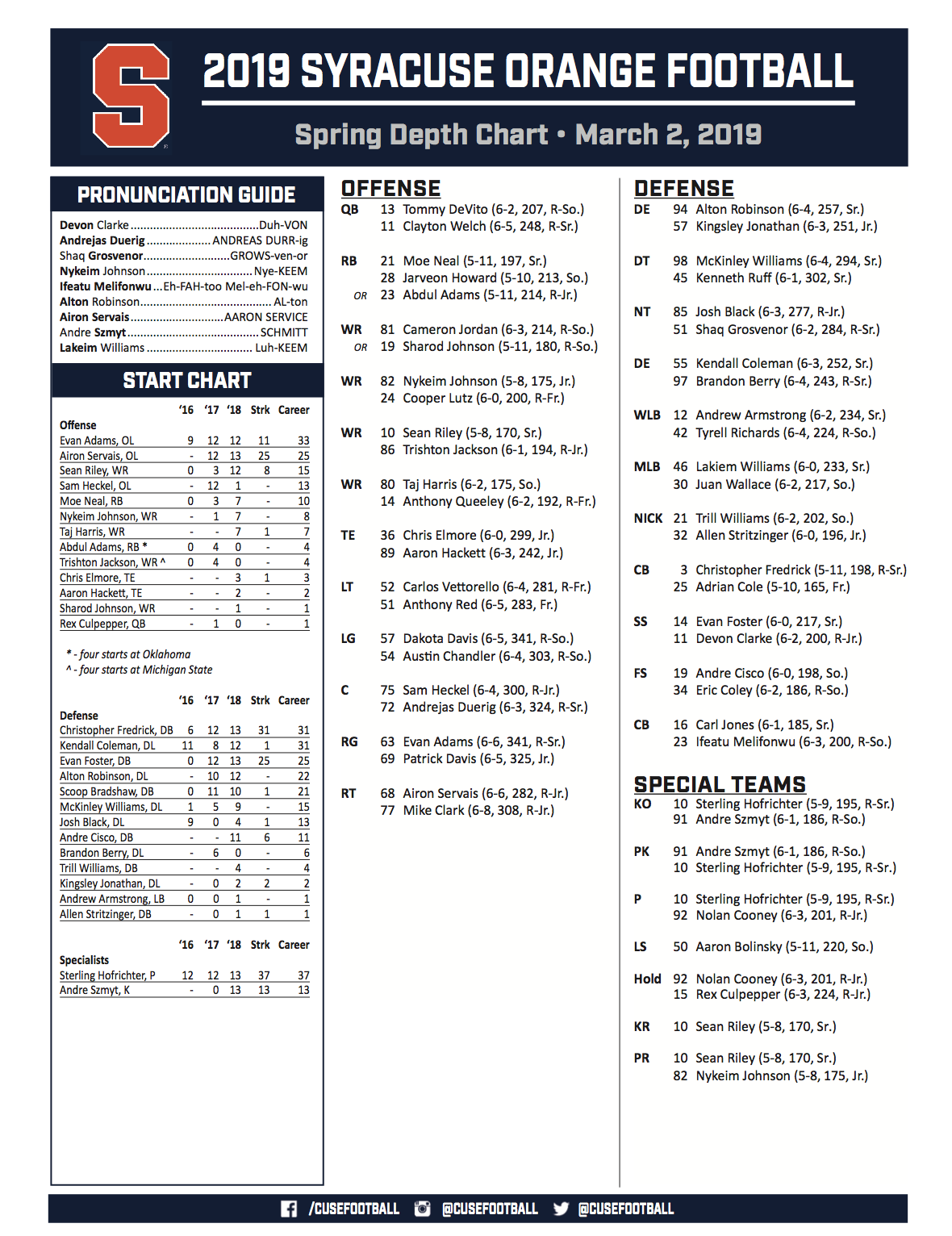 With some standout seniors gone from the program, there have been quite a few changes in the early goings for SU, so let's take a bit of a deeper dive into the new-look Orange.
QB1
Not really a surprise here, but still something that probably has a lot of Syracuse fans salivating: Tommy DeVito is officially the Orange's starting quarterback. The former four-star recruit had his ups and downs in 2018, but when he needed to shine, he did not shy away from the spotlight. Even with some added depth behind him, this is DeVito's team to lead. He had moments of brilliance in 2018, but he needs to make 2019 his proving ground.
O-Line Shifts
Perhaps the most maligned unit during the 2017 season, the offensive line almost became a strength by the end of 2018. In 2019, though, the hog mollies are going to look a whole different. With starting tackles Koda Martin and Cody Conway graduating, we were all wondering how SU would fill arguably the most important OL spots. Well, they'll do it with some youth and some displaced experience.
A bit of an afterthought in SU's 2018 recruiting class, redshirt freshman Carlos Vettorello is listed as the starter at LT. Protecting DeVito's blindside will be a big ask for a kid that only played 25 snaps in his redshirt season but getting to play direct behind Conway will almost certainly help.
At the other tackle spot will be redshirt junior Airon Servais. Servais started all 13 games last year, but all of them were at center. His transition to tackle will be something to keep your eye on.
Former guard Sam Heckel will take over for Servais at center while Evan Adams returns to start at right guard and Dakota Davis will be a first-year starter at left guard. The offensive line was a big question mark going into 2018 and it will likely be the same come the fall.
Earn Your Stripes
After putting together two of the most impressive performances in the Camping World Bowl back in December, I think everyone figured that Abdul Adams and Trishton Jackson were virtual locks to start in 2019. They still may, now we know they'll have to earn it.
Both Adams and Jackson are listed as backups behind seniors Moe Neal and Sean Riley. The Adams move makes a bit more sense because the running back room is as loaded as ever time with Neal, Adams, sophomore Jarveon Howard and true freshman Jawhar Jordan (who reportedly ran a 4.37 40-yard dash in winter workouts) making up a stacked position group. They'll all likely share snaps this season.
Jackson's absence from a starting role was a bit more puzzling though. It was very surprising to see Cameron Jordan, who didn't play anything outside of special teams in 2018, listed as a starter over Jackson. But at this point in his tenure, we can all trust that Dino knows what he's doing with his wideouts and it wouldn't be at all surprising to see Jackson line up with the first-team offense against Liberty on August 31st.
Plugging Holes on Defense
SU definitely lost a lot on offense with the departures of Eric Dungey, Jamal Custis and Cody Conway among others, but the Orange also graduated a ton of talent defensively with the losses of leading tackler Ryan Guthrie, stalwart defensive tackle Chris Slayton and uber-athlete Kielan Whitner. We now know who will replace them.
Redshirt junior Josh Black will fill the monstrous void left by Slayton and after battling injuries in 2018, he'll have to stay healthy to help fill Slayton's shoes in 2019. That move was relatively predictable but there were some surprises in the linebacking corps and secondary.
Andrew Armstrong will return at LB, but JUCO transfer Lakiem Williams is the surprising second choice at linebacker for the moment. True freshmen Lee Kpogba and Mikel Jones are nowhere to be found on the current two-deep. It wouldn't be surprising if one or both of them wind up seeing significant playing time come fall considering just how much potential they're both oozing with.
The bigger surprises, however, came in the secondary. Senior Scoop Bradshaw is not currently listed on depth chart, but that could be explained away by the fact that he was limited on Sunday. Still though, considering he's started in each of the past two seasons, that's something to keep an eye on.
The more surprising decision, however, was the second starting CB opposite Chris Fredrick. Senior Carl Jones got the nod over Trill Williams (who is listed as the starting nickelback) and Ifeatu Melifonwu who is Jones' backup. Considering Melifonwu broke out toward the end of last season and played himself into a very important role, it's almost shocking that he isn't ahead of Jones who has been primarily a special teamer in his career (although a good one at that). Again, this is the very first depth chart of spring practice, so nothing is even close to being set in stone, but it'll be interesting to keep tabs on everything as the spring and summer progress.
(adsbygoogle = window.adsbygoogle || []).push({});