On August 22, a national network for ACC athletics coverage will launch on linear television.  In it's first year, the network will broadcast 1,300 events, including 40 regular season football games and 150 men's and women's basketball games. It's going to have a substantial effect on fans and Syracuse Athletics. Lets break it down from both perspectives.
What does ACC Network mean for SU Athletics?
Money, hopefully. There is a direct relationship between funding and success in college sports. For private schools such as Syracuse University, our data is limited. But public schools are required to release all financial info, and that info reveals a harsh reality for the ACC. The most profitable programs in college sports are overwhelmingly SEC, Big Ten and Big 12 programs. All those conferences have this in common: they have a television network. Check out this USA Today data from 2016-17.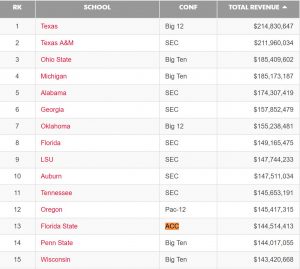 The hope is that the ACC Digital Network will give the conference a new major source of revenue, which can be allocated to its programs. The SEC is a perfect model. Since they launched the SEC Network in 2014, revenue distribution to their 14 schools has doubled. The SEC allocated $43 million dollars each for the 2017-18 fiscal year.
For Syracuse, extra ACC funding would be particularly helpful for football. The most recent data shows¬†SU ranks 50th in the country in football spending. The university dishes out $22 million per year to its program. Florida State, the only top-15 revenue team in the ACC, dedicates a conference-best $48.3 million annually. Revenue growth for Syracuse has risen at a snail's pace since 2003.¬†Syracuse is only spending 69.2 percent more than it did in 'Äò03, when SU spent $13 million per year. That is the slowest growth in the entire conference. Keep in mind, this is more of a football problem than an overall athletics problem. The football team is 50th in the country in spending, whereas men's basketball is 6th, and both men's and women's lacrosse are first.
What does ACC Network mean for fans?
There will most likely be widespread panic for a number of fans who fear their cable provider won't carry the network. Essentially, the ACC Network will set a price in which cable providers will need to pay them per household in order for them to carry ACCN content. Channel rights negotiations are often dragged out until the last possible minute. There is no reason for cable providers to stop negotiating their price to try and get it as low as possible. People in the northeast and in ACC country have nothing to worry about. The biggest ratings draws for live television are live sports, and providers can't afford not to carry ACCN in ACC territory without risking the loss of subscribers. If you live somewhere without much interest in any ACC teams, you might have to sweat a bit.
Now let's assume your cable provider is carrying ACC Network. The launch of a linear network should mean slightly less streaming-only games. For those who hated firing up the laptop to watch SU basketball's non-conference slate, you might be happy. Non-revenue generating sports such as lacrosse, soccer, baseball (Not for the Orange), volleyball and tennis will get airtime on linear television. That's great news for some. Lastly, the broadcast will likely improve. In the previous structure Raycom Sports was the syndication broadcast network for ACC content outside of ESPN. I'm not here to bash Raycom, but they were financially challenged and their lack of resources showed at times. ACC Network is backed by ESPN which means it's backed by Disney, the second-largest media conglomerate in the country. Say what you will about ESPN, they deliver a highly professional live sports product on all their properties and ACC viewers should expect an improvement in their broadcast.
(adsbygoogle = window.adsbygoogle || []).push({});