Graduation for Syracuse University's class of 2019 comes a week from today. In that crop is the like of Eric Dungey, Frank Howard and Jamal Custis. I will also be a part of that group, minus the vast amounts of athletic talent. Over my four years, I saw a lot of great players, teams and moments. But five individuals will always stand out during my time on the hill.
Eric Dungey
I have never seen a player like Eric Dungey. To me, the Giants got a steal in this kid. The grit that he showed game in and game out is unlike anything I have ever seen in an athlete. You always had a chance in a game that Eric Dungey was your quarterback. Just ask Clemson. The true metric of that is my favorite ever Dungey play. It wasn't a breathtaking hurdle or bomb downfield. Dungey actually was credited with zero yards on this play. But in the late stages of an upset win over No. 2 Clemson, Dungey handed the ball off to Dontae Strickland. The play looked to be going nowhere, until the quarterback willed his running back to a first down on a crucial fourth and short.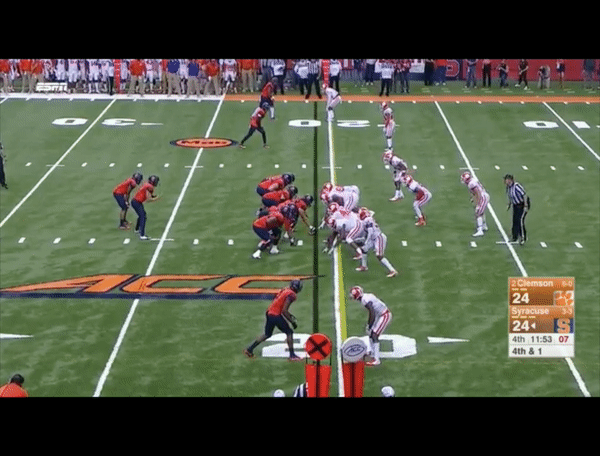 That's the lasting legacy of Eric Dungey for me. A guy who made winning plays and didn't care what his individual stats said. Just the final score. And he finished his final game the same way he ended his first: a winner.
Michael Gbinije
Mr. Consistency brought it every night. In his senior season, he never scored in single figures. You knew what you were getting every night. He had it on offense, but was also a tantalizing part of the top of the zone. This consistency helped a largely inconsistent squad dance all the way to one of the most memorable Final Fours in Syracuse history.
Malachi Richardson
The most memorable game in the Class of 2019's tenure will most definitely be the Orange taking down Virginia in the Elite 8. Why did they do that? Malachi Richardson's out of body experience in the second half. Richardson scored 21 of his 23 points in the final 20 minutes to help the Orange mount one of the best comebacks in recent tourney memory. While his tenure may have been cut a little short because of his leap to the NBA Draft, that one season of magic will always be enough in my mind to cement himself into my top five.
Tyus Battle
This isn't just one of the clutchest athletes I saw in my time at Syracuse. This is one of the clutchest dudes I've seen in my lifetime. Everyone knew the offense revolved around Battle. Yet time and time again, he was tasked with hitting big shot after big shot. And he succeeded more times than not. From Clemson to twice against Georgetown to closing down the stretch against Duke, there was no moment too big for him. He stuck around an extra year when he could have easily chased the NBA dream. But his dedication to his teammates and the process is something that will always stick with me.
Alexis Peterson
The best all-time individual performance I saw came out of Alexis Peterson. She set the Carrier Dome and program record for most points in a game with 45 against NC State. And she did it in a regulation game. That's more than Carmelo Anthony, Pearl Washington or anyone else on this list. Her poise at the free throw line was unmatched and her demeanor was never panicked while leading the Orange to a comeback 85-75 win. This game aside, she was also an integral part of the team that went to the program's first ever Final Four and ended up in the National Championship game against UConn.
(adsbygoogle = window.adsbygoogle || []).push({});