The campaigns of the Syracuse football and basketball¬†teams have come to a close, but another season'Äôs end draws upon us. Season eight of the world-renowned Game of Thrones finishes on Sunday night, marking the close of the entire award-winning series. In light, here'Äôs a list of Syracuse sports figures paired with each player or coach'Äôs Game of Thrones character, in comparison. After all, whether you enjoy the show or not, both Syracuse and Game of Thrones are certainly subject to long, dark winters, often full of terror. Before we start, it should be noted that there are definitely a few spoilers in here, so I would recommend being up to date on the show upon reading. Now, let's begin.
Ernie Davis – Eddard "Ned" Stark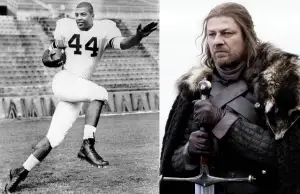 Davis won Syracuse's only Heisman Trophy back in 1961, similar to how Ned Stark was awarded Hand of the King to Robert Baratheon. Like the way Ned reigned as Lord of Winterfell before becoming Robert's hand, Davis thrived as Syracuse's running back from 1959 to 1961. In those three seasons, Davis took home first-team All-American honors twice, and led the Orange to the national championship in the '59 season and a Liberty Bowl victory in '61. Ernie also faced racial discrimination during SU's trip to Dallas for the Cotton Bowl, while Ned Stark endured harsh criticism and captivity for being accused of treason by Queen Cersei and King Joffrey. This led to his execution by the unjust young king, leaving fans of the show shocked and devastated. Perhaps not as many devastated, however, when in 1963, Davis fell ill to leukemia at the age of 23. Regardless, there is no doubt both fan-favorites, in their respectively different realms, were taken too soon.
Dino Babers – Tyrion Lannister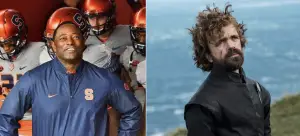 First thing'Äôs first. Tyrion and Dino definitely don'Äôt look alike at all, but they are still comparable. Dino is a big guy, and Tyrion 'Äì often referred to as the 'Äúimp'Äù 'Äì is not in the slightest. However, the wisdom of both men 'Äì and the impact it has had 'Äì draws parallels to one another. For Tyrion, his lack of size and physical strength prevent him from making an impact with a sword in his hand, but whatever he lacks in stature, he makes up for in brains. Tyrion'Äôs wisdom is what has kept him alive to this point in the series, where he currently¬†finds himself serving as Hand of the Queen to Daenerys Targaryen (those who watch the show would understand the emphasis on "currently"). Making things all the more impressive, Tyrion has made it to where he is now with a sizeable chip on his shoulder, essentially as the runt of the Lannister family litter. For Dino, before coaching Syracuse to a 10-3 record and Camping World Bowl championship, the Orange hadn'Äôt won more than four games in four straight seasons. Thanks to Babers'Äô wisdom, Dino had SU fighting its way to success last season, similar to how Tyrion has led armies to battle success and offered crucial advice, even if it has included an occasional misstep.
Eric Dungey – Robb Stark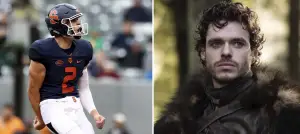 The King in The North! Robb Stark'Äôs battle-tested grit and courage had his troops insistent on his kingship of not just Winterfell, but the entire Northern region of Westeros. This similar kind of gustiness and fire is what had Dungey'Äôs teammates ready to battle behind him week after week. Consequently, Dungey was named team captain twice. Robb 'Äì the eldest son of the noble Ned Stark, was often known as the "Young Wolf," which honestly could be a nickname for Dungey as well. Before the end of his time on The Hill, Dungey became one of five quarterbacks in ACC history responsible for at least 11,000 yards of total offense and 90 total touchdowns 'Äì while oftentimes, just being an absolute animal on the field. All in all, Dungey'Äôs legacy before graduating from SU is comparable with that of Robb Stark'Äôs before the end of his time on Game of Thrones.
Tyus Battle – Grey Worm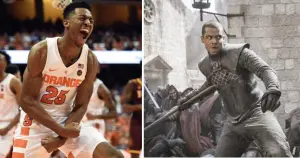 Grey Worm is the leader of the Unsullied, a group of soldiers who fight for Daenerys in her quest for the Iron Throne. Battle, on the other hand, was the de facto leader of the Syracuse basketball team for two years before declaring for the NBA Draft. In comparison, Grey Worm's fate in the show remains to be determined in Sunday's finale. Regardless, both Grey Worm and Tyus just do what they gotta do, and do it well. Grey Worm is one of the show's most skilled fighters on the battlefield, just as Battle was one of the most skilled players each time he took the court for the Orange.
Carmelo Anthony – Jaime Lannister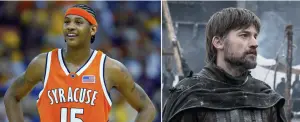 After leading Syracuse basketball to its only NCAA Championship in 2003, Anthony was drafted No. 3 overall by the Denver Nuggets where he played for seven seasons before getting traded. After averaging nearly 25 points per game in Denver (including 28.2 in his last full season with the team), Melo pled his way to a trade to the Knicks. In Game of Thrones, the handsome and wealthy Jaime Lannister served as a member of King Aerys Targaryen's kings guard until he turned around and stabbed the king in the back – relatively reminiscent of Melo with the Nuggets. During the 2010-2011 season, Anthony requested a trade. In the case of Jaime, nicknamed the "king slayer" among the masses, he betrayed and killed the "Mad King" Aerys during a rebellion of King's Landing, which took place before the start of the events in the show. Melo's trade request slayed the Nuggets, at least temporarily, who won 12 less games the year after he his departure. Denver bounced back the following year with 57 wins in 2012-2013, but failed to notch above 40 wins in any of the four seasons after that. Jaime's killing of King Aerys helped put Robert Baratheon on the Iron Throne and ultimately, the Lannister family in true power of the Seven Kingdoms. As for Anthony, his trade request landed him in the big bright city of New York as the new top scoring option for a Knicks team that – behind Amare Stoudemire – was actually relatively competitive, at the time.
Dwayne "Pearl" Washington – Varys

The two here are comparable in a few ways. Dwayne "Pearl" Washington was a masterful ball handler who became a floor general for the Orange, and ultimately helped SU win at least 22 games in each of his three seasons on The Hill. Similar to the way Washington was able to dribble his way out of danger, Varys has been able to remain in the King's small council through decades of conflict and turnover. However, one thing that remains constant with Varys is his aptitude to do whatever is best for the realm. This very concept is what even got him killed by Daenerys in last Sunday's episode – an extremely unfortunate death, especially given the episode's ensuing events. Varys became a very likeable character over the course of the show, and will always stand out because of his loyalty to the realm and willingness to do what's right, to best help it function. With the No. 31 sitting right on top of the Syracuse "S" at midcourt in the Carrier Dome, there is little doubt that Washington's memory – after passing away in 2016 –  lives on for all the right reasons, and rightfully so. In his three seasons at SU, Pearl averaged 15.7 points. 6.7 assists and 2.3 steals per game, including 17.3/7.8/2.6 during a junior season that earned him second-team All-American awards.
 Jim Boeheim – Cersei Lannister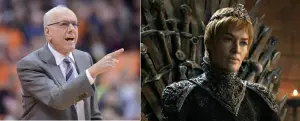 Yes, there is obviously a gender difference here but at this point, Coach Boeheim is pretty much Syracuse's version of Game of Thrones' King of the Seven Kingdoms. He's coached the Orange for over 40 years, and while he's not the tyrant Cersei is, he certainly will not hesitate to bench a player for a poor decision or two on the court. When her son, King Joffrey, is poisoned to death, Cersei's younger son, Tommen, takes the throne where she – in relatively similar fashion to Boeheim – coaches him as they govern King's Landing (at least for as long as she can). In the case of Jim Boeheim, he now coaches his son Buddy as the two set out to lead the Orange into battle through ACC play and hopefully, en route to an NCAA title.
Jim Brown – Jon Snow

Some call running back Jim Brown the greatest football player to ever live. In his nine years in the NFL (all with the Cleveland Browns), Brown made the Pro Bowl every season, and led the league in rushing eight times. But, before dominating the pros, Brown spent three years at Syracuse where he led the nation in rushing touchdowns in 1956, and was a two-time All-American in 'Äô55 and 'Äò56 (unanimous in 'Äô56). He also excelled tremendously in multiple other sports, earning accolades in basketball, track, and even winding up in the Lacrosse Hall of Fame. Brown'Äôs loaded legacy and immensely impressive versatility arguably makes him comparable to Jon Snow. From being raised by Ned Stark and blinded to the truth, Jon grew up grounded and learned how to be a leader. The values he was instilled with and physical gifts he's been given have earned him several different positions of leadership throughout the series. Whether it'Äôs Lord Commander of the Night'Äôs Watch, King in The North, or maybe even King of the Seven Kingdoms (we'Äôll see on Sunday), Jon has the versatility to lead and dominate the same way Brown did in multiple sports. All in all, similar to how Jon is Game of Thrones'Äô main character per se, one can certainly argue that Brown essentially has that role, as far as Syracuse athletics go.
So, as Game of Thrones comes to a close, let us know in the comment section of any other good character matches. As we all know in the Game of Domes, winter is always coming.
(adsbygoogle = window.adsbygoogle || []).push({});