Syracuse quarterback Tommy DeVito was sacked eight times in Saturday's 41-6 loss to Clemson. That doesn't include all the times DeVito was running for his life and got a throw off. The redshirt junior was getting hit so much that Dino Babers barely let him drop back in the 4th quarter, even with SU down huge. Naturally, the O-line took a lot of heat for the performance, but sacks aren't always the line's fault. I decided to check the film to see who is really to blame for all that QB pressure.
Sack #1: 3rd & 11 9:15 Q1
DeVito has to step up in the pocket as Clemson sets the edge. But he slightly overreacts to the pressure and rolls out to his right. This gives running back Abdul Adams no chance at blocking linebacker Isaiah Simmons, who records the sack. The O-line protection wasn't great on this play, but DeVito had every opportunity to throw the ball away as he was well outside the pocket.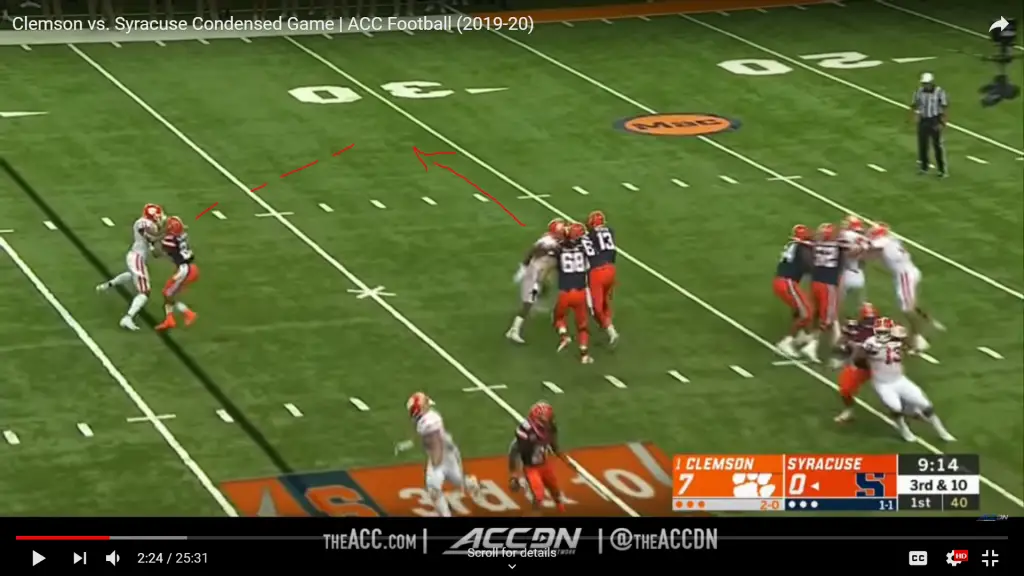 Sack #2: 1st & 10 4:14 Q1
Clemson blitzes all three linebackers. It's a six man rush. Syracuse has six blockers, including RB Adams in the backfield. In this case, James Skalski goes untouched because Adams and left tackle Carlos Vettorello block the same player. It's a miscommunication. That's on Abdul Adams, who's in charge of coordinating protection. Nothing DeVito could do.
Sack #3: 1st & 10 11:05 Q3
Another linebacker blitz from the Tigers. This time, Moe Neal gets matched up with an edge rusher and gets demolished. It's always tough to protect the quarterback on play action when the defense blitzes. This is a tough spot. But Neal could have bought DeVito a bit more time.
Sack #4: 2nd & 17 10:40 Q2
On the very next play, DeVito is assaulted almost instantly. This was one of the worst efforts of the game. Evan Adams and Airon Servais blocked the same DT, leaving a blitzing linebacker unblocked. Vettorello got beat on the outside, leaving DeVito nowhere to scramble. Again, did Moe Neal call out the proper protection scheme? It's hard to know who to blame for the confusion.
Sack #5: 1st & 10 7:15 Q2
Clemson overloads DeVito's blind side with an outside linebacker and a defensive back blitz. There are not enough blockers, so someone will run free. As soon as DeVito takes the snap, he needs to read that and get rid of the ball. He had to two quick checkdown routes open on this play, but he was too busy trying to avoid the pressure that he should've known was coming. This one is on the quarterback.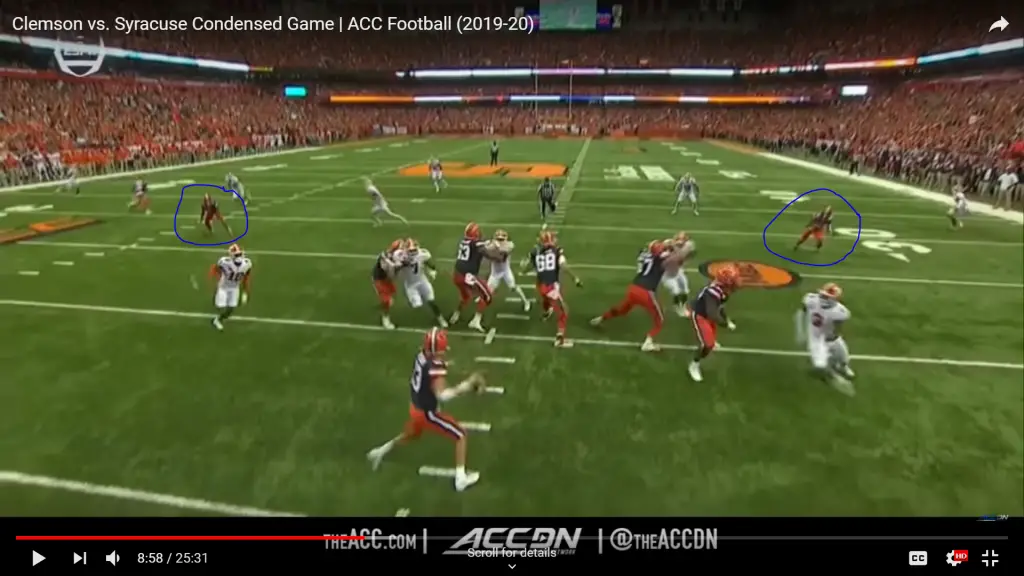 Sack #6: 1st & 10 1:37 2Q
Clemson does NOT blitz on this play. Crazy, I know. The SU offensive line does its job, giving DeVito a clean pocket with time. He doesn't like his initial options down field and his dump-off is covered, so he tucks and runs right into trouble. This was a coverage sack. DeVito wasn't exactly composed in the pocket, but how could you blame him? I didn't get an angle to see if an open receiver was missed. This was either another case of DeVito creating his own pressure, or the wideouts not creating separation.
Sack #7: 3rd & 3 12:59 3Q
Another case of an all-out blitz by Clemson where SU doesn't have the blockers. OLB Chad Smith gets an unfettered path to DeVito, who nearly spins out of the sack. Actually does spin out of the sack. But then faceplants into the turf. This was frustratingly close to being a very athletic play by DeVito. It's also another example of a QB pressure that has nothing to do with bad blocking. DeVito must see that there's nobody to protect him if the outside linebacker brings pressure. He needs to get the ball out right away. He had three (!) quick curl-routes open.
Sack #8: 4th & 2 1:03 3Q
On a big 4th down, the Tigers send everyone at DeVito. All three linebackers blitz. There are five offensive lineman and six pass rushers…. again. If DeVito gets the ball out quickly, it could be a big play. But he holds it again. He had Sean Riley open on a short route and appeared to look directly at him. The O-line can do absolutely nothing about this. DeVito needs to throw it or he's going to be sacked.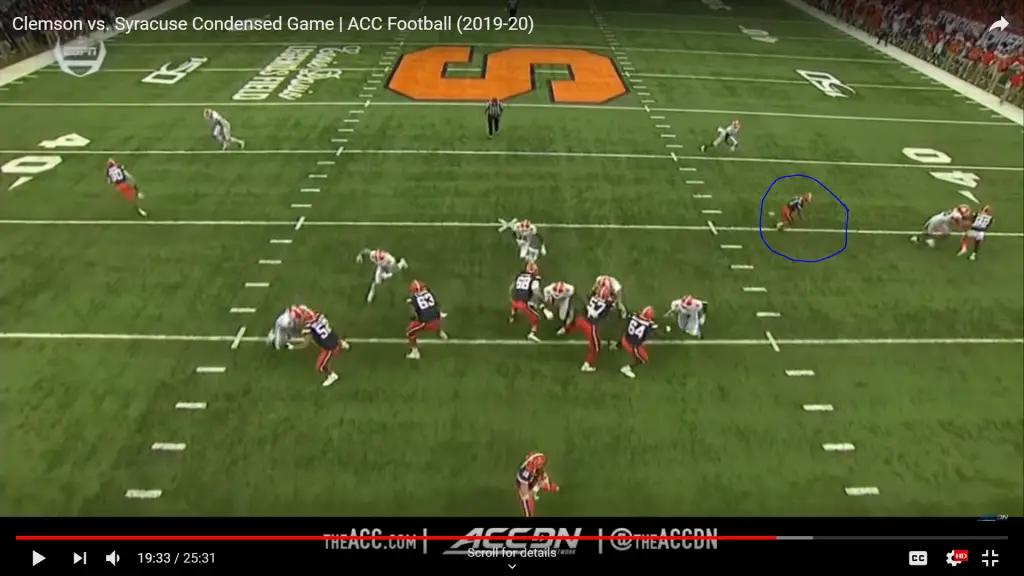 (adsbygoogle = window.adsbygoogle || []).push({});