8, 8, 9. That's the amount of sacks Syracuse has allowed in its last three games against power five opponents after nine again last night to Pittsburgh. The Orange are allowing 5.0 sacks per game, by far the worst mark in the country out of 130 teams.
Now it might be easy to look at last night and just assume Pittsburgh knew this and sent tons of blitzes. As Clayton Welch said after the game, "They brought the house on Tommy and they brought the house on me." But some of these sacks were actually just four rushers getting to the quarterback in a moments notice because of such poor one-on-one blocking.
Let's start with a 3rd and 9 in the first quarter. Pittsburgh shows blitz but backs out and ends up rushing 4 against Syracuse's 7. You can see below, the Orange have 3 extra blockers.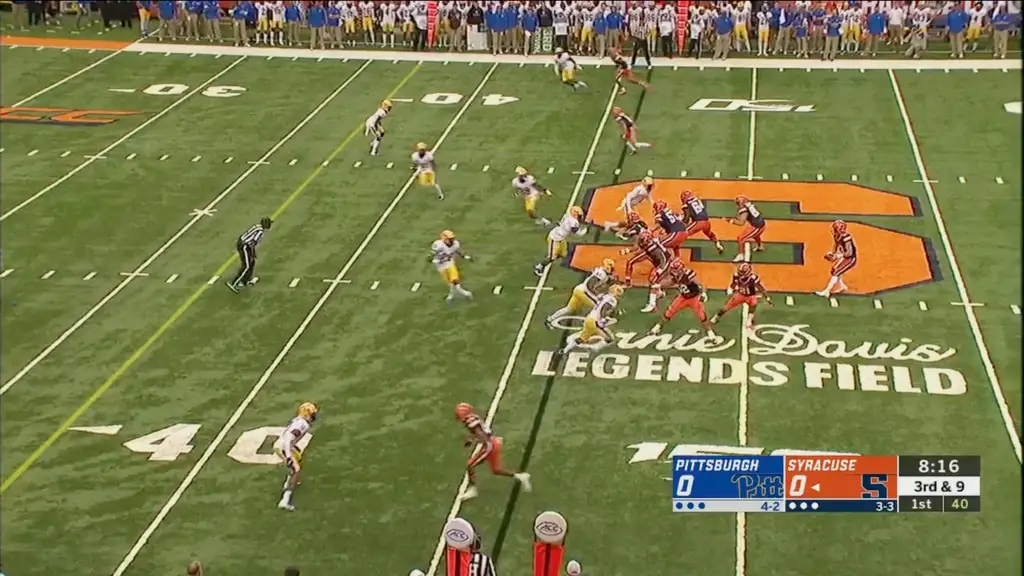 But watch left guard Evan Adams–usually one of the more reliable guys on the line. He seems confused and lets his man (Pitt #87) get a free run to DeVito.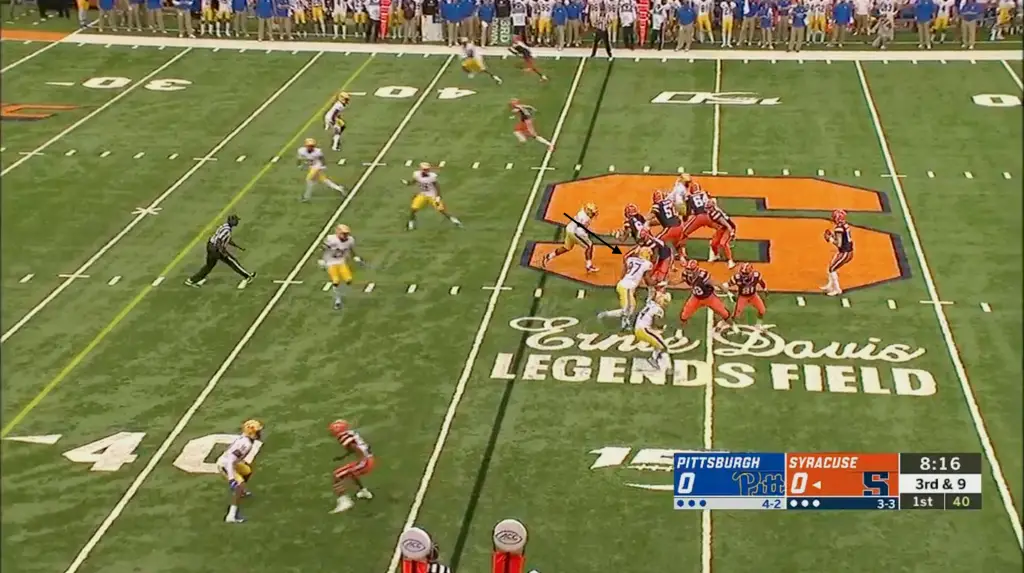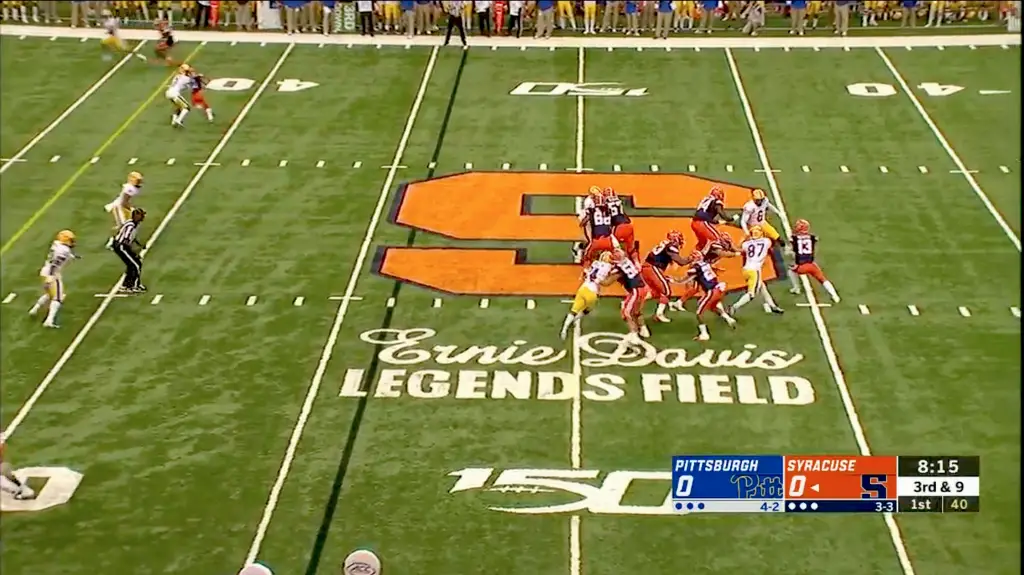 Tight end Aaron Hackett doesn't come over in time to make up for Adams woeful mistake. Meanwhile, Ryan Alexander gets beat on the outside and somehow on a 4 on 7, DeVito's pocket is gone by the time Trishton Jackson, the receiver at the top, can make it barely past the chains and start his first move on 3rd and 7.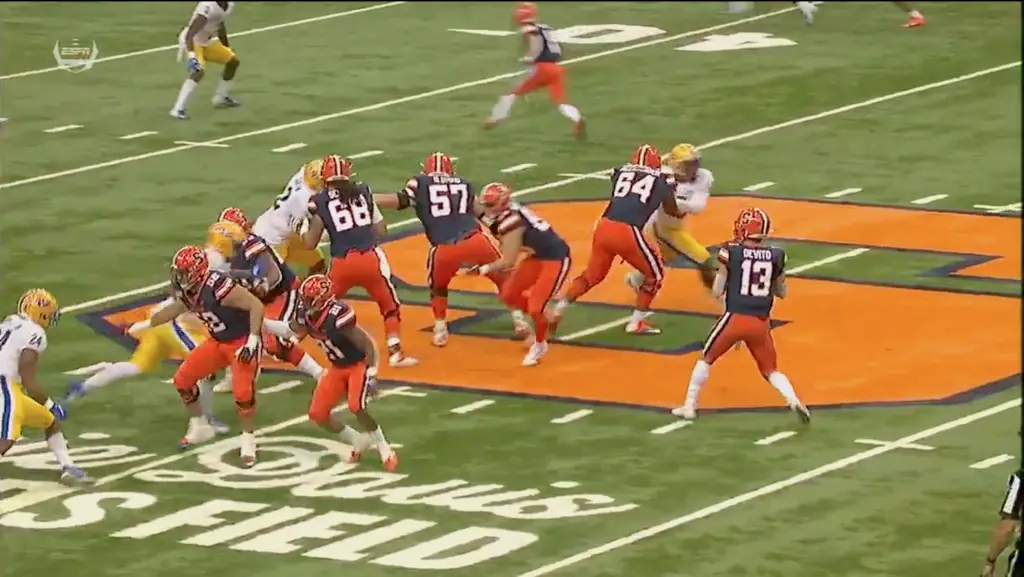 A different angle shows when Hackett starts to try to come over. Look just to the left of the tight end, at RG Dakota Davis (#57), he is literally blocking no one. It's 4 on 7 and both the guards couldn't find a body to touch. It's laughable how bad this is.
Here is another example where Syracuse gets beat without Pittsburgh blitzing. It's a typical 4 against 5 rush on 2nd and 7 for Syracuse.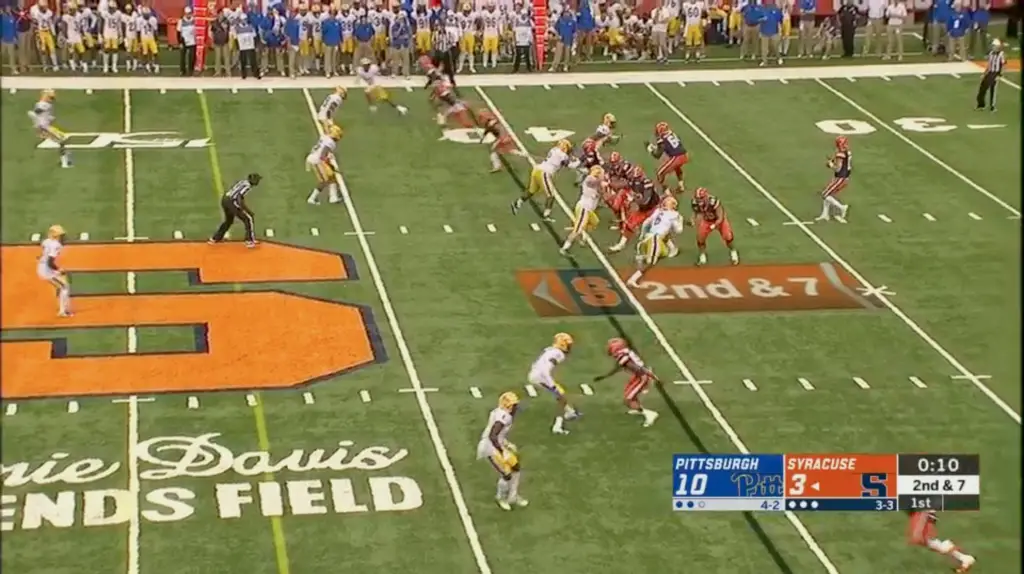 Yet Taj Harris (lower left corner) is still pictured, barely 8 yards down the field not even close to done with his route and Alexander and Vetterello (the two tackles) have been completely beat. I don't care if you have Michael Vick under center there, you're not getting many positive plays out of that still frame.
That being said, there is no denying DeVito's pocket presence could be a whole lot better. Too often, his first move is in and forward when it should be out and around. It feels like he is never outside of the pocket throwing on the run anymore. Here is an example where the protection was actually decent and he held onto the ball too long and leaned into traffic.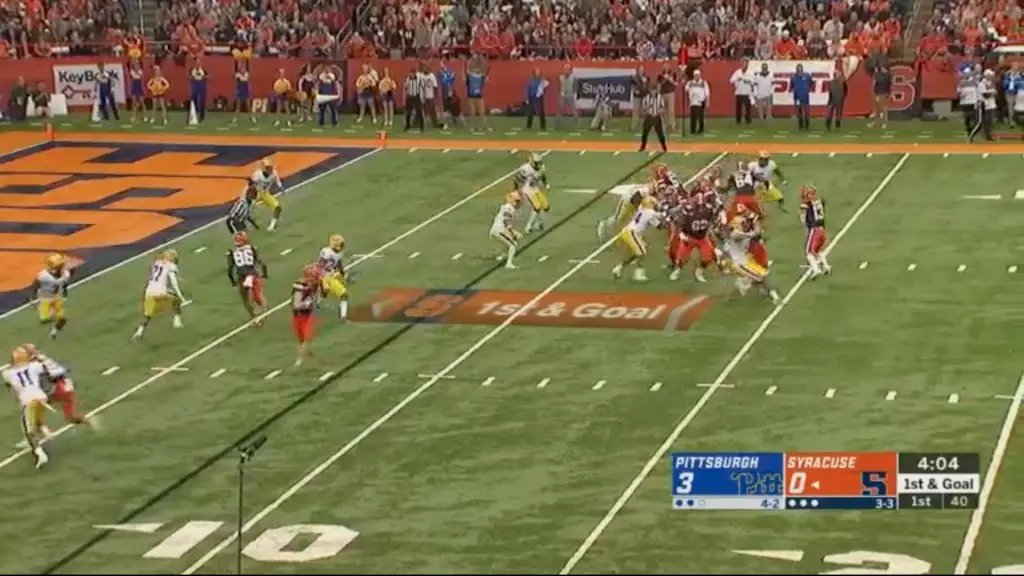 Once again Pitt rushes 4 against SU's 7. But, due to 7 in coverage for the Panthers, no one is really open, with the exception of maybe Luke Benson, running horizontally near the line scrimmage on the near hashes. Even that is probably just a two yard pick up though. Instead of DeVito, sliding out of the pocket and trying to extend the play with his legs, he heads toward traffic and moves up in the pocket.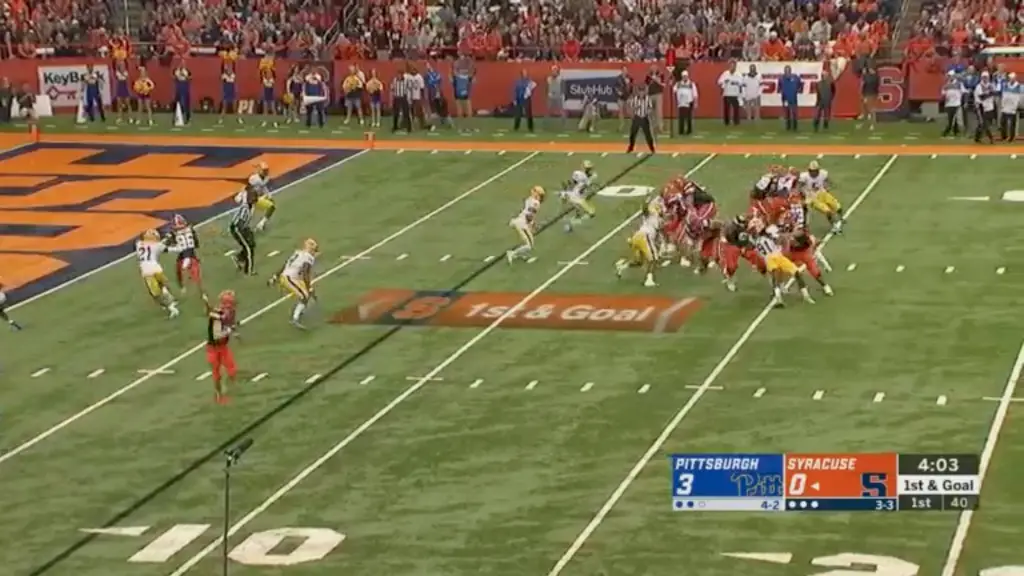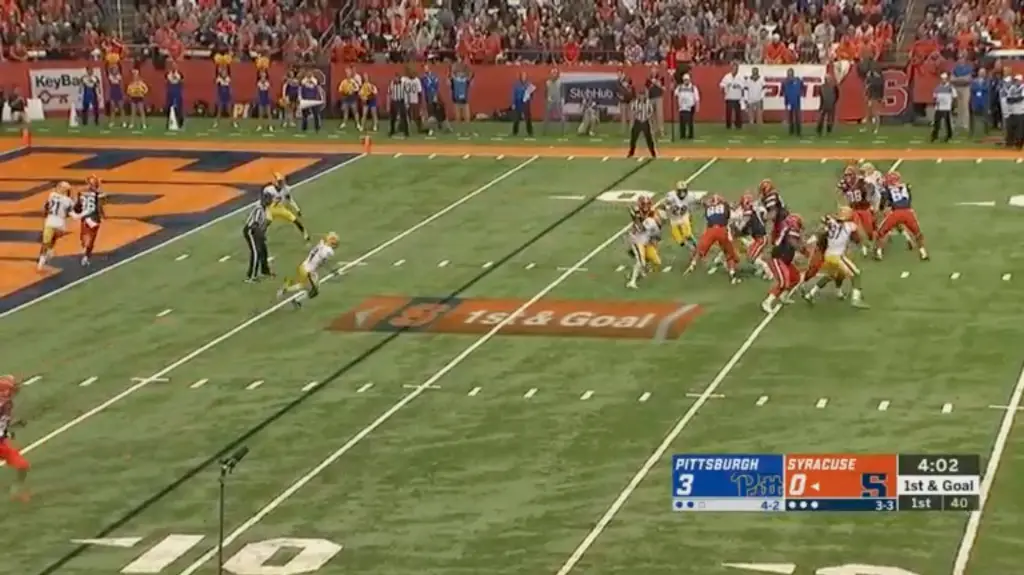 At this point Luke Benson at the bottom left corner looks like a pretty good option. Or just rolling out and extending the play and throwing it away if you have to. Instead on a 4 against 7 pass rush on 1st and Goal, SU took a five yard sack.
Clayton Welch was also getting pressured Friday night. Here is an example of a blitz and Syracuse's inability to pick it up with Welch in the game, even though they had the man power once again.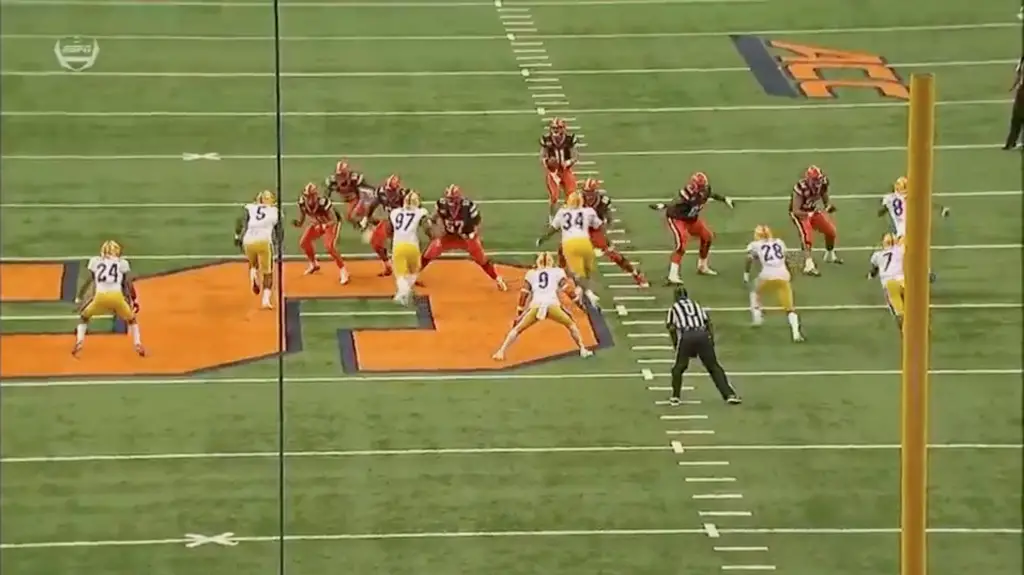 As soon as the ball is snapped, Evan Adams clearly points for help when he sees #28 and #7 coming for Pittsburgh. (Adams is the left guard right above the ref). Pitt is sending six against SU's six at the start of the play. Instead of center Aaron Servais helping out with the two rushers up the middle, he stays where he is and no one picks up #28.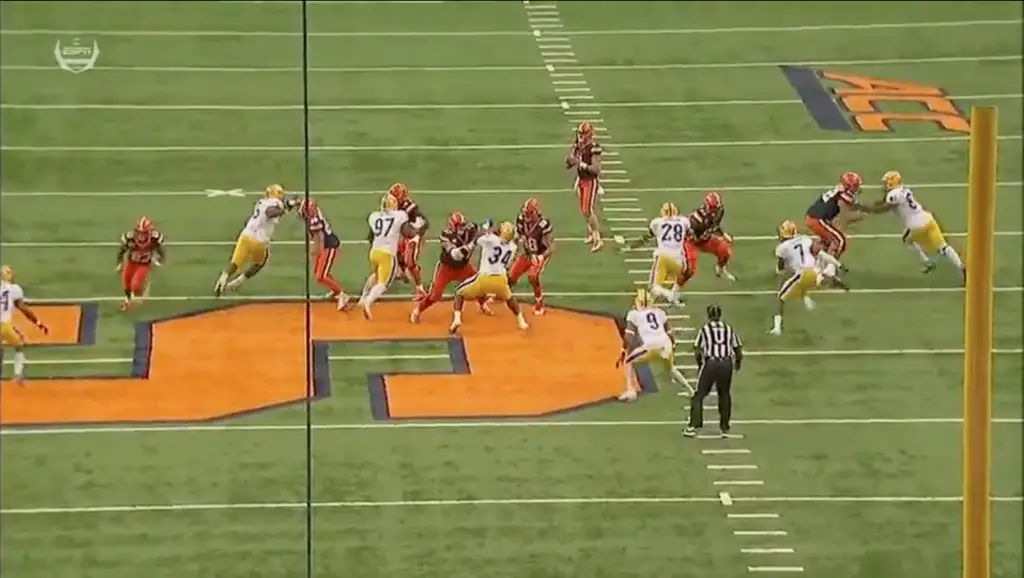 So now Syracuse has two guys blocking #34 and no one touching the blitzer. Part of it is one-on-one struggles. Part of it is Tommy DeVito stepping up when he shouldn't. But, another part is just poor communication. Even when Syracuse has the manpower and even has advantages (such as 4 on 7's above) some guys are getting un touched.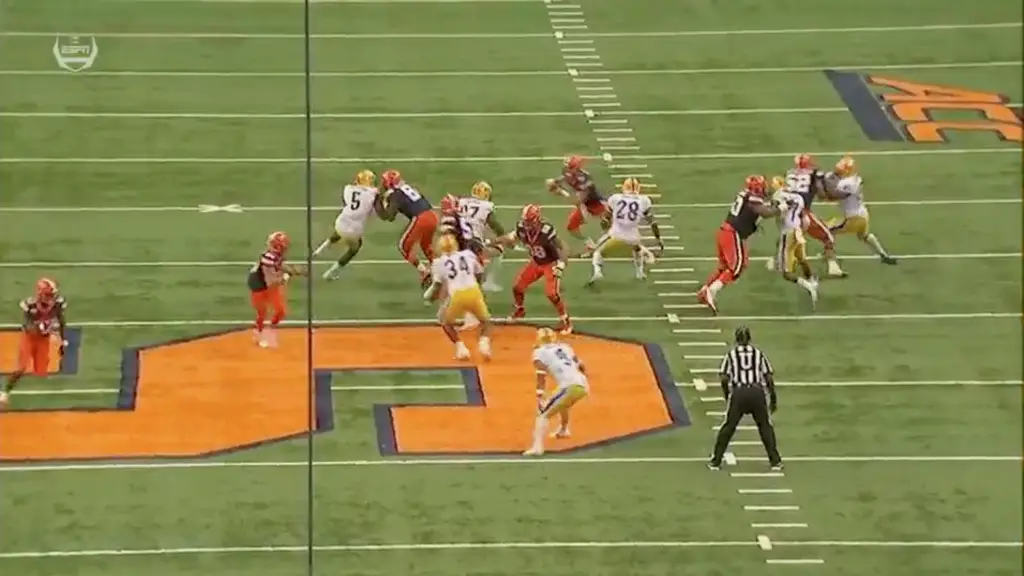 At this point the stats say it and the film says it: this is the worst offensive line in the country.
(adsbygoogle = window.adsbygoogle || []).push({});