For the longest time Andre Jackson felt like a sure thing for Syracuse basketball. 

Everything was going Syracuse's way. They were on him early. There was mutual interest early with several visits at his home and on campus. He's somewhat of a local product from Albany. The connections were there with the Albany City Rocks, the AAU team of Joe Girard III and Buddy Boeheim. His athleticism and length made sense in the zone. Jackson to Syracuse just aligned in a lot of areas. 

It was almost like if the Orange coaching staff could hand craft a recruit with variables that give them the best chance of getting him it would essentially be Jackson. Right down to his recruiting rankings. Number 50 in the ESPN100. Not too high to the point where Kentucky, UNC, Duke and the blue bloods are involved, but still a solid get. Right in the Syracuse wheelhouse, at least we thought. 

The first six recruiting experts on 247sports.com's crystal ball predicted Jackson was going to Syracuse. Until he toured UCONN and a complete 180 happened. So much so that Jackson went from all signs pointing to SU to a formality that it was UCONN on his decision day. It was like Quade Green all over again except the flip was so abrupt we knew it on decision day.

So now Syracuse stays with one commitment from Woody Newton in the class of 2020. The number 97 overall player on 247sports.com. After picking up five guys in last years cycle, this class was never supposed to be a deep one and there is still time for SU to flip the script on this class (much like Jackson did on them). Isaiah Jackson (no relation) is still out there. The Orange are in the top three for him and if he picks Syracuse in the coming weeks then this class is still very much a success. 

Until that decision comes out, let's go off what we know now. Currently, Syracuse has the 52nd recruiting class in the country and 10th best in the ACC, according to 247sports.com. That's misleading because they were never going for a four or five player class and only have one commit at the moment. Regardless, it's not good. Even when they got a five player class last year they finished 32nd in the country.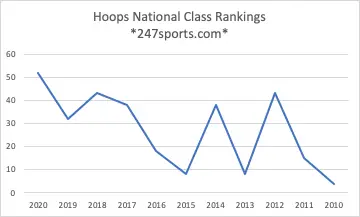 The past three years since Mike Hopkins left Syracuse's basketball classes have averaged a national ranking of 37.6. That's not including the ongoing 2020 class, which is pictured in the graph above. The four classes preceding Hopkins departure on March 19th, 2017 averaged the 18th best mark in the country. 

If Isaiah Jackson comes that will dramatically change things. But as of right now the facts are the facts. Syracuse has slipped recruiting wise since Mike Hopkins left and Andre Jackson, a once sure thing, is just the latest example of that.

(adsbygoogle = window.adsbygoogle || []).push({});