Syracuse football has been readying itself for Boston College all week. At 3-5 on the season, those in the Orange locker room know Saturday's game is going to be imperative, in trying to turn things around. Furthermore, SU's matchup against the Eagles will be the second-to-last game at the Carrier Dome for a number of the team's players. One of those players is linebacker Andrew Armstrong, who as a senior leader, continues to urge his teammates to keep pushing forward. 
"It's easy to get down when we're losing, but we still have four winnable games, and we're going to push for a bowl game," says Armstrong.
Before taking on the role he now embodies as a senior and starting linebacker, Andrew certainly had to wait things out. For the first three years of his Syracuse football career, Armstrong spent most of his time waiting in the wings, sitting behind players like Zaire Franklin, Parris Bennett, Ryan Guthrie and others. However, before learning from the best at the linebacker spot, there was another position Andrew had always held close to heart.
In addition to linebacker, Andrew played tight end at Cardinal Mooney High School in Youngstown, Ohio, and admittedly still carries a bit of nostalgia.
"Yeah, I miss scoring touchdowns and being able to block guys, you know. I just enjoyed being able to use my athleticism too, on offense. But, I've been playing for four years now just straight defense, so offense has become a blur," he says.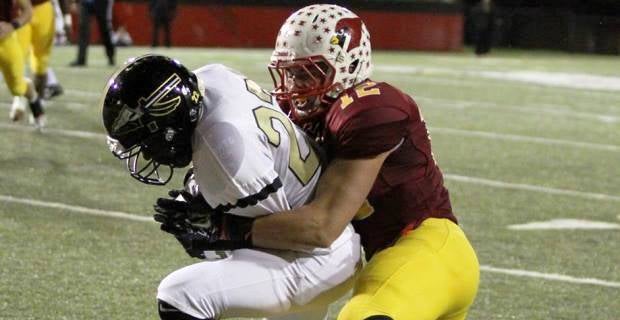 Back at Cardinal Mooney, Andrew was named first team all-state twice – albeit at linebacker – and was the No. 2-ranked outside linebacker in all of Ohio. However, despite all of the on-field success, Andrew faced a setback at 17 years old when he was diagnosed with Type 1 diabetes. While still being able to go out and ball, Armstrong acknowledges that sometimes, he feels affected on the field by his blood sugar levels.
"My blood sugar tends to be more high than low on the field. My adrenaline is sky high on game day, which is something that can spike blood sugar, so I've got to be careful what I eat before every game," he says.
"When my [blood sugar] levels are high, it kind of gets hard for me to focus a little bit. It's like a blur and kind of puts me in a daze, if that makes sense," adds Armstrong.
Andrew has parlayed his experience dealing with diabetes into helping others who endure the effects of the condition. As an active supporter of the Central New York Juvenile Diabetes Research Foundation (JDRF), the 22-year-old embraces any chance he gets to meet and talk to young kids with diabetes.
"My favorite thing is just to talk to young kids. If the JDRF asks someone to speak with kids or hang with them, I'm the first one to say yes. I know what they're going through, you know. I was able to be diagnosed at 17, so I was grown and mature whereas these little kids have this disease, and if they go to a party and see their friends eating ice cream or pizza, they probably feel different. I can understand that being super hard for them and their families," says Armstrong. 
As a result of the work he does with the JDRF, Andrew's name appears on the watch list for college football's Wuerfel Trophy – an award recognizing a player's achievements through exemplary community service, as well as athletic and academic achievement. His love for talking and getting to know young kids has essentially made his appearance on the Weurfel list inadvertent, considering how he's being recognized for things he already does in his spare time, naturally. This is also why Andrew chose to be a Selected Studies major, which he hopes to – if football doesn't pan out in the long run – turn into a job in coaching.
"I definitely feel like coaches can have a great impact on kids' lives and young men's lives, and I've had coaches that have had great impacts on me. Just being able to work with them and stay around the game of sports, that's a major thing too because sports have been a part of me ever since I was a little kid," says Armstrong.
When Andrew says sports have been a part of him since he was young, he's not kidding. Ever since his family moved from Florence, Kentucky, to Youngstown when he was four years old, Armstrong grew obsessed with a particular sport. Strangely enough, it wasn't football that first caught his eye.
"I was a huge baseball fan. I didn't care about football too much. I was a huge Cleveland Indians fan and used to go to games all the time with my dad and my grandpa. I never went to a Browns game, and I actually have never been to an NFL game," Andrew says.
While it was a little surprising to hear that Armstrong had never attended an NFL game before, one can't hold too much against the man for never electing to see his hometown Cleveland Browns up-close. Still, it was interesting to hear, nonetheless. 
It might have taken time for Andrew to develop the love he has now for the game of football, but Armstrong says despite never being a fan of the local Browns, there was a particular player he has always looked up to.
"I was a big Peyton Manning fan growing up. I just liked the way he acted on and off the field. He's a very respectful guy and a great leader, and he took care of business. He wasn't one of those guys that was going to go showboat, and he didn't care about the attention. He just wanted to get his job done," says Armstrong.
Truthfully, the principles Armstrong cites in Manning seem to really hit home for the SU senior. Between working hard both on the gridiron and in the community, staying humble, and clearly prioritizing his family, Andrew really seems to embody someone who – like in his description of Manning – acts praisably "on and off the field," is a "respectable guy and great leader" and perhaps, "doesn't care about the attention." This shows when Armstrong was asked what his plan was for the rest of the night after practice.
"Shoot," Andrew says with a grin, definitely sounding like a man on a mission after a long day at the office.
"I'm gonna get some [medical] treatment after this, eat dinner, go home, watch a movie, FaceTime my parents and my girlfriend, and go to sleep. It's pretty routine day-by-day. Usually, I do the same thing every day," he adds.
Outside of his daily post-practice routine, Andrew's additional hobbies resemble those of plenty other 22-year-olds. 
"I like playing video games, I was a big Madden guy. I'm not able to play Fortnite during the season, so I got a little behind on that. I just don't have the time. I just got the new Call of Duty, so I'll play that for a bit. I watch a lot of movies too, you know, hang out with friends. That's about it, man," he says.
Being that his father, Jim, was a marine, Andrew says he's "a big war movie guy" – and was quick to mention Saving Private Ryan and Forrest Gump as two of his favorites. Also admirable, Andrew was clear in mentioning his admiration for The Dark Knight and Game of Thrones as well (We both adamantly agreed the ending could have been better).
Nevertheless, Andrew knows he will not be a 22-year-old college student forever. Despite his main focus being on the Orange's last four (or five) games of the season, Armstrong still has an idea of what he wants to do after his time at Syracuse comes to an end.
"I've just got to look at my options. Hopefully, I'll have the opportunity to train and go to the pro day. I'll give that a shot, and if it doesn't work out, I have my degree to fall back on, and I'll get into coaching. I have a lot of resources from people I've met during my four years at Syracuse, and I'll take full advantage of my degree. But, my dream has always been to play a professional sport, doesn't matter which one. Football is the one now, so I'm going to give it my best shot and give it all I can," Andrew says.
We'll see what happens next on Armstrong's journey, but for now the focus is set on Syracuse's matchup against BC. Saturday will likely be the more winnable of SU's two remaining home games, making this game especially important. As Armstrong says, "we're looking forward to BC, and we're gonna try and take this 'W' at home."
(adsbygoogle = window.adsbygoogle || []).push({});