94 games, 88 years, 51 wins, 43 losses, countless memories, and a whole lot of hatred. Syracuse and Georgetown have been through it all. The two programs grew up together in the Big East and have since separated when SU left for the ACC. The Orange versus the Hoyas used to be one of the biggest rivalries in the country. Now, the rivalry is fizzling away, but it is still a rivalry, no matter what people say.
It all began in 1930, when Ev Katz led Syracuse past Georgetown 40-18. The two teams saw each other once in a while for the coming years, but it wasn't until the formation of the Big East in 1979-1980 when they squared off on a consistent basis. Plenty of successful and well-known players have starred in the rivalry. The likes of Derrick Coleman, Pearl Washington, and Carmelo Anthony have donned orange, while Allen Iverson, Patrick Ewing, and Dikembe Mutombo have wore navy.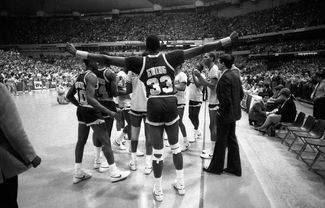 The rivalry has produced numerous memories, from buzzer beaters, to blow outs, and everything in between. Each time the Orange and Hoyas go at it, it is a sight to behold and something you never forget. Longtime SU fans can recall Georgetown's 52-50 upset victory in 1980, which ended a 57 game home winning streak at Manley Field House. Plus SU's Pearl Washington's game winner in 1985.
And who can forget what happened last year when Tyus Battle had ice in his veins to give the Orange a one-point victory.
There have been more nailbitters than blowouts in this matchup, which makes it such a great rivalry. Sure, the teams aren't seeing each other as much because Syracuse is in the ACC now, but the tension between the two teams is still there. The fan bases hate each other and the recent results are still close. Since SU left the Big East, the average margin of victory is only 5.5. This year probably won't be much different.
Looking at Georgetown this season, they head into Saturday's showdown 6-3 on the year. The Hoyas are led by their big man Omer Yurtseven. The Turkish center stands 7'0" and weights 264. He's averaging 16.3 points and 9.4 rebounds per game. His pure size is difficult to guard, couple that with his skills on the inside and he will be a problem for Syracuse.
The Hoyas also have high school standout Mac McClung. The Virginia native sent waves over social media while at Gate City High School for his athletic dunks and crazy athleticism.
Those skills have transferred into his college game. He's putting up 15 points and 2.1 assists per game. McClung's biggest improvement from last year to this year is his three-point shooting. As a freshman, he only shot 28% from deep. This season, he's shooting 43% from beyond the arc. McClung was just named Big East Player of the Week this past week.
Yurtseven and McClung have led Georgetown to a winning record so far, so life should be good for the Hoyas, right? Well, that's not the case. Georgetown is currently amid a scandal. Two players have been removed from the team and others are dealing with legal issues. Backup forward Josh LeBlanc and starting point guard James Akinjo, both top-five scorers, are off the team and have entered the transfer portal. At the same time, LeBlanc, Galen Alexander, and Myron Gardner are facing allegations of burglary and assault. It's a confusing story that is still developing with new details continuing to emerge. But the Hoyas' roster is feeling the impact and is much smaller now.
With Syracuse having a down year and Georgetown dealing with its issues, Saturday's matchup should be a good battle. If the Orange play like they did against Georgia Tech, they will have a great shot at a win. But being on the road and having the pressures of a rivalry game, could lead to another Syracuse vs. Georgetown classic. Saturday can't come soon enough. Go Orange!
(adsbygoogle = window.adsbygoogle || []).push({});