We've talked a lot about how good Elijah Hughes is here at Orange Fizz. He's Syracuse's best and most important player. He's a potential ACC Player of the Year candidate. After Wednesday night's gritty win over Notre Dame in which he led all scorers with 26 points, he's also the conference's leading scorer at 19.7 points per game.
He'd been chasing Louisville's Jordan Nwora in that category for a few weeks now and now that he's passed him, it's even more possible that Hughes may have the most impressive stat line of anyone in the ACC (he had a case before but being alone at the top gives him some extra oomph).
Hughes is currently averaging 19.7 ppg, 5.2 rebounds per game and 4.1 assists per game while shooting it at a 39.3% mark from beyond the arc. To put those numbers into perspective, he's the only player in the country putting up those numbers this season.
To make it just a bit sweeter, we took a look back at the last 20 years to see how many times this stat line has been accomplished. The results speak for themselves: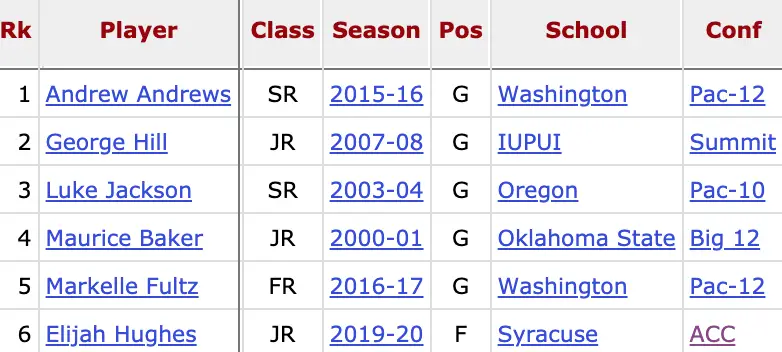 Two of those names really pop off the page in former No. 1 overall pick Markelle Fultz and a guy in George Hill who's had an extremely productive career in the NBA over the last decade.
Even if you take away the shooting percentage stipulation to allow for a few more skilled big men to get in, the list is still only 34 guys long. This extended leaderboard features names like Kemba Walker, R.J. Barrett, Ja Morant, Dwyane Wade and James Harden. Statistically, Hughes is having just about as good if not a better year than those names. What he's doing is simply outstanding and Jim Boeheim is putting the rest of the country on notice about his star.
"What he's done has been absolutely remarkable for us," Boeheim said after the win over Notre Dame, "Isolation works good for us. Elijah Hughes is a tough guy to guard. He's one of the toughest guys to guard, I think in the country because he shoots the three and he can get in the lane."
Hughes is one of those players that every time the ball leaves his hands, especially in a potentially clutch situation, you expect it to find the bottom of the bucket. He's confident in every facet and can score at all three levels against a variety of defenders. He's lights out from distance and one of the more underrated athletes in the ACC.
To put it simply, the dude is flat out special. He's on another level from a lot of players in college basketball. He's got an undeniable swagger and confidence about him. He knows he's great. Jim Boeheim knows he's great. We know he's great. Now we're just waiting on everyone else to figure it out too.
(adsbygoogle = window.adsbygoogle || []).push({});