As Syracuse prepares this week for its upcoming matchup against Wake Forest, forward Quincy Guerrier leaves practice with a typical routine in mind.
"Go home, eat. I play games a little bit… PS4, Call of Duty. That's pretty much it," Quincy says.
"After that, I go to bed, wake up in the morning, [eat] breakfast… you know… got class. That's pretty much it," he adds.
Eating (especially candy), sleeping and playing video games: three things Guerrier says he can very often be found doing outside of playing basketball. I mean, for one, the guy's nickname has been "Candyman" since he was in high school. Not to mention, he admits the entire Syracuse basketball squad talks about how he's always sleeping on team plane rides. Oh, and of course… perhaps most of all, Quincy will never shy away from letting you know he's an unreal Call of Duty player.
Quincy's go-to hobbies are definitely similar to countless other 20-year-old college students, but don't be fooled. There's still plenty of things about him that set him apart from most.
Hailing from Montreal, Quebec, Quincy is just the tenth Canadian-born player in SU program history. When asked what the biggest difference was between living in the United States versus Canada, Quincy was quick to say… 'Äúthe food'Äù (repeating those two short words five times over).
"The food is different. No Tim Horton's. Tim Horton's is really good," he says.
"I think I'd rather eat some food from Canada than the United States, but I like it here too," Quincy adds.
Another major factor in Quincy's preference is the availability (or lack thereof) of his all-time favorite candy, Maynards. Guerrier compares Maynards to the United States' version of Sour Patch Kids, except the flavors found in a box of Maynards – according to Quincy, at least – put Sour Patch Kids to shame.
"They [Maynards] have peach ones, they got strawberry, they got everything," says Quincy.
This is important for someone like Quincy, whose extremely well-earned nickname, "Candyman," has stuck with him since his high school days at Thetford Academy.
It's roughly a 4-hour drive to Syracuse, from where Quincy was raised in Montreal. It's not too close to home, but it's also – more importantly – not too far away either, which the freshman noted was a crucial factor when deciding on schools.
"It was definitely important because my friends sometimes come to my games, and my mom went to my first game. A lot of people, like my teachers from high school, my mentor. They all come in, and it's pretty cool for me, you know," Quincy explains.
Speaking of those important people, especially his childhood friends, Quincy is naturally quick to credit them heavily, for helping him reach the point he is at now.
"I always liked being around guys who were going to school, and I was not in the streets. I was going to school, playing a lot of games, chilling with my friends, going to the park to play basketball. That was pretty much it," says Guerrier.
Quincy is also no stranger to showing love in other ways. If one were to look up his profile on Instagram, he or she would see the word "Kickzway" right in his bio. Little would most people know, by having it there for his 10.9K followers (and others) to see, Quincy is actually supporting a friend of his from back in Montreal.
"So, basically one of my friends… we call him CK. He's like the plug in Montreal for shoes," says Quincy.
"He sells shoes and I just support him, you know. We've been friends now for 5-6 years, and I just put that [Kickzway] in my bio. I'm just supporting him, and when I'm done at Syracuse, I'll still support him – if that means money for starting his own thing or anything like that," Guerrier adds.
One other important thing to know about the Syracuse freshman is that the young man loves shoes – almost more than anyone else on the Syracuse basketball team, as a matter of fact. However, Quincy admits he's the runner-up to one teammate, in particular. 
"I'm a big shoe guy. You got Elijah [Hughes] first, then you got me," he says.
Quincy is definitely a "sneakerhead," but interestingly enough, some of the SU freshman's nicest kicks have had nothing to do with shoes.
Despite hooping since he was 10 years old, Guerrier says he simultaneously excelled in an entirely different sport: soccer.
"I was really good in soccer, and I'm still good at it," says Guerrier.
"I had an offer to go to Italy for soccer and play for [AS] Roma's youth team. They just found me. I was really thinking about it, but my dad was applying a lot of pressure on me, and I think that's why I chose basketball – because he wasn't putting a lot of pressure on me with basketball. I miss soccer sometimes and I watch a lot of soccer," Quincy adds.
Looking back at it now, it certainly seems like Quincy'Äôs decision to stick with basketball turned out just fine. After sticking with hoops, Guerrier found himself at his 'Äúdream school," in Syracuse University. 
"Carmelo Anthony was my favorite player, back then. Now, it's Kevin Durant. But yeah, [Carmelo] was my favorite player, and I heard he went to Syracuse obviously, and that he had a championship here. So, I was like, 'damn, Syracuse might be a good place for me.' Also, Coach Boeheim, he's a legend. You gotta respect him, so that was another one of the factors why Syracuse was my dream school," says Guerrier.
In his first season at SU, Quincy has had to make the leap from high school ball to now playing in the ACC, which he – along with many others – calls "one of the best conferences" in the nation. That being said, Quincy had no difficulty comparing the level he's at now versus where he was this time last year. 
"It's definitely different. It's more physical, faster. And, I'm the sixth-man, so I'm playing a lot. Coach Boeheim has had high expectations for me this year, you know. So, I'm just working hard. I think I'm one of the hardest workers on the team, and I just gotta keep going," Quincy explains. 
Guerrier arrived at Syracuse after spending his high school days at Thetford Academy. From listening to him shed light on his time there, it definitely seems like Thetford was a place where Quincy grew not just a player, but as a person. 
"It was really hard the first couple months," he says.
"I was crying a lot, I'm not gonna lie to you. My coach, Armel, was really crazy. I think he's the reason why I'm here right now. You know, mentally, you have to be tough to go there [Thetford Academy], and that's pretty much it," Guerrier adds.
Quincy went on to make forever lasting relationships at Thetford. Armel Mampouya – a member of the Thetford coaching staff – constantly pushed Quincy to improve, and if one were to look at either Armel or Quincy's social media, he or she would see plenty of love shown by one for the other. Furthermore, Quincy emphasized the importance of his relationship with Thetford Head Coach Ibrahim Appiah. 
"Ibrahim, my high school coach. We talk every day. He's the one who gives me some advice, tells me to stay to positive, and stuff like that," says Guerrier.
Based on just background alone, it certainly seems like Quincy receives his advice from a very serviceable mentor. Ibrahim played college basketball at High Point University where he majored in criminal justice. Equally impressive to that, Quincy says it was Ibrahim who convinced his mom to let him go off and play at Thetford.
"He's really smart. [Mentally], He's there for me if I need him. I can always just call him," Quincy says.
One very impactful way Ibrahim has rubbed off on Guerrier is through a brand he created with former SU basketball standout (and fellow Montreal native) Kris Joseph. Featured right above "Kickzway" in Quincy's Instagram bio are the letters "GNSL" – the acronym his mentor's brand goes by, but also more importantly, a way of life for Guerrier. 
 "G-N-S-L. Grind Now, Shine Later," says Quincy.
"That's his [Ibrahim's] brand. I think grind now, shine later is the right term for me. Like, it applies to me. Since I started playing basketball, there was a lot of people that were not believing in me, and I've always just been working. Now, I'm at Syracuse, you know? I'm living the dream, Guerrier explains.
After grinding, and ultimately shining at Thetford, Quincy committed to SU in late October of 2018. He became the fourth Canadian national in the last ten years to sign with Syracuse, and after doing so, Guerrier immediately started being compared to the one just before him – Toronto native, Oshae Brissett.
Anyone who follows Syracuse basketball is likely aware of the frequent comparisons between Guerrier and Brissett. I mean, people were even referring to Quincy as "Oshae 2.0," for crying out loud. When asked about those relentless comparisons, Quincy let out a chuckle. It doesn't seem like he pays them too much mind.
"Oh, people are always gonna talk," Quincy says.
"I wasn't even mad or anything like that. In my mind, I was like, 'damn I think I'm better than him,' but this year has been kinda hard for me, you know. I'm not shooting pretty well and some people say I'm not a shooter, but Coach Boeheim was recruiting me for that. So, whether it's next year or later in the year, I'm gonna start making some shots. But, I'm not really worried about that [right now]. I'm just worried about using my physicality and doing anything for the team to help us win."
When asked if he believes these ever-common Oshae comparisons stem from a notion less practical than the two player's respective basketball abilities (like the fact that they're just both from Canada), Quincy immediately broke into a cringe-laden grin as he thought of a response. He seemed self-constrained.
"They're always gonna talk. Let's put it that way," he says with a smile. 
That's cap, if you ask me. 
Regardless, the 6-foot-7 freshman is focused on just putting his head down and tuning out the outside noise. Sometimes, it's through hanging out with teammates or playing Call of Duty. Other times, it's with the help of some his go-to music preferences like Atlanta rapper Lil Baby, or some Spanish music, Jamaican music, R&B… it doesn't matter.
"I listen to all kinds of music. Literally everything," Quincy says.
Nevertheless, it certainly seems that Guerrier has been able to drown out the noise and successfully eliminate any distractions. In turn, the freshman has given Syracuse faithful something to get excited about. 
Appearing in each of SU's 22 games thus far, Quincy has gradually improved and it's reflected in the numbers. After averaging 5.38 points per game – on less than 40 percent shooting – through his first 13 contests, Guerrier has picked things up a bit. In his last nine games, the freshman is averaging 7.1 points while shooting a much-improved 57.5 percent from the field. It should also be noted that those games have been SU's first nine conference matchups in what will end up being a stretch of 18 straight to close out the regular season. Talk about picking it up at the right time.
It also seems like head coach Jim Boeheim has taken notice to Guerrier'Äôs development. Of the four times Quincy has played 25 minutes or more this entire season, three of them have come in these last nine games. Of those three occurrences, two of them have come in SU'Äôs three most recent contests, and both were close, meaningful games (8-point win vs. rival Pitt & 1-point loss on the road to Clemson). Long story short, Quincy has been grinding, and now Syracuse fans might finally be seeing their team'Äôs promising freshman… well, starting to shine.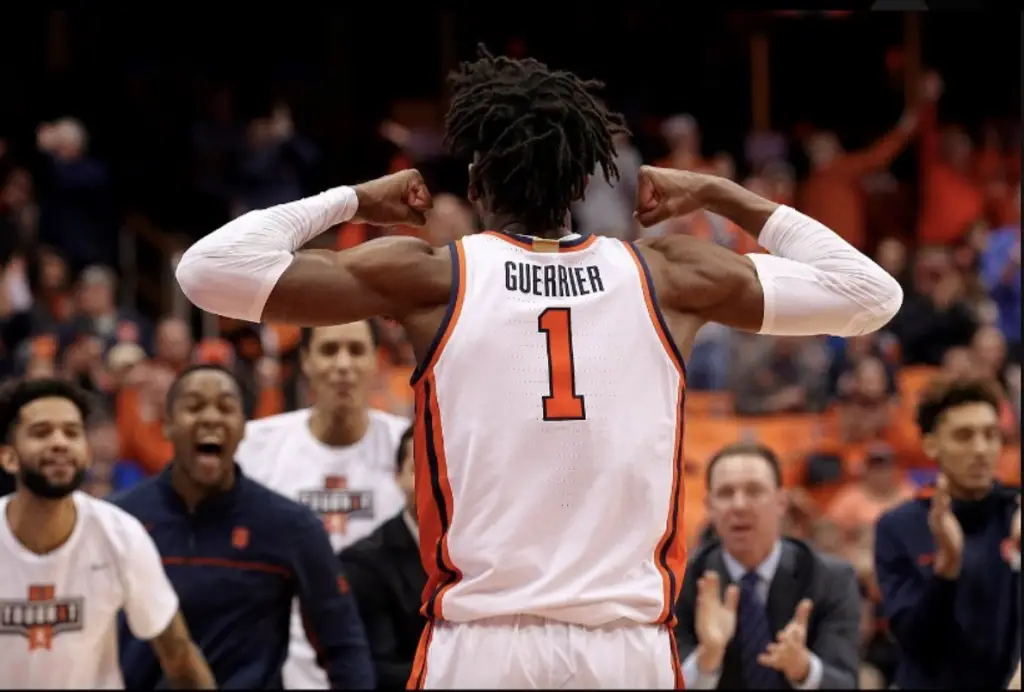 As far as what the future holds for Guerrier – slightly more than halfway through his first year on-campus at SU – the 20-year-old is keen on just living presently in the moment right now.
"I don't know [what the future holds yet], we'll see. I'm just working hard, every day at a time," Quincy says.
For the time being, Quincy's focus is on what he does best: sure, developing his game on the basketball court… but also Call of Duty as well, eating candy too! And, of course… showing love to the people close to him.
Keep it up, Candyman.
(adsbygoogle = window.adsbygoogle || []).push({});