The mission and objective were simple: win the Saturday's regular season finale against Miami and lock up the five-seed in the ACC Tournament. Lose and fall to the six-seed and make things 1,000x harder on yourselves in Greensboro. 
Seems easy, right? Apparently not because in very Syracuse-esque fashion, the Orange dropped that critical final game to a pretty bad Miami team that was without it's top player, setting themselves up for a truly terrible ACC Tournament Draw in the process: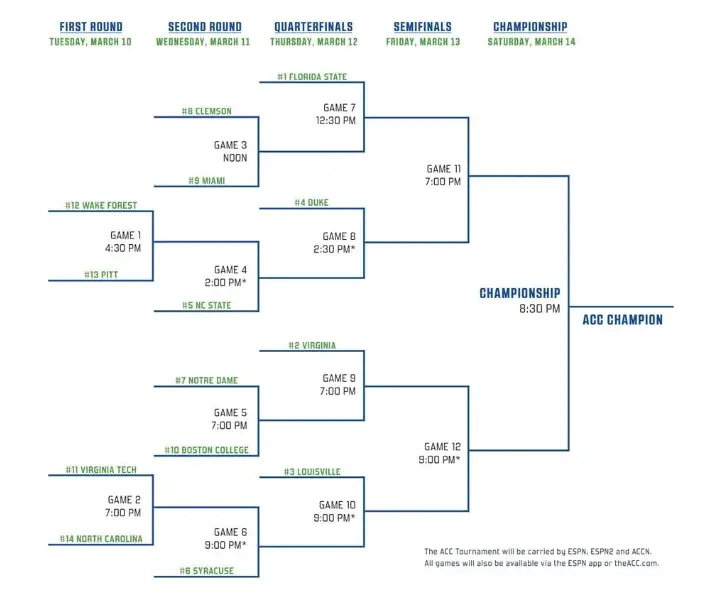 First and foremost, dropping down to the six-seed means that Syracuse has been saddled with the latest possible start time in both its second and third round matchups. Instead of getting to play in an ideal time slot of 2:00-2:30 p.m. on both Wednesday and Thursday afternoon, SU has been relegated to a 9:00 p.m. start time on both nights. 
Obviously that timing isn't ideal for fans (especially the kiddos on a school night) who are now going to have to stay up and tape their eyelids open just to watch the first half of the Orange's first game. It might be even worse for the team who now has to make sure they keep themselves locked in and engaged all day long while also making sure to strike a balance between preparation and rest. 
Simply put, it stinks and that's not to mention that those times are also likely to be pushed back even further because the early games almost never go exactly on time.
But outside of the less than ideal timing of SU's games, the actual in-game, basketball side of the draw puts the 'Cuse in a terrible spot to make any kind of tournament run. Because they dropped to the six spot, SU will now play the winner of the first-round game between UNC and Virginia Tech. 
Carolina is probably the hottest team in the ACC right now, winning three of its final four games and averaging nearly 87 points per game (nearly 15 points better than its season average) during that stretch. 
It seems like the Heels have finally started to figure out how to marry all of their talent together into a unit that is going to be a tough out for any team in the ACC Tourney, let alone a Syracuse team that they manhandled just a few weeks ago inside the Dome. 
UNC has presented so many issues for SU over the years and with Cole Anthony leading the way and Garrison Brooks looking like a zone wrecker in that game in the Loud House a few weeks ago, the Tar Heels were the last possible matchup you wanted to see if you're Syracuse, so the Orange better hope VT can pull off the upset on Tuesday night. 
Even if Syracuse does find a way to get past big bad Roy Williams and company on Wednesday, the path doesn't get any easier. The third-seeded Louisville Cardinals would await on Thursday night for that 9:00 start and we all remember how badly the Cards annihilated SU down in the Bluegrass State a few weeks ago where it looked like the 'Cuse gave up a bit late in the second half. 
After that a matchup with second-seeded UVA would likely loom and the Cavaliers are as hot as any team in the country and are entering the ACC Tournament on an eight-game winning streak and as winners of 11 of their last 12 games. Just another addition to a truly brutal draw for SU. 
The only way for Syracuse to make the NCAA Tournament (which they almost surely won't) is to run the table and win the ACC Tournament. They've never done that in their time in the conference (last conference tournament win was the '06 BIG EAST Tourney) and thanks to a nightmare draw for this week, Kenpom only gives the 'Cuse a 2% chance to do it this year.
Good luck, gentlemen. You're going to need it.

(adsbygoogle = window.adsbygoogle || []).push({});