Syracuse is losing three guards this offseason to the transfer portal in sophomores Jalen Carey and Howard Washington, and freshman Brycen Goodine. All of them are point guards that lost the starting job to Joe Girard, prompting them to find more playing time elsewhere. The Orange are only losing less than five points per game between the three of them. However, one guard quietly leaves the program, and takes a tremendous amount of upside with him.
Brycen Goodine came to the Hill as not just a four-star recruit, but as the expected future of the Syracuse backcourt. Amidst Girard's success and Goodine's broken nose, which cost him a couple of games, fans may have forgotten about his quick first step, mid-range game and NBA caliber hops. 
The Orange will miss what he could have become. Goodine would have complimented Buddy Boeheim at the top of the zone. He could have been an elite finisher at the rim, and he should have been given a better chance to blossom. 
There's no immediate need for any of the guards SU is losing, including Goodine. But should Boeheim's shots stop falling, or Girard's overbearing workload catch up to him, Jim Boeheim will look up and down his bench, and wish for Goodine as a reinforcement. A lifelong Syracuse fan that had already spent a year in the program was underappreciated in Syracuse.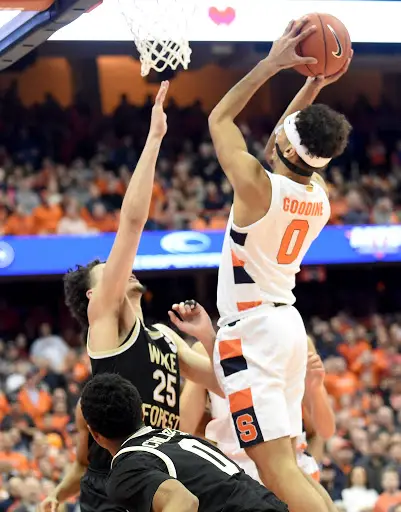 Even though Goodine's surprisingly low three-point percentage of just 13% became a gag, and he didn't make it off the bench in a handful of games, Goodine did all fans can ask of a 19-year-old four-star recruit. When he arrived at Syracuse, Jalen Carey was the starter. Goodine seemed to have taken the job from Carey after the preseason scrimmages, but then it was suddenly taken from him. Despite all that, when he was on the court, Goodine filled his lane. He didn't turn the ball over an incessant amount, made the smart plays and never complained about his diminished role. 
Syracuse fans will not only miss what Goodine could have become, but also what he was. While he didn't have many shining moments, the game-winning layup against Wake Forest sticks out as one of the highlights of the 2020 season. When it comes to who will be missed most, neither Carey nor Washington have 15 seconds of fame, or the potential Goodine has, that would replicate the void Goodine will leave in the program next season.
(adsbygoogle = window.adsbygoogle || []).push({});