If you ever find yourself having to come up with the top four controversies in Syracuse Basketball history… congratulations, you're in luck. Jim Boeheim is the coach. He IS controversy. Depending on who you ask, Boehiem is a million different things.
"He's a whiner. He's a winner. He tells it like it is. He's an underachiever. He's a defensive genius. He's an abysmal X's-and-O's coach," as The Ringer's Mark Titus, once put it. Well, that's the thing about controversy. People can't agree.
No. 4 on our list is a controversy manufactured by a familiar culprit: Boeheim's gab. And in the blue corner, a familiar foe: the media.
Boeheim Drops The Gloves for McNamara
About a month before the 2006 Big East Tournament, the Daily Orange, Syracuse's student newspaper, wrote two columns. One claimed Gerry McNamara is overrated, while the other refuted the label. Boeheim saw it, presumably scoffed in disgust, and stored it in his famously sharp memory.
The day before the Orange faced Cincinnati in the first round of the conference tournament, the Syracuse Post-Standard released the results of a Big East assistant coaches survey.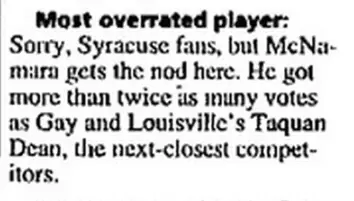 There it was in print. Blasphemy.
The next day, McNamara did this.
Overrated, huh? Boeheim wasn't about to let this one go.
"I have to laugh a little bit when our own paper is calling him … overrated. They actually listened to a couple assistant coaches who I guarantee you will never be head coaches if they think Gerry McNamara is overrated. Of course, our paper won't print that anyway because that's, you know, somebody said it. Without Gerry McNamara, we wouldn't have won 10 f****** games this year. OK? Not 10. The other guys just aren't ready. They needed him. Without him there, not 10. We wouldn't be here to even have a chance to play this game. And everybody's talking to me and writing about Gerry McNamara being overrated? That's the most b***s**** thing I've seen in 30 years — and especially if it comes from our people in our papers. But they're quoted from somebody else, an anonymous assistant coach. Let the assistant coach come up to me and say, "Gerry McNamara is overrated.' I'd like to see one of those guys come up to me and say that. He's been double-teamed every game this year, and the coaches voted him first-team all-conference. The head coaches don't know s***, I guess."
Of all the Boeheim post-game tirades, and there are many, this is the most memorable. Especially because it set McNamara off on a Big East Tournament rampage.
Quarterfinal: Syracuse def. UConn 86-84 (OT)
McNamara: 17 points, 13 assists, a game-tying three with 5.6 second left
Semifinal: Syracuse def. Georgetown 58-57
McNamara: 17 points, 5 assists, a three-pointer to bring the Orange within one with 48 seconds to play
Final: Syracuse def. Pittsburgh 65-61
McNamara: 14 points, 7 assists, a Big East Tournament MVP trophy.
Whew, what a time. Luckily, this video exists to preserve the memory of the time Gerry McNamara was definitely not overrated.
(adsbygoogle = window.adsbygoogle || []).push({});