There has been well over a century's worth of football played in Syracuse program history. Since its first-ever game on Nov. 23, 1889, SU has experienced a considerable amount of success – illustrated by 724 program wins, 206 total weeks spent ranked in the polls and five conference championships during its time in the Big East. 
Breaking down Syracuse's all-time top three seasons requires sifting through the archives, flashing back to triumphant campaigns across various past decades. At the center of these successful years are some of the most-celebrated names in program history, spanning from Heisman-winner Ernie Davis to legendary coach Dick MacPherson, all the way to the days of Marvin Graves and David Walker – just to name a few.
SU has enjoyed a total of 81 seasons above .500 – seven of which with at least 10 wins, 17 that include a top-10 appearance in the rankings and 26 ending with a bowl game (16 victories). So, when it comes to choosing just three for the program's best of all-time, it's inevitable that plenty of options are in-play here.
Before starting that countdown, it's only right that we list off a few noteworthy honorable mentions. 
Honorable Mentions:
1938: SU's second season under head coach Ossie Solem. After outscoring opponents 99-17 through its first three games, the Orange found itself at No. 10 in the rankings. This was the first time in program history that Syracuse cracked the top-10.
1956: The Orange enjoyed a plethora of successful seasons under head coach Ben Schwartzwalder, and the program's 1956 campaign will not be the only one mentioned in this series from the Hall of Fame coach's 25-year run at SU. However, in 1956, Syracuse endured its toughest Strength of Schedule of the entire decade (Sports Reference), playing five of its nine total games that year against ranked opponents. Led by the great Jim Brown, the Orange peaked at No. 7 in the rankings during the season and came in at No. 8 when things were all said and done. The '56 team's only two losses (7-2 record) were at No. 10 Pitt, and in the Cotton Bowl against No. 14 TCU. SU lost those two contests by a combined 10 points.
1991: One of just three Syracuse teams in program history to remain ranked in every single week for an entire season. SU was one of the two teams in its conference to completely and utterly outshine the rest of the Big East. The other was Miami, who finished the year as national champions. The Orange never got to face the Hurricanes that season, but the two sides did meet at the Carrier Dome that next November 'Äì a meeting Miami walked out of as a 6-point winner. Nevertheless, Syracuse still faced four ranked opponents in its 1991 campaign and faired rather well in those contests. The Orange prevailed in three of the four matchups, which included wins over No. 5 Florida and No. 25 Ohio State in the Hall of Fame Bowl. Syracuse'Äôs Hall of Fame Bowl victory that year marked the school'Äôs fourth in a run of five consecutive seasons closed out with bowl game wins. SU's five-year streak (from 1988-1992) was perhaps close to becoming a six-year run after nearly starting one year earlier 'Äì in the 1987 season. However, we'Äôll have more on THAT later'Ķ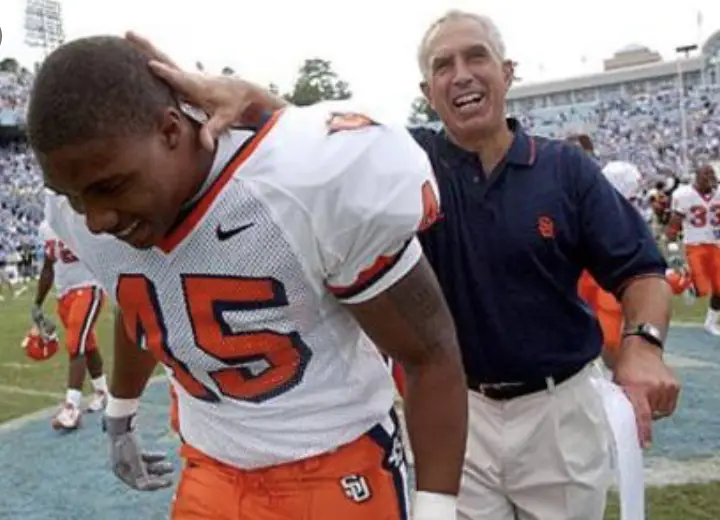 2001: A Syracuse team that undeniably displayed a great deal of heart. The 2001 squad had the toughest-rated Strength of Schedule among all SU teams included in our top three, or any of the honorable mentions as well. In addition, the Orange was coming off a season in which it missed a bowl game for the first time in the last five years prior (missed bowl game in 2000 after making one every year from 1995-1999). Coached by Paul Pasqualoni, SU started the year off with back-to-back losses – both against top-10 opponents – before righting the ship. After its rough start, the Orange rattled off eight straight wins, including a road victory over No. 5 Virginia Tech, which officially launched SU into the Top 25. Syracuse's only remaining loss that year was to again… national champion Miami, and the Orange went on to finish 10-3 with a win in the Insight Bowl against Kansas State. 
Now, with all of our (very) honorable mentions out of the way, we can begin the most fun part of all – the best of the best, the top three. Since this is a three-part series, while starting with No. 3, we're also going to be ending with No. 3 (for the time being) until we come back with Round 2 in the coming days. Nevertheless, we're heating up quickly as we kick off our top three with a good one.
No. 3: 1992 (10-2, 6-1)
After a successful first year under Pasqualoni in 1991, this group seemed to really come back hungry and improved. Like the '91 squad, the 1992 Orange was ranked in each week of the entire season. However, the difference with the '92 team was that it stayed in the top-10 for 11 weeks throughout the season, never dropping below No. 17.
Again led on offense by quarterback Marvin Graves with David Walker in the backfield, the Orange averaged 28 points per game and enjoyed scoring outbursts on several occasions – including 50 points versus Rutgers, 42 against East Carolina and 41 on Pitt. SU also notched significant victories over Texas and road wins against ranked opponents West Virginia and Boston College – while going 5-0 on the road as a whole.
The 1992 team's only two losses all season both came against ranked teams – No. 21 Ohio State and a hard-fought 6-point defeat at the hands of No. 1 Miami. After its tough loss to the Hurricanes, the Orange bounced back to finish off the year on a high note.
Syracuse landed a spot in the Fiesta Bowl against Colorado, who was led by the fifth-highest-rated passer in the country – Kordell Stewart. Behind 201 total rushing yards on offense and a strong performance turned in on defense, the Orange took down the Buffaloes, 26-22, picking off Stewart three times in the process – with interceptions from Dwayne Joseph, Bob Grosvenor and Tony Jones. The Fiesta Bowl victory was the fifth year in a row for SU ending in a bowl victory. 
Making things all the more sweeter, the late Syracuse great Chris Gedney was also named a consensus All-American at the tight end position, making him the first All-American selection in Pasaqualoni's tenure with the Orange. Pasaqualoni would only go on to coach one more All-American on The Hill: Dwight Freeney in 2001.
No. 2: ???
Our top two Syracuse football seasons are both coming in the very near future. For now, though, the hope is certainly that – after recapping a number of memorable seasons in the honorable mentions as well as our No. 3 season – those feelings of nostalgia are in full-effect. Stay tuned for the top two.
(adsbygoogle = window.adsbygoogle || []).push({});