Staying on the hardwood for No. 51, our next player on the list comes from a bloodline that was rich in Orange to begin with. After his distinguished career at SU, Brandon Triche certainly built onto an already-cemented Syracuse family legacy.
To the fondness of many, on The Hill, Triche's uncle, Howard, played four years at Syracuse; as did Triche's cousin, Jason Hart. Sure enough, Brandon – who was born and raised in the Syracuse area – followed directly in both of his relatives' footsteps. Essentially, it seems as if he was born right into it.
Looking back, no matter of how inevitable Triche's days in Orange may – or may not – have been, there is no doubt Triche solidified his own personal legacy at SU. A highly-touted recruit from nearby Jamesville-DeWitt High School, Triche was called upon to contribute right off the bat. He started in 34 of the team's 35 games in his first season, which can be an occasional gray area for freshmen under Jim Boeheim – no matter how coveted a recruit may be. The Orange finished that year with a 30-5 record after a tough loss in the Sweet 16 – to a Butler team that gave Duke a run for its money in the National Championship Game.
A number of key departures had Triche playing a more significant role as a sophomore in 2010-2011. Occupying the Orange backcourt alongside Scoop Jardine, the pair led the team in both 3-pointers made and assists, for a 27-8 Syracuse squad that ranked in the Top 10 of the AP Poll for most of the season (never dropped below 17). As a junior in '11-'12, Triche ranked third on the team in scoring, helping lead the Orange all the way to the Elite Eight. However, unsurprisingly, it was his senior year when Triche played at his absolute best, for SU.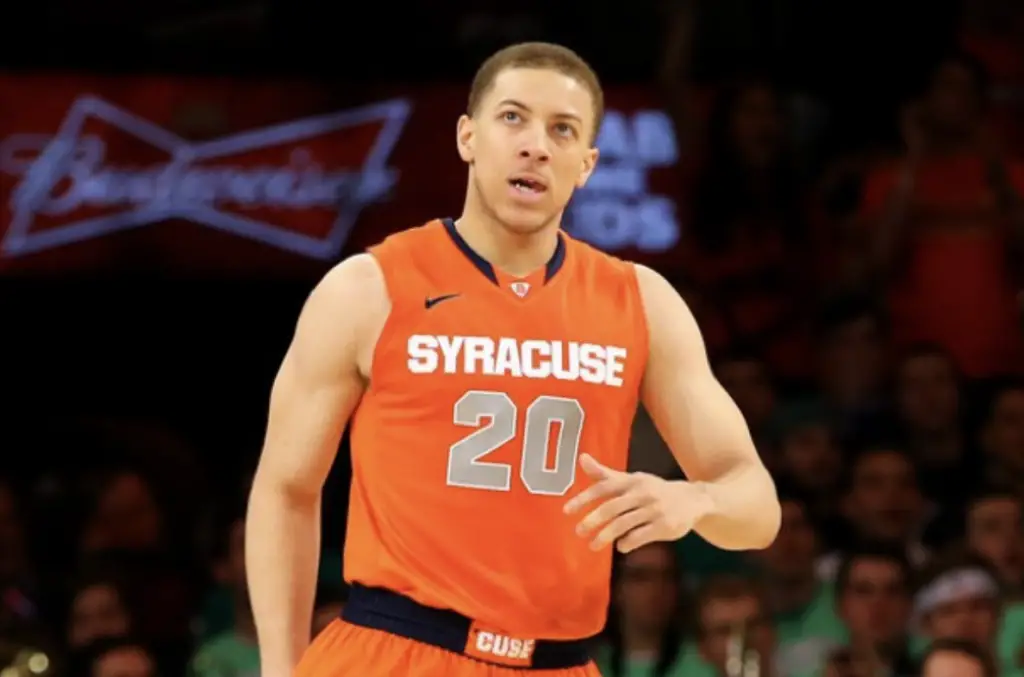 Syracuse reached the Final Four in Triche's last year with the program, many thanks to his various contributions. For one, Triche led the way along with C.J. Fair, in scoring, and dished out the second-most assists on the squad as well – only behind Michael Carter-Williams. Furthermore, in rather poetic fashion, with SU's season – and a trip to the National Championship Game – on the line, it was Triche who had the ball in his hands at the very end. As many Syracuse fans can likely recall, vividly, trailing Michigan by two points with a little over 20 seconds to go, Triche drove to the hoop for a potential game-tying layup – only to be called for a controversial offensive foul.
(Snippet below. Apologies in advance…)
"I've been on record as saying the charge-block call is a joke in college basketball, and you've just seen another joke. That wasn't even close. It wasn't close live, it wasn't close on tape."

–Jay Bilas during ESPN's Final Four broadcast of Syracuse vs. Michigan
Nevertheless, Triche's career on The Hill will always be one that deserves recognition from Orange faithful. Throughout his four years, Triche helped SU reach the NCAA Tournament in each season with two of those trips including one Elite Eight and one Final Four appearance. He's also 18th on the program's all-time scoring list and – easily, his most impressive feat of all – has played more games for the Orange than anyone in Syracuse basketball history.
(adsbygoogle = window.adsbygoogle || []).push({});