JaCobian Morgan made his first career start two weeks ago against Boston College. The true freshman had a solid debut finishing 19 of 30 for 188 yards, with a touchdown and interception. He also showed he can be a running threat, but if you look at the box score his rushing stats are in the negative due to sacks. 
Morgan completed 63% of his passes which is the most accurate a Syracuse quarterback has been all season. And that was in Morgan's first career start against a BC defense that's 6th in the ACC in total defense. 
The true freshman is putting his potential on full display and figures to be SU's signal caller for the rest of the season. In the words of Dino Babers: 
"Yeah I think he did ok. I think he deserves to go out there first that's for sure." 
So now that Babers is hip to starting Morgan, let's take a look at number 15's film from the BC game and break down what he brings to the table.  
Play 1 0:00-0:15 
I'm really impressed with Morgan's ability to move in the pocket and keep plays alive. BC sends a corner blitz on this play, Sean Tucker does well to slide over and pick it up. The protection is good but the pocket begins to collapse. Morgan's first look is to Anthony Queeley on the near sideline. Queeley ran a five yard curl and the db covered it well. Morgan steps up in the pocket, keeps his eyes downfield and you can see him wave for Queeley to work up the field. Instead of dropping it down to Nykeim Johnson on a drag, Morgan tries Queeley who worked vertically up the sideline and drops a sidearm pass right in the bucket. Morgan seems to be comfortable rolling out and throwing across his body, that was an impressive throw.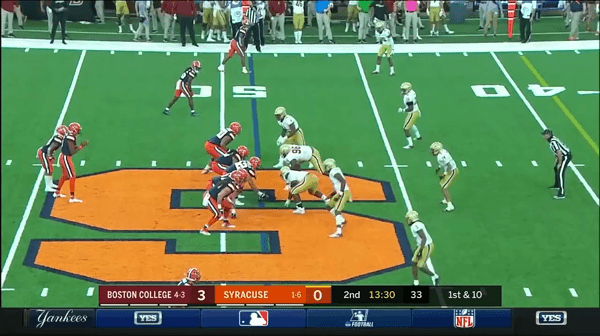 Play 2 1:16-1:26
Syracuse works a curl-seam concept here out of the doubles formation (2 receivers each side). The seam routes are well covered, but Morgan does a great job here dissecting the coverage and holding up the linebackers using his eyes. Look where his head is, he's looking right at the linebacker in front of him (#14). He sees he's not coming on a blitz, then looks for the seam route to his right, sees it's covered and checks it down to Taj Harris. The db sank into a zone so Morgan really had to put some mustard on it to get the ball to Harris, that's a very difficult throw. But Morgan gets enough on it and Harris is able to break a few tackles and get a first down. I don't think Culpepper has the arm to make that throw.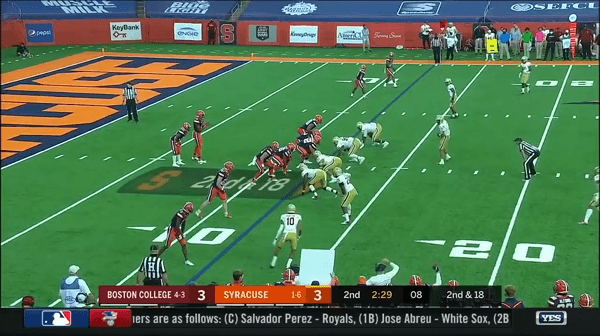 Play 3 2:22-2:33
Boston College runs that same corner blitz as on play 1, but this time SU has the perfect call to counter. The Orange dial up a HB slip screen (finally). Tucker and the O-line execute beautifully. Morgan did a great job here luring in the five defenders on a blitz and gets rid of it at the perfect time. Syracuse tried this with Culpepper against Pittsburgh and well let's just say it didn't work.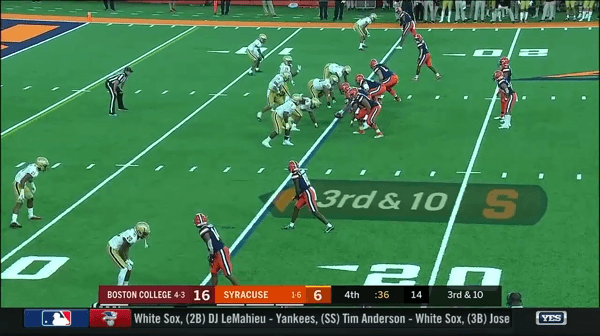 Play 4 8:47-9:04
Loved the poise Morgan showed on this late fourth quarter drive. Syracuse down 16-6 needed a quick score to give themselves a chance at an onside kick and Morgan drove Syracuse all the way down the field. Morgan showed once again his tendency to roll out left and does well to hop out of a would be tackler. He keeps his eyes downfield, sees no open receivers and just takes off. He has great speed and I would've loved to see him just run right through the BC defenders on the goaline but he reaches the ball over the pylon for what should've been a touchdown. But SU gets it on the next play…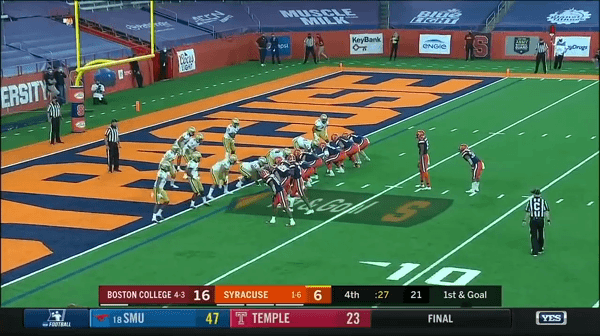 Play 5 9:08-9:24
This is something Syracuse hasn't had this season. The ability to create at the quarterback position. Morgan rolls out, can run, or can reroute receivers and make difficult throws to at least give the pass catchers a chance to make a play. On this play, he does miss Taj Harris on the speed sweep, I'm sure Babers was on him for that in film. But hey he still makes a play. Morgan decides to make the more challenging throw off his back foot to Aaron Hackett in the back of the endzone. It almost looks like a throwback play, but again Harris was wide open here so hopefully Morgan sees that next time SU dials up this play. 
Overall a very solid performance from the true freshman. Morgan brings things to the table that can add a lot to this offense and bail out an offensive line that is..average. Syracuse fans should be excited to see what else he can do in the final three games this season and maybe even contend with Tommy DeVito next season for the starting job on the Hill. 
(adsbygoogle = window.adsbygoogle || []).push({});