Garrett Shrader is on his way to Syracuse! The former Mississippi State quarterback announced his intentions to transfer to SU over the weekend. At the time, Jim Boeheim and Company were still struggling to get past Buffalo, but let's not let this potentially program changing news get overshadowed.  
Shrader was in the transfer portal for about two months after losing the starting job at MSU to KJ Costello. The former 4 star QB recruit took the world by storm in the 2019 season starting as a freshman and playing in 10 games. He took over for Penn State transfer Tommy Stevens in the third game of the 2019 season. Shrader racked up 1,170 yards with 8 TD and 5 INT. The North Carolina native also added 587 yards and 6 TD on the ground. 
All was good and Shrader was preparing to train in the offseason for a big sophomore campaign. However, former MSU Head Coach Joe Moorhead was fired in January of 2020 after just two seasons. Moorhead is now the OC at Oregon and just coached the Ducks to a Pac-12 Championship. With Moorhead's departure, the spread offense went with it and in came former Washington State Head Coach Mike Leach. 
As a dual-threat signal caller, Shrader has a lot of potential in spread and spread option schemes, but clearly he wasn't a fit for Mike Leach's new air raid system. So Shrader enters the transfer portal, Syracuse OC Sterlin Gilbert gets on the phone, and the rest is history. 
Now you may not recognize the name Garrett Shrader off the top of your head. Those who are recruiting geeks might as he had an offer from Alabama. However, maybe this rings a bell…
I mean hey, you gotta respect the hustle and the heart there if nothing else. But yeah, maybe now you know who it is we're talking about. 
Anyways, Shrader had his ups and downs at MSU and has found a new home at SU so let's talk about what Syracuse is getting in Garrett Shrader.  
I'm going to refer to the film from his game against Texas A & M for this study. There are other games you can find on youtube and such, but this Aggies defense was in the foundational stages of dominance in 2019.  
Play 1
The arm talent is on full display here. Shrader gives a good fake in play-action, gets into his drop and floats it up beautifully with some touch allowing his receiver to make a play on it. This is the kind of arm talent SU didn't have with Rex Culpepper and arguably Tommy DeVito.  
Play 2 
Here's another look at Shrader's arm. This time you see the velocity and the placement. The (then) true freshman fits that ball into a tight window as the defender was draped all over his target on that crossing route. I'm not sure that any SU quarterback from 2020 would've made that throw. More often than not that's an interception.  
Play 3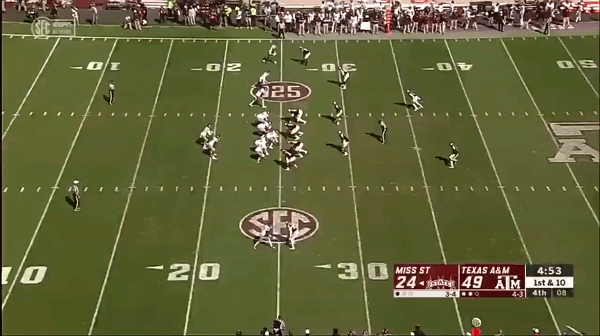 THIS IS THE DIFFERENCE MAKER! One of several option looks Shrader was just born to do. Here's a midline read concept where you read the defensive tackle. He keeps it and goes up the middle making the correct read. Additionally, he's a willing runner and doesn't shy away from contact. This will be a game changer for the Syracuse offense giving the backs more opportunities to get loose and even Shrader keeping is deadly. This ability will transform the Syracuse offense, this is something the Orange just didn't have and it worked with Eric Dungey in 2018. 
Play 4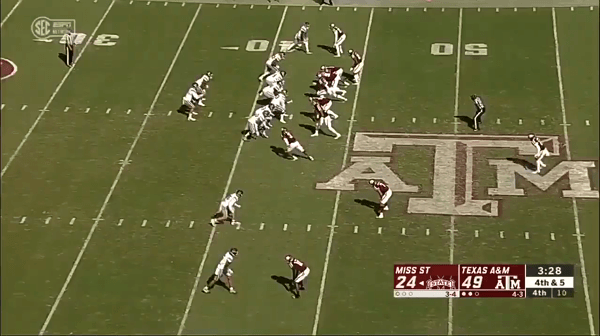 This is very impressive as well. Folks this is a true freshman making these plays against a top tier defense in the SEC. Shrader has the ability to extend plays and make something out of nothing. It takes instincts, vision, and athleticism. DeVito can't do this and Culpepper can't do this. Dungey could and that's why SU was so successful offensively in 18'. Dungey could bail the offense out on third and longs and get those critical first downs by extending plays. 
Play 5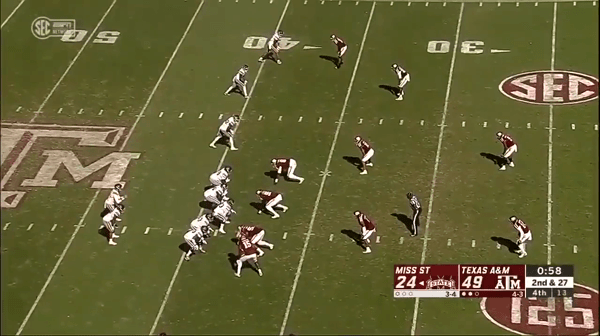 Last look at the arm here. It's 4th & 5 and MSU was down 25 so perhaps Shrader was just like screw it I'm going for it. Either way, this is a spectacular throw with a defender in his face and double coverage. That is such a tight window with the corner that got burned and the overhang safety. Shrader threw it so hard that it knocked his receiver off balance.  
There's a quick look at Shrader and what he brings to Syracuse. He played a majority of his games against elite SEC defenses and had his ""trial by fire." The dual threat signal caller showed flashes of his greatness though and that's what will get SU fans excited. Shrader has shown that he can do things at the quarterback position that Syracuse hasn't been able to do lately and his presence alone in the room will elevate the play of his competition. Now Shrader will battle with DeVito, JaCobian Morgan, Dillon Markiewicz, Justin Lamson, and David Summers for the starting job… should be interesting.
(adsbygoogle = window.adsbygoogle || []).push({});