The ACC tourney is almost upon us. On March 9th, ACC teams get their final chances to show their worth of an NCAA tournament bid. As we know, Syracuse loves being one of those teams. The Orange always seem to find their way onto the bubble, this year is no different. SU won two games not many people thought they would, and all of a sudden have a chance to compete in March. The only question: Who will they play in the ACC tournament?
There are a few likely scenarios, let's run through them all.
Last night, three games were played: Florida State beat Boston College, NC State beat Notre Dame, and Syracuse beat Clemson. 
Tomorrow and Saturday, there are seven more games that will finalize the seeding of the tournament. Syracuse will either be an 8-seed or 7-seed. 
What's most likely is Syracuse ends up an 8-seed, playing Duke in the second round, with the winner advancing to face FSU. That scenario is pictured below: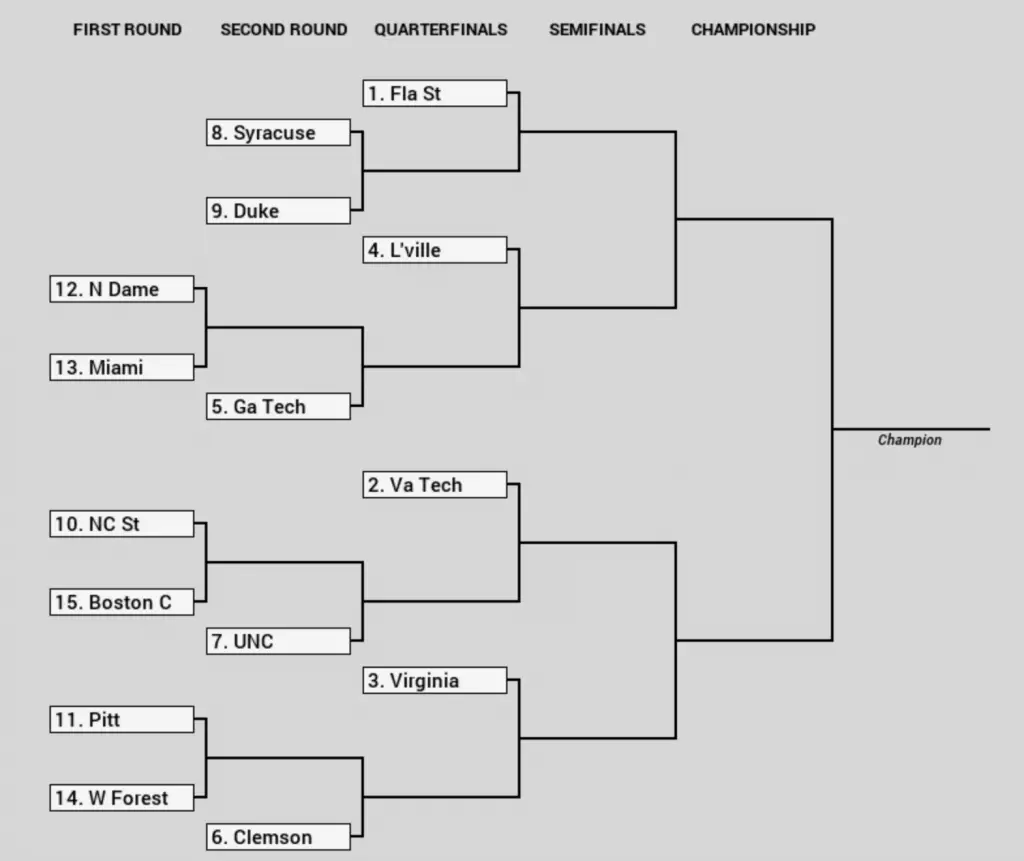 That doesn't look that enticing for Syracuse. At this point, the Orange probably need two ACC tournament wins to reach March Madness. Even if they beat Duke in the second round, they'll have to face a very strong FSU team, which doesn't bode well. 
What's preferred but unlikely is the scenario in which SU gets bumped up to the 7-seed. That happens if Duke takes down UNC, which is possible, and if Pitt takes down Clemson, which is fairly unlikely. Pitt is 10-10 this year, 3-8 since beating Syracuse 96-76. Though if it does happen it will look like this: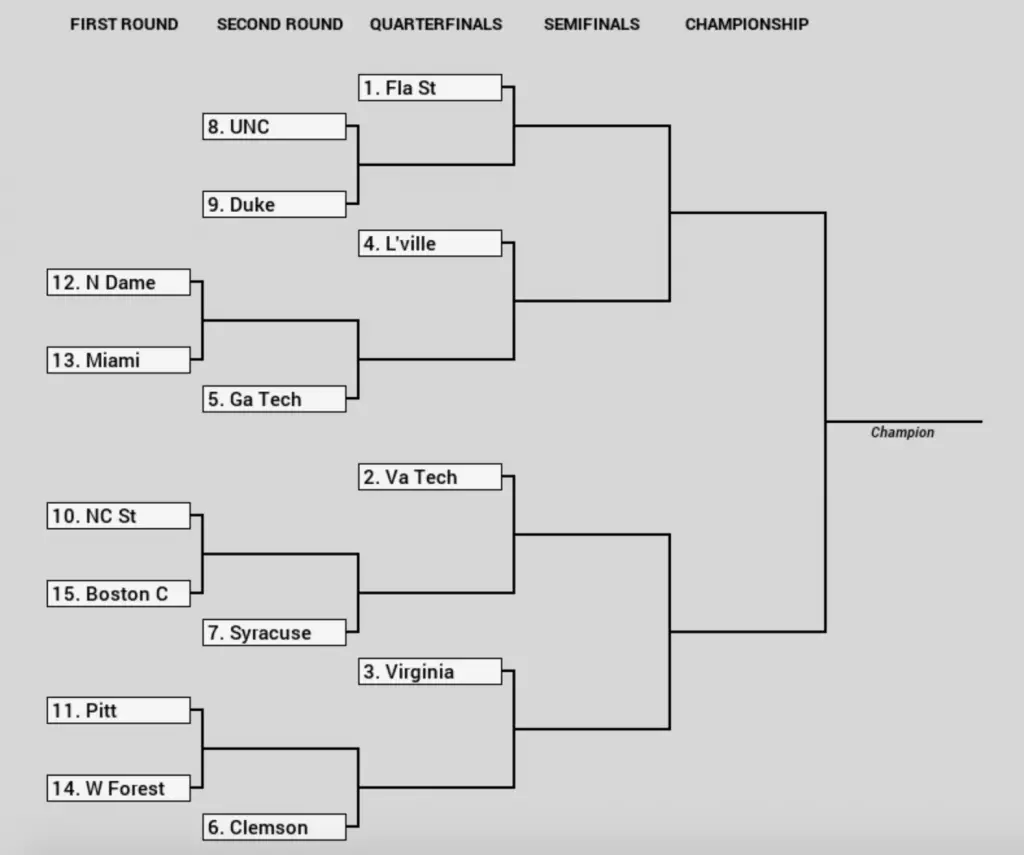 Syracuse will play the winner of BC and NC State. If the Orange win that one they'll take on Virginia Tech who they already took out once this season, and convincingly. Obviously the Orange would prefer the higher seed so, 'Cuse fans will have to be Duke and Pitt fans for a couple days, as odd as that sounds.
The third scenario comes if Louisville drops its game with Virginia on Saturday. If that happens Virginia instead of Virginia Tech becomes the 2 seed, which looks like this: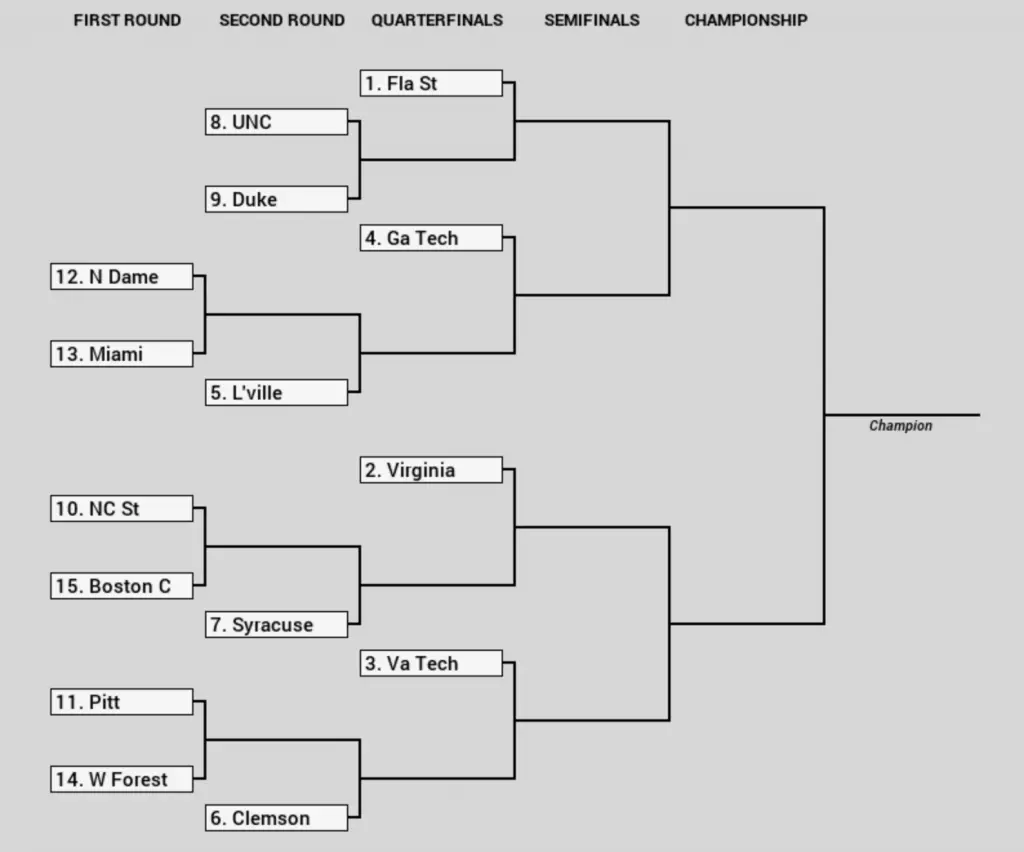 We all know the Cavaliers slaughtered the Orange when the two met this year, Syracuse will also probably be rooting for the Cardinals this weekend.
Syracuse will most likely need two wins in the tournament to be considered for the big dance, those two wins will come a lot easier in the bottom of this bracket than the top.
(adsbygoogle = window.adsbygoogle || []).push({});