Syracuse suffered another loss in a game it probably should've won. Wake Forest squeezed out a 40-37 victory in overtime thanks to an acrobatic catch from A.T. Perry in the back corner of the endzone. With this loss, SU is 3-3 in a season where some truly believe they should be 6-0. Here are the biggest takeaways from the latest Orange loss:
Give Sean Tucker #44
It's time. The man deserves it. Not just this past weekend's performance in which he rushed for 153 yards and 2 TDs, but the entire season Tucker has been on fire. Currently, the Maryland native is leading the nation in all-purpose yards with 995, the freshman back is the beating heart of SU's offense.
 Sure some out there will start to bring up the big names, saying he's not on the level of Jim Brown or Ernie Davis or Floyd Little. Fine. If you want to make the argument he's not there yet, that's all well and good, but those guys weren't the only ones to wear the hallowed number. After Jim Brown made the number famous, there were 10 other players who donned 44, most recently in 1998 by Rob Konrad: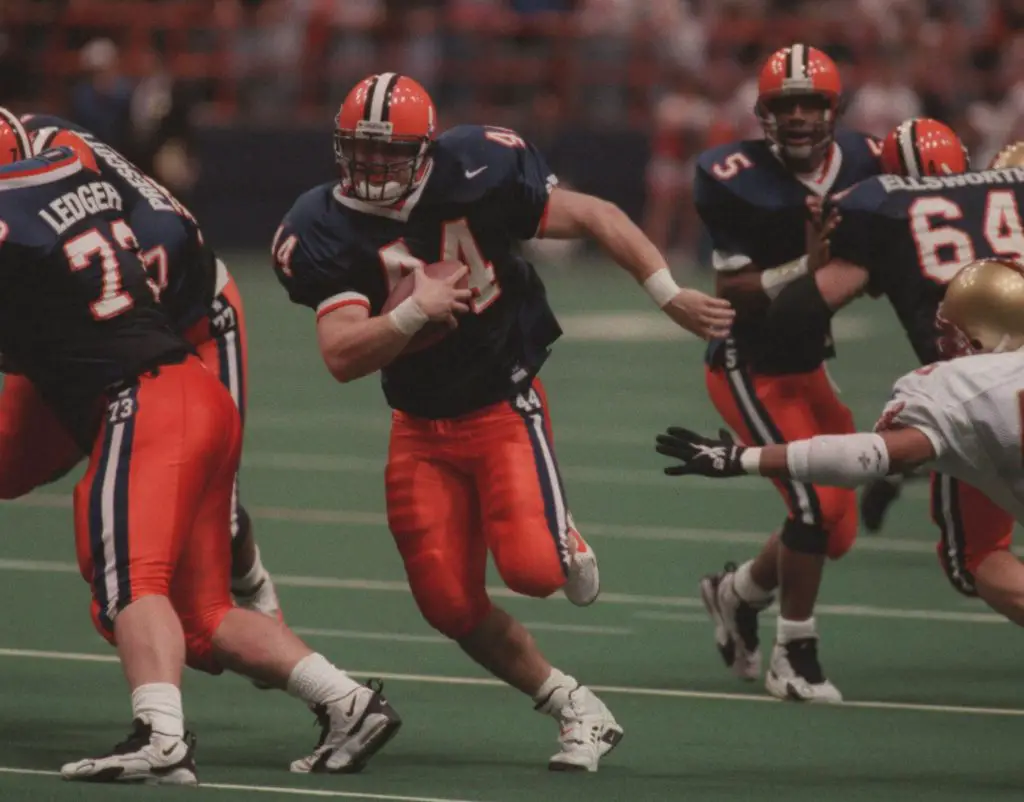 If Konrad and some of the other frankly mediocre players on that list got the honor of wearing 44, there's NO reason Tucker shouldn't.
The Quarterback Discussion is Over
It's over, the decision is made. Garrett Shrader is this team's signal-caller, no ifs ands or buts about it. Some think this was the case after the Liberty victory, others still wanted to see DeVito get a shot coming into this past weekend. Garrett Shrader isn't the issue here. He's not the reason SU can't win seems to close out a victory. Does De3Vito throw the ball better? Absolutely. Does that matter? Seemingly not when you've got a guy in Shrader that can run for over 100 yards week in week out. Against Liberty, FSU, and Wake Forest combined, Shrader ran the ball into the endzone 8 times. That's more than Sean Tucker in that time, in fact, that number nearly ties Tucker's total for the season. Trust in Shrader, he's the guy this team needs in order to win games. 
Babers Needs To Put It All Together
Dino has had his fair share of blunders this season whether that be clock management, play call, or what have you. Against Wake Forest, the two biggest mistakes came right before the half, accepting a holding call which led to an easy Demon Deacons field goal, and the delay of game penalty SU took late as a result of poor communication from the play-calling staff to the players. Unacceptable. But before you crucify him and call for his job, give him a little credit. Dino wasn't brought to Syracuse because of his X's and O's or his or his ability to outsmart opposing coaches. Does that mean there should be as many errors as there were on Saturday? No, but SU hired Babers based on his ability to recruit. That's something he's been criticized over in recent years but whichever way you twist it, his proficiency in that field is showing up right now. Guys like Sean Tucker, Mikel Jones, Garrett Williams, Marlowe Wax, Matthew Bergeron, and plenty others were three-star prospects. Let that sink in. Before you go out there and condemn the head coach, take a step back and look at what he's done with this roster. Babers has gone out and found those diamonds in the rough and built a talented squad. They've got a team talented enough to win these big contests. If Babers can find a way to motivate this team to close out games like FSU and Wake, there's still a shot at a bowl game.
(adsbygoogle = window.adsbygoogle || []).push({});