Jim Boeheim began using the 1-3-1 zone against Indiana, and although the Hoosiers scored 110 points, the 1-3-1 caused Indiana some problems in the first half. The Hoosiers shot just 35% from the field in the first 20 minutes, and didn't have much of a clue as to how to solve the new SU alignment.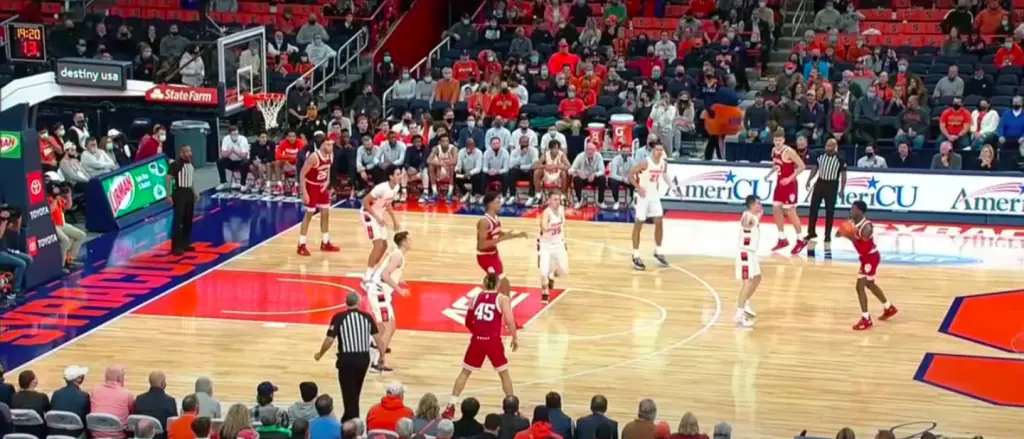 Here's the base 1-3-1 look. Buddy Boeheim's job is to stand on the free throw line, and not let Trayce Jackson-Davis, Indiana's All-American forward, get the ball. Because when Jackson Davis caught the ball in the painted area, bad things happened. SU went back to the normal 2-3 in the second half (and overtimes), and TJD scored 23 of his 31 points.
So let's finally answer the question: Is the 1-3-1 here to stay? The answer is yes. Not because it's shutting teams down, or some new, unique concept. It's because the 2-3 is terrible. The Boeheim trade has been carved up game after game. First, by Colgate's bombardment from behind the arc, then by Auburn's Jabari Smith Jr., and most recently, Georgetown, and Patrick Ewing's halftime adjustment to pound the ball to Aminu Mohammed at the free throw line. Syracuse fans went to bed Saturday night with nightmares about the five-star freshman with the rock inside. The fundamentals this year in the 2-3 are awful.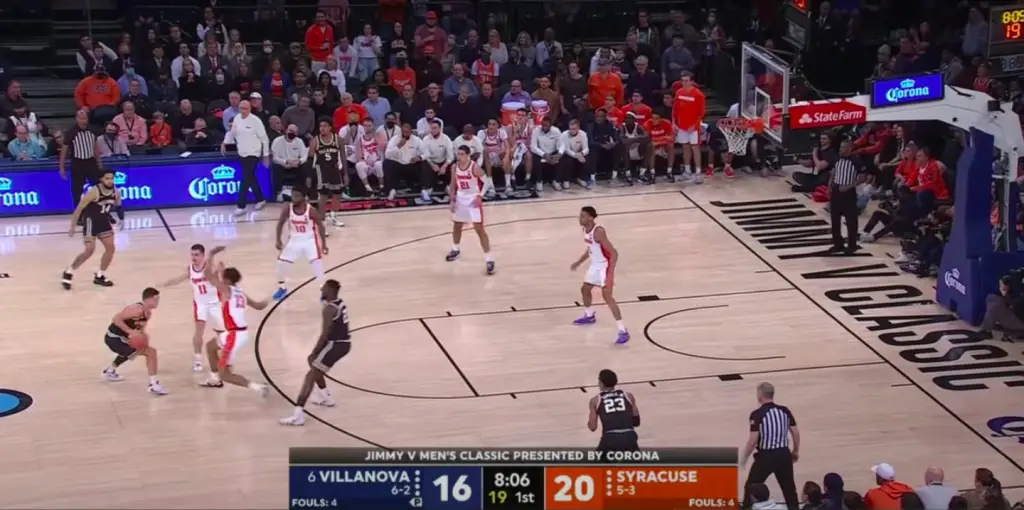 What in the world is going on here? Yes, Collin Gillespie is a top player in college basketball, but is there a reason to double-team him 26 feet from the hoop? There is no way Frank Anselem, who looks lost half the time on defense, can handle that close out on Jermaine Samuels (23 in black), who ended up sinking a three. Another example: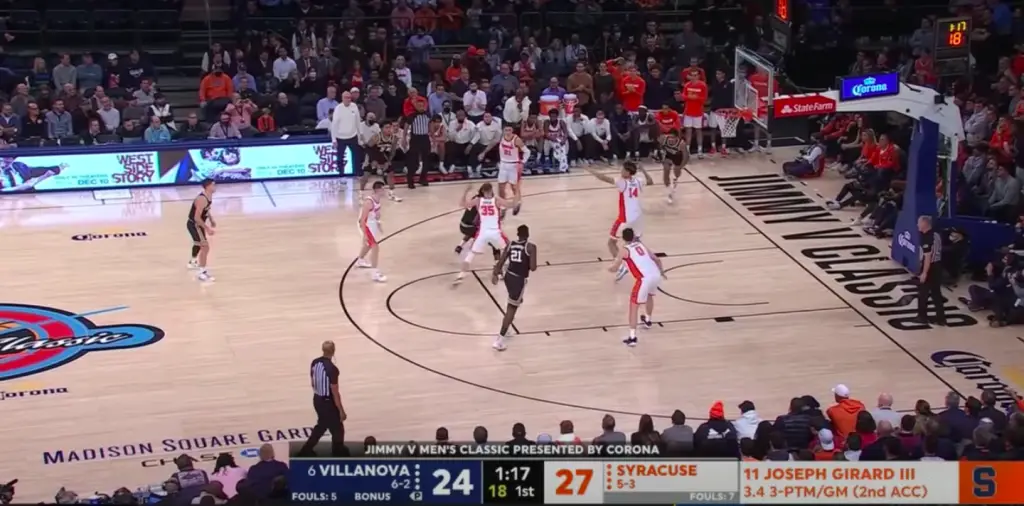 Brandon Slater beats Buddy Boeheim off the dribble, but Boeheim is still in decent defensive position. But everyone else is ball watching. You could drive a truck down the baseline for a backdoor cut, but Villanova sent Samuels down there instead, and he was fouled by Jesse Edwards trying to dunk.
There are ways to beat the 1-3-1, like getting the ball to the corners. However, that is a much tougher challenge, and requires more ball movement. The 1-3-1 also asks more of the SU defense, but right now, it's the only thing that is working. So Jim Boeheim needs to continue using the scheme, or expect 80-plus scored on a nightly basis in conference play.
(adsbygoogle = window.adsbygoogle || []).push({});