Yesterday, Syracuse football announced the Orange would be playing Penn State in a home-and-home in six years. SU and PSU will battle with today's eighth-graders in 2027 and 2028, with the latter edition at "Our House" *eyeroll*.
So yes, this is a historic matchup. The teams have played each other 71 times since the inaugural contest in in 1922, but haven't faced off since 2013 at MetLife Stadium. There might be a reason why… Syracuse has lost 22 of the last 23 contests. The last time Penn State played in the Dome, the Nittany Lions beat the brakes off the Orange, 55-3.
There aren't many positives to scheduling a non-conference game against a team that is simply better than you. Penn State has the fifth-best recruiting class in 2023 as of today. Syracuse has three commits. Is playing a school like PSU going to grow your brand? Is it going to draw recruits? Not really. The Dome might fill up for these games, but recruits are now going to be drawn to the best teams, best coaches and best NIL deals for them. Right now, atmosphere is not on the shortlist of recruiting , and SU football doesn't have the NIL power to bring in recruits (speaking of which, what's Adam Weitsman doing right now?)
The best way to improve a program's reputation is to win. That is simple 'Äî success sells itself. Making and winning bowl games will help Syracuse reap financial benefits, recruit more diamonds in the rough and succeed in all aspects of the program. How does one make a bowl game? Win six contests. The Orange are taking one off the table with these Penn State games.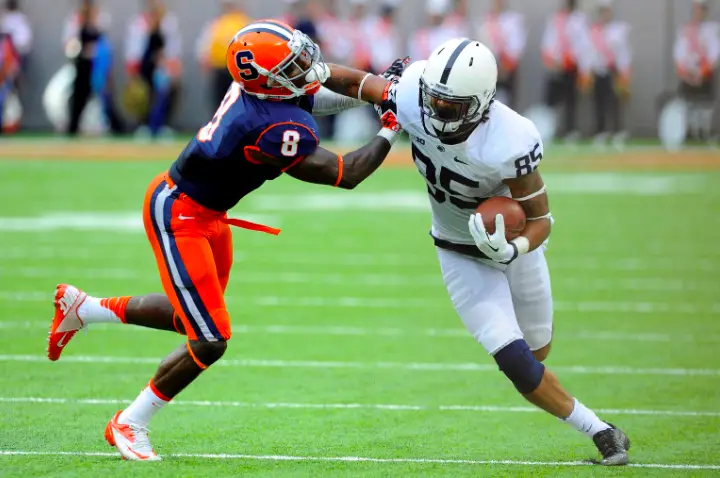 John Wildhack might've simply signed this deal for the ample TV money SU should receive for scheduling these games. If that's what the athletic department goes for first, this program is not in good shape. Success brings more money, and two games that are almost automatic losses won't help Syracuse in the slightest.
(adsbygoogle = window.adsbygoogle || []).push({});