Bettors, raise your eyebrows. On WynnBET, Syracuse is a 54.5-point favorite against the lowly Wagner Seahawks this Saturday. That's a six-touchdown gap. It's the largest spread in program history.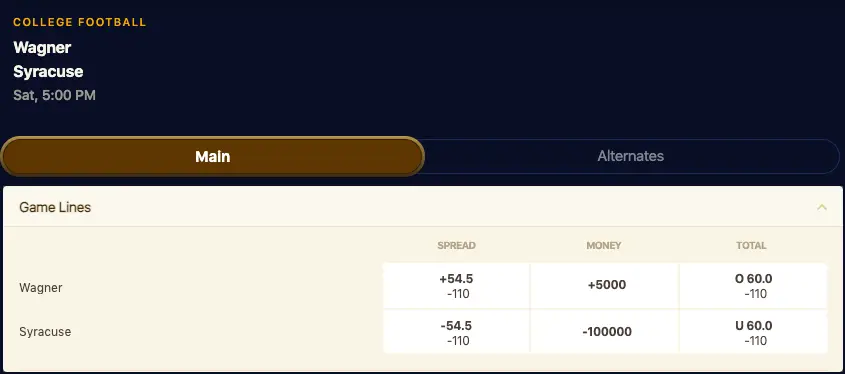 Now history would suggest Syracuse wins this game. The Orange are 19-0 against FCS teams. However, betting 10 bucks wins you less than a cent. How about covering that point spread under Dino Babers? History says, maybe not. Under Babers, SU has played five FCS opponents, and only beaten one by over 50 points (Wagner back in 2018). The last time SU scored 70 points was in 1998 against Rutgers. 60? Last year in the 62-21 win over UAlbany. 50-59? In 2019, against Western Michigan in a Dome shootout. Syracuse's largest win over the past 10 years was against Wagner in 2013, when the Orange won 54-0.
Consider this… in 2013, Wagner was 3-8. This is a Seahawks program that hasn't won a game since 2019. Their 2020 season was canceled and they're 0-17 since. Wagner lost 66-7 to Rutgers two weeks ago. Last season, Buffalo beat the Seahawks 69-7. Big losses are in their DNA.
It all depends on what Babers prefers. What's more important, developing a solid offensive rhythm after two shaky weeks? Or keeping everyone healthy and playing the third-stringers after halftime like it's the spring game? The Orange are already down multiple defensive starters, and the backups are young and inexperienced. Reps for the fill-ins (like a backup quarterback who needs more time in the offense) could be crucial going down the stretch.
If you really need to bet on this game, take the over on the total of 60. Maybe Wagner gets a feel-good TD or two at the end and the total hits.But in all honestly, we at the Fizz advise you stay away, and just enjoy a big W.
(adsbygoogle = window.adsbygoogle || []).push({});