One year later, Syracuse has done it! The #18 Orange have reached the six win threshold and will be playing football in December. SU led from start to finish and hit the accelerator in the second half to beat #15 NC State 24-9 in the JMA Wireless Dome.
It certainly wasn't a pretty win but the SU defense came to play and shut down NC State every time it reached the red zone. The Orange forced a trio of Wolfpack field goals while converting on their own chances in the red zone.
Syracuse was 5-4 and one game why of a bowl berth one year ago but ended the season with three consecutive losses. Now the pressure is off Dino Babers' shoulders because SU just nabbed that sixth win and may not be done.
#4 Clemson is on the clock…
1st Quarter
SU Drive 1: Syracuse works methodically down the field: quick strikes, long Sean Tucker run, free play jump ball TD to Oronde Gadsden | 7-0 Syracuse | 5 plays, 65 yards, TD
NC State Drive 1: Three-and-out | 3 plays, 2 yards, punt | 7-0 Syracuse
SU Drive 2: Three-and-out | 3 plays, -6 yards, punt | 7-0 Syracuse
NC State Drive 2: 12 plays, 48 yards, FG | 7-3 Syracuse
2nd Quarter
SU Drive 3: SU drive stalls in red zone after 3rd and 5 | 9 plays, 71 yards, FG | 10-3 Syracuse
NC State Drive 3: Three-and-out | 3 plays, 3 yards, punt | 10-3 Syracuse
SU Drive 4: SU false start out of timeout on 4th & 1 ends drive | 5 plays, 21 yards, punt | 10-3 Syracuse
NC State Drive 4: Three-and-out | 3 plays, -9 yards, punt | 10-3 Syracuse
SU Drive 5: Garrett Shrader throws pick in red zone on confusing sequence where everyone thought it was a free play | 9 plays, 39 yards, INT | 10-3 Syracuse
NC State Drive 5: Three-and-out | 3 plays, 9 yards, punt | 10-3 Syracuse
SU Drive 6: Double move jump ball intended for Courtney Jackson picked off | 2 plays, 36 yards, INT | 10-3 Syracuse
NC State Drive 6: 4 plays, 19 yards, end of half | Syracuse 10-3
10-3 SYRACUSE AT THE HALF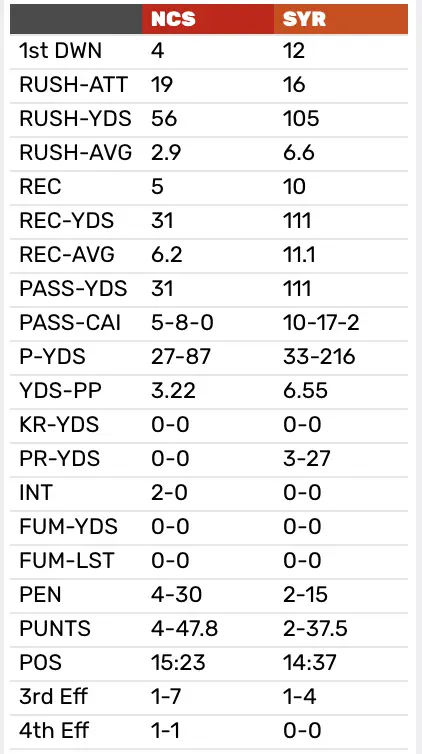 3rd Quarter
NC State Drive 1: The Pack move the ball but pick up penalties in red zone to stall drive | 14 plays, 50 yards, FG | 10-6 Syracuse
SU Drive 1: Syracuse converts a third and 8 on a miraculous heave from Garrett Shrader to Sean Tucker. They also convert a 4th & 1 in the red zone. Garrett Shrader hits Oronde Gadsden II for the second time | 13 plays, 78 yards, touchdown | 17-6 Syracuse
4th Quarter
NC State Drive 2: Drive stalls in red zone after long possessions | 18 plays, 56 yards, FG | 17-9 Syracuse
SU Drive 3: Syracuse milks the clock and Sean Tucker puts the cherry on top | 9 plays, 65 yds, TD | 24-9 Syracuse
NC State Drive 4: 11 plays, 54 yards, end of game | Syracuse wins 24-9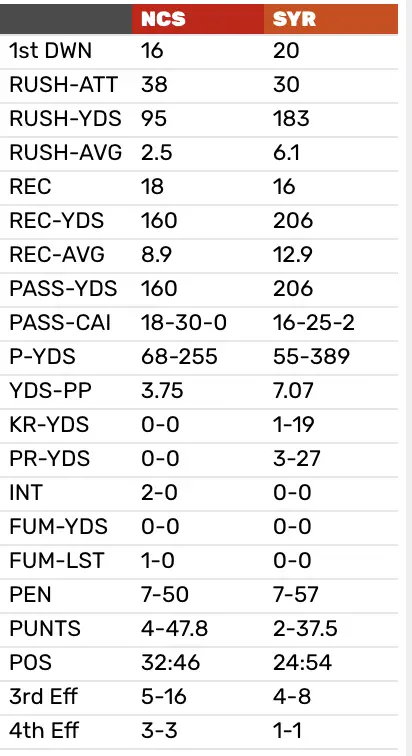 (adsbygoogle = window.adsbygoogle || []).push({});