It's clear that one freshman stands above the other five first-year Orange. Through five games, Judah Mintz is second on the team in minutes, field goals made, free throw makes and attempts, as well as steals. He leads Syracuse in points, assists, and field goals made. This is all the more impressive with seniors Joe Girard, Jesse Edwards, and Symir Torrence featured substantially, along with sophomore and former five star recruit Benny Williams.
Although five games is a small sample size, Mintz has performed consistently no matter the moment or atmosphere. That can be proven by his stellar couple of appearances at the Barclays Center over the last couple days. A 1-1 record in the Empire State Classic might not cast a ray of sunshine on an SU team that is underperforming this early in the year (3-2 overall record), but Mintz sure garners the spotlight.
Let's breakdown Mintz's highlights in the semifinal against Richmond.
FIRST PLAY: A downhill-minded point guard with great control of forward movement is integral to opening up an offense. There is a reason Mintz is the consummate "1" guard. His first instinct is to attack his defender and get him out of position, an uncanny, orthodox trait that more guards should embody.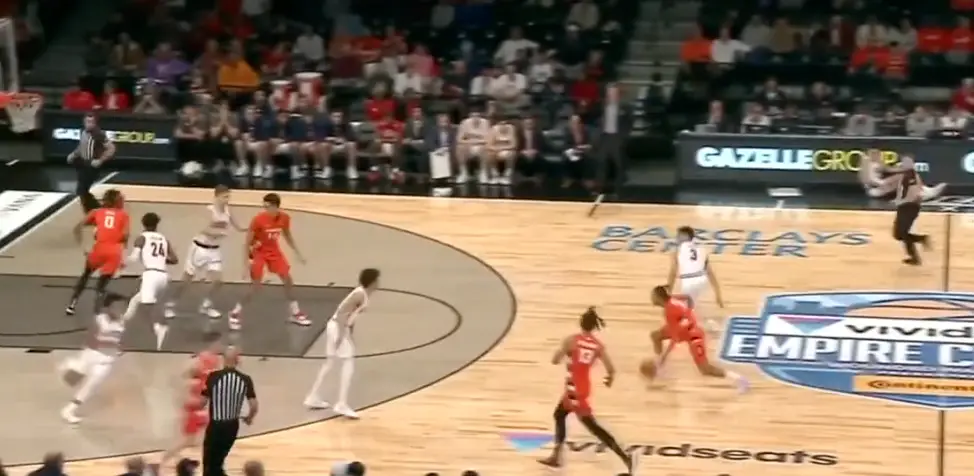 The issue with most point guards is they believe calling out plays and setting up the offense is the most important part of the position. Then, if nobody is open, to attack the rim in order to create offensive flow. That's problem number one. Attacking the basket should never be a staple of a guard, rather, getting the opposing defender on his heels is increasingly more important. That adds an element of spacing and forcing defenders away from teammates, which is a part of the raw role that's been lost once position-less basketball was introduced. Mintz's intuition to attack an out of balance defender knowing that 6'11 is waiting for him at the rim says a lot about his ferociousness and IQ. At 6'4, the freshman plays like anything but one, not to mention the control he has when attacking the body of Richmond's center.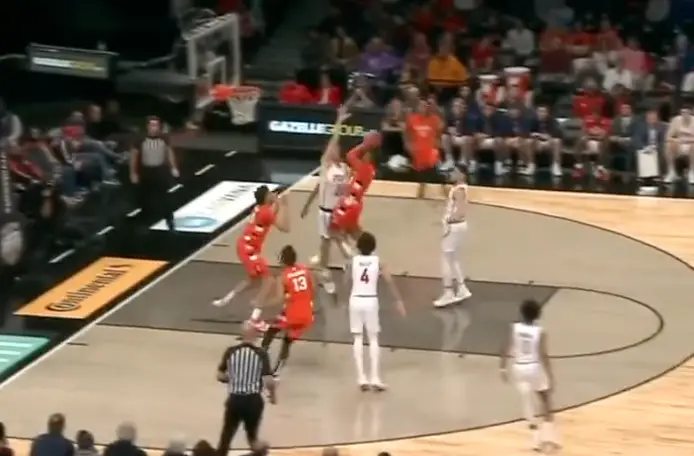 Any point guard that can realize the open lane, create his own transition off of a made bucket, shake his defender and initiate contact on a player seven inches taller is already a talent beyond comparison or rankings.
SECOND PLAY: Now introducing the Lebron-like chase down block.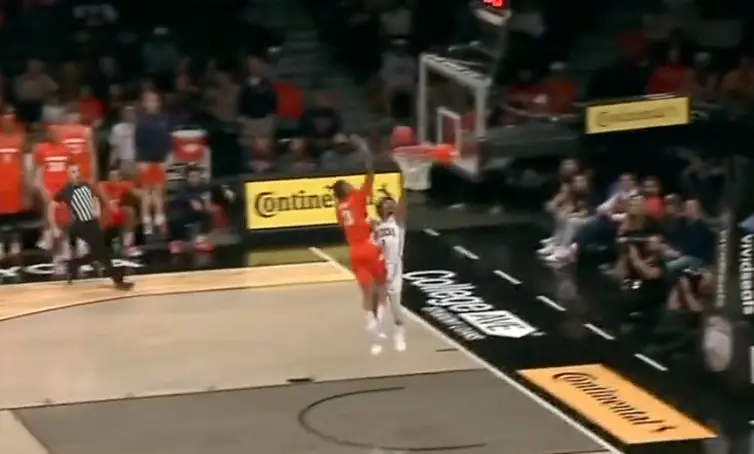 After a turnover, Mintz, standing at 6'4, has the were wherewithal to load up off his back foot and race down the floor, timing his steps perfectly and switching sides of the offensive player to set himself up for a right handed block. The play itself is impressive enough but when diving into the intricacies of it, halfway through the chase down, the Maryland native switches from the ball side of the Jason Nelson to the weak hand in order to gain a better angle to swat the basketball. All of this is done while subsequently pacing his steps in order to time his jump off his left foot. That gives Mintz more bounce off the plant and the best way to avoid a foul. Then he just lets athleticism do the best. A right handed-block on the left side of the rim while the offensive player is eyeing a lefty layup is one of the most difficult plays for a trailing defender, especially when no body contact is made in the air. It forces a perfectly timed run and jump to both avoid a foul and goaltending across the offensive player's body. In other words, a 6'4 guard just made a play that usually requires three or four more inches of height, but in Mintz's case, that block is a combination of IQ, speed and a controlled vertical, all of which SU's starting point guard has.
THIRD PLAY: The point of a zone outside of forcing tough and uncharacteristic/rushed shots is area-based pressure. Williams and Girard do a great job closing off the space on the left wing and instigating a trap. Now it's on Mintz, who is covering two zones in support of Girard's trap, to read the ball out of the double team. He pressures the closest defender facing ball and man, which is perfect technique.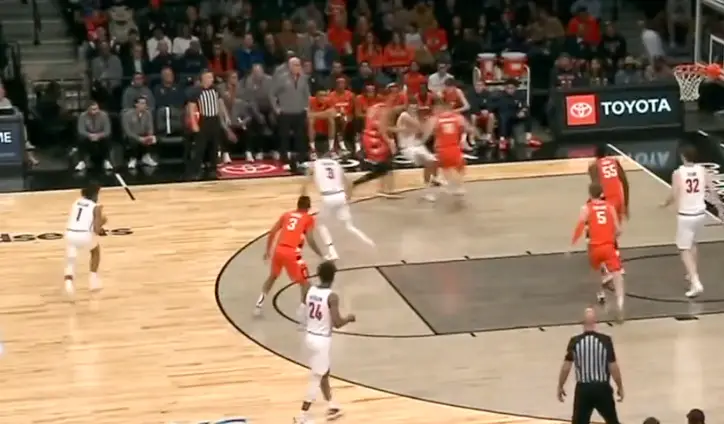 This allows Mintz to attack the pass and/or drop back to play both areas until Girard recovers. Although this was a successful gamble, it was the right read, and that says a lot of Syracuse's best recruit and his ability to make decisions on the fly atop the zone. It also helps that the freshman's speed and hops prevent any transition defense.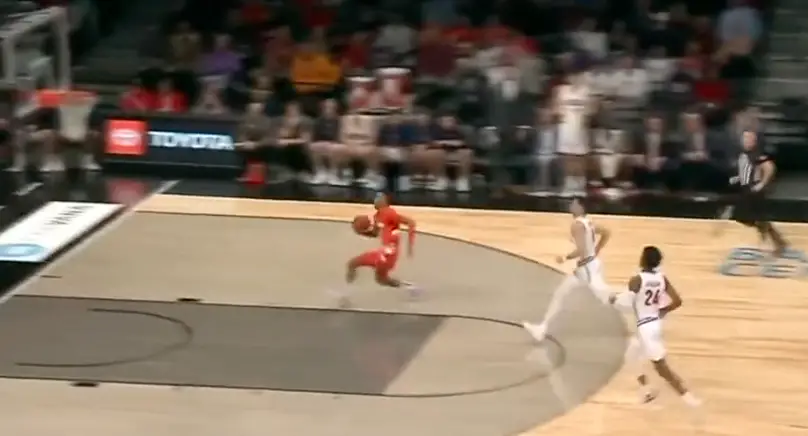 FOURTH PLAY: This is an ode to Mintz's ability to run the floor. In today's game, the transition three with numbers is a dumb choice unless it goes in. In other words, it's necessary to have a stellar or red hot shooter from distance, which just five games in, isn't a classification of anyone on Syracuse. So what does Mintz do as the lead man on a break?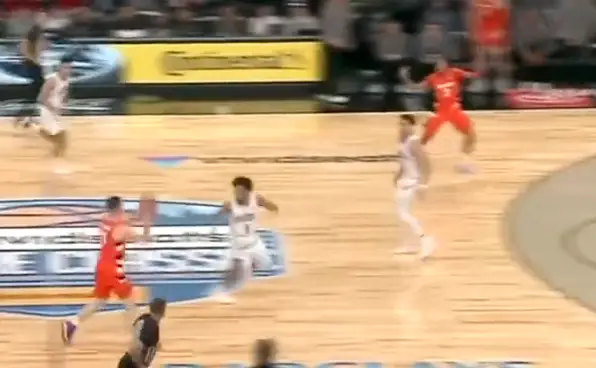 The freshman asks for a leading pass toward the hoop and takes a great angle down the left alley to set himself up at the block.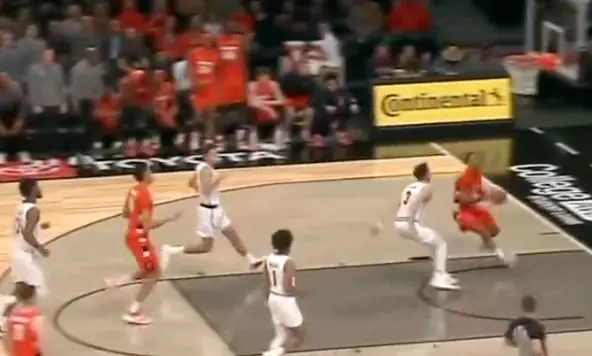 At this point, Mintz has already picked the better option to dive to the cup because he has only shot 2-of-7 from three-point range. Now he has to find a way to finish. His defender is 6'7 Tyler Burton with unimaginable hops.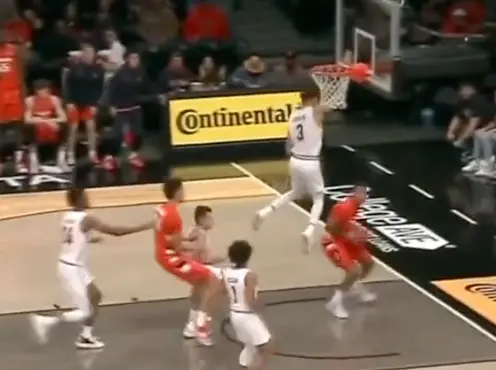 So Mintz wisely jump stops to give himself options if a shot from under the basket is too difficult. Now he can pass or shoot from this angle. Mintz chooses to lay it up on the other side of the glass, both a tough and smart shot, which he finishes before Richmond reinforcements arrive. The triple threat is so valuable and Mintz realizes that even in tight spaces, a skill that takes years and beyond to master, but one the point guard has already made strides in.
FIFTH PLAY: Mintz turns defense to offense with the best of them only five games into his collegiate career. What the Orange lacked with Buddy Boeheim and Girard at the top of the zone was an aggressive presence that felt confident enough to jump passing lanes. That creates pressure at the start of the shot clock and doesn't allow for what Colgate did, which were easy swing passes amidst little to no duress.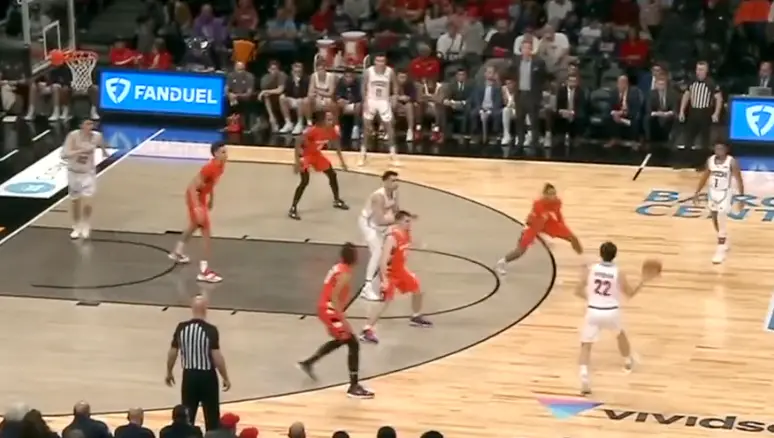 This weak one-handed pass should never get through a hard-nosed team. Mintz is both utilizing his speed and burst to steal the feed as well as setting the precedent for other opposing backcourt tandems.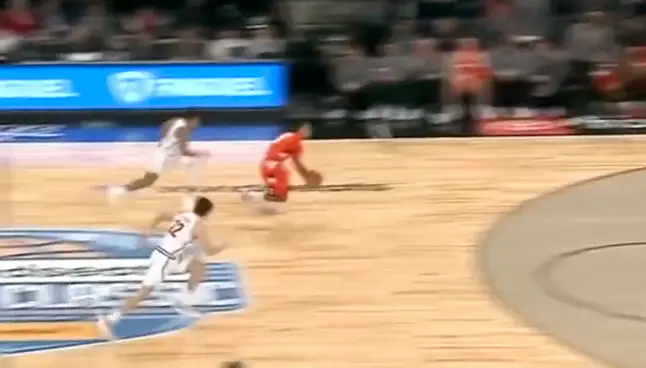 Mintz has no fear, which is evident by the pressure he garners and how he rarely frets. In a breakaway with two defenders trailing, the freshman has one move in mind, treating those behind him as non-factors.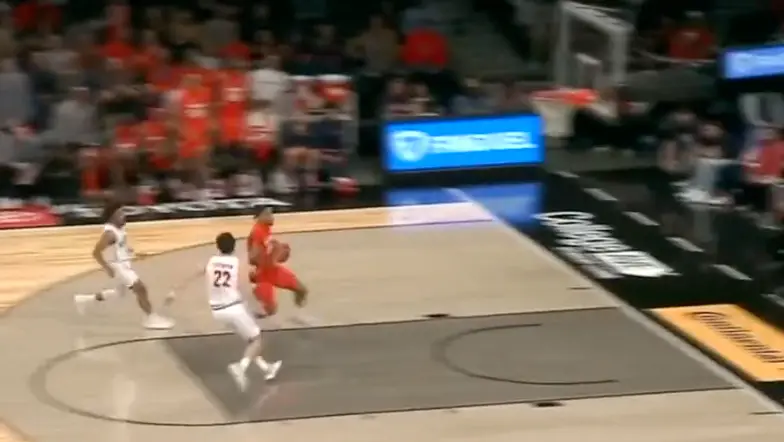 Now in a precarious position with Andre Gustavson (22) closing in, Mintz respects his presence but trusts his skill simultaneously.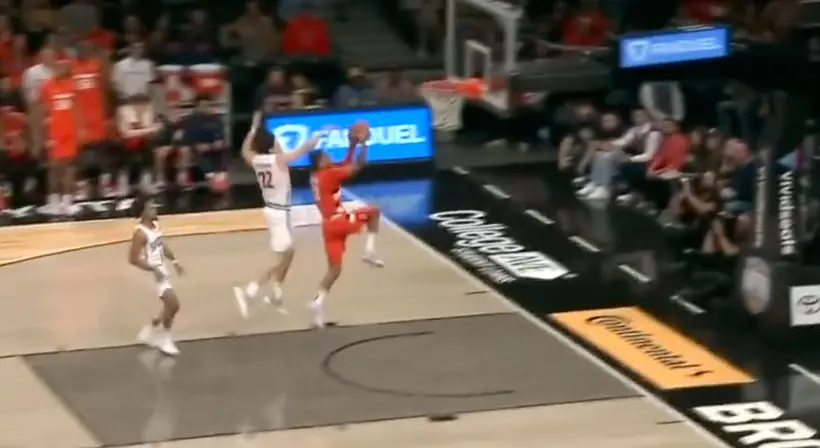 His uncanny control near the rim has already been on display. But the fact Mintz can adjust his hands mid-air to protect the ball and then transfer it to his right hand in order to slam it down is next level. There's a lot to like about the freshman's game, but above all, he's so skilled at all three levels and reacts to any situation well.
SIXTH PLAY: Speaking of all three levels, with SU needing a bucket tied at 63 apiece with Richmond, Mintz uses a speed dribble to space the floor and force his defender on his heel. Then he goes on to defer Edwards on the way to the elbow. The ability to get penetration in the paint with ease, and only four seconds into the shot clock, is already a veteran move.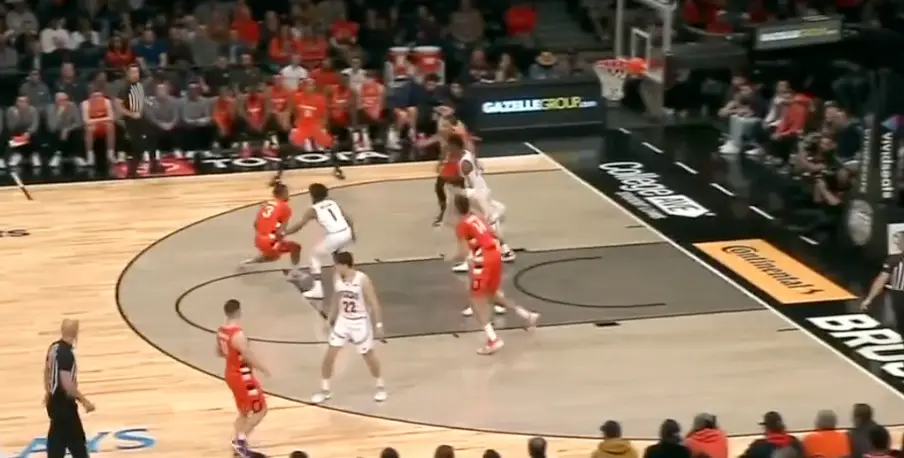 This is where Mintz excels. With his defender's hand in his lap, the guard pump fakes to clear his shooting space, and ultimately knocks down a clutch jumped to put the 'Cuse up 65-63 to start overtime. A reminder that this play occurs seven seconds into the OT period, meaning Mintz did all that work right off the overtime tip. A heads-up play to catch Richmond's defense slacking.
SEVENTH PLAY: The last display of brilliance by Mintz was the game winner. With one minute left and the Orange leading by two, the freshman diced into the lane with his off hand and changed his course of action three times in order to find a high percentage shot.
Just look through this sequence if you didn't watch the video at the beginning of the article: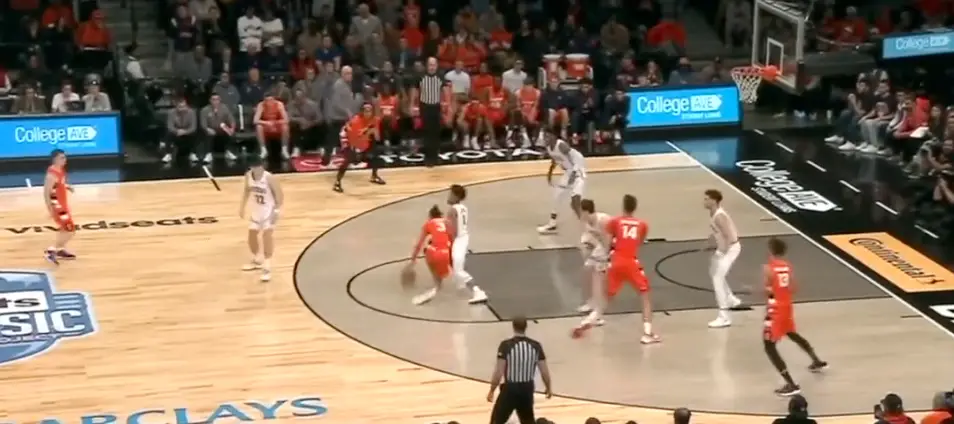 Mintz finished the Richmond semifinal game with 16 points, four assists, and three steals in a 74-71 overtime win. He followed that performance up with a team-high 20 points against St. Johns in the Empire Classic championship game.
So far this season, Mintz has yet to score under 16 points in a game, and his lowest shooting percentage is 41%, and yes, he's a freshman.
In short, Judah Mintz is the real deal.
(adsbygoogle = window.adsbygoogle || []).push({});