The 73-66 scoreline doesn't tell you even a quarter of the storyline to why the Orange lost. In fact, the game should tell everyone more about Syracuse's flaws than SU's fight to lose by just seven to the 11th ranked team in the country.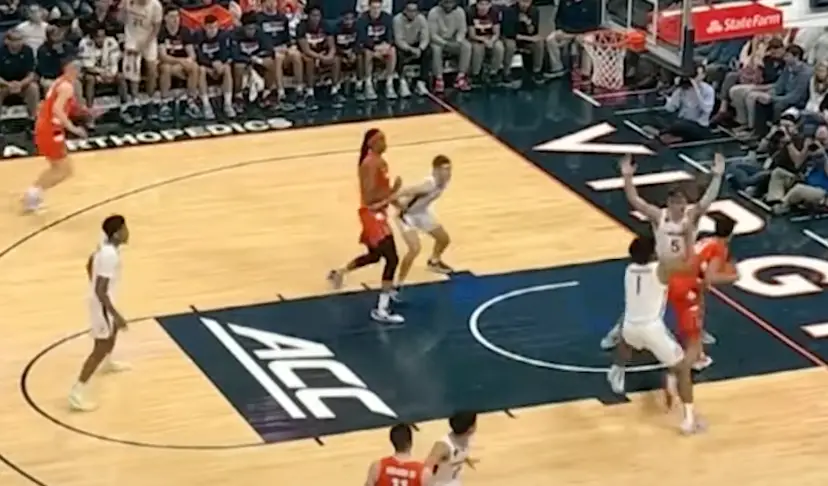 This picture tells the whole story. With three Cuse players averaging over 14 points per game, UVA decided to not just mitigate one of them, but eliminate them entirely from the yesterday's contest. Their culprit was Jesse Edwards. Instead of allowing their 6'11 and 7'1 centers guard Edwards one-on-one, the Cavaliers forced the Orange's center to catch at the short corner or at a bad angle on the block and immediately trapped him in a double team no matter what.
There's a reason Virginia has led the ACC in scoring defense each season since 2011-2012. By doubling a score-first, rebound-second, pass-third type of player and shifting down the rest of its defense to cut off any easy passing lanes, UVA put Edwards in an uncomfortable position for the first time this season.
It led to Jim Boeheim playing the Netherlands native under 28 minutes for just the sixth time this year. Such meager production translated to a tough scoring night. The center scored a season-low four points and in single digits for only the third time this year, while taking a season-worst five shots. Today's game and Edwards' recent struggles prompted Boeheim calling his starting big man a "mystery" compared to how well the senior played at the beginning of the season.
First 11 games –> 15 PPG (66/101, 65% FG), 11 RPG, 36/51 FT (71%), 26 fouls (2.4 per game) in 31 min/g
Last five games –> 9 PPG (18/37, 49% FG), 10 RPG, 9/15 FT (60%), 14 fouls (2.8 per game) in 29 min/g
Now what do these stats tell you? Is it more that Edwards is embarking on tougher competition or is there something starkly different about his play? The rebounds don't tell you much. As the tallest player on the floor on most occasions, SU's starting center should snare double figures per game.
The scoring and downward shooting percentage is a major issue though.
For a player that delivers so close to the hoop and can work off the increased attention given to Judah Mintz, Joe Girard and Benny Williams, Edwards can't experience such a steep decline with so much of the season left to go. Now ACC teams can scout the Netherlands native by looking specifically at the UVA game and keying in on doubling Edwards.
This tactic won't be as well-executed as the Cavaliers and the return of Williams will for sure open up lanes for Edwards, but yesterday's defeat to UVA was a clear detriment on the Orange moving forward, far beyond the loss.
(adsbygoogle = window.adsbygoogle || []).push({});