Yesterday, the Atlantic Coast Conference released its 2023 preseason poll that was voted on by 176 members of the media. Clemson received 103 first-place votes while Flordia State received 67. North Carolina got five votes and one person voted for NC State. Syracuse was ranked 10th, well above Virginia Tech who is 11.
Florida State Not Picked First
After winning a national championship ten years ago, the Seminoles have built a roster again that has a chance to compete for a title. Vegas loves FSU, giving them the best odds to win the ACC title and the 7th best odds to win the national championship. Why will FSU be so good though? It all starts with the quarterback Jordan Travis. The West Palm Beach native is entering his 6th year of college football. Last year, Travis led the Seminoles to a 10-3 record with a 24-5 TD-Int ratio and 7 rushing touchdowns.
Each of Florida States recruiting classes between 2018-22 were ranked in the top 25 in the country. FSU returns eight starters on the offensive end from last year where they averaged over 36 points per game. On the defensive end, the Seminoles return most of their starters along with a few key transfers. Syracuse plays at Florida State on October 14th.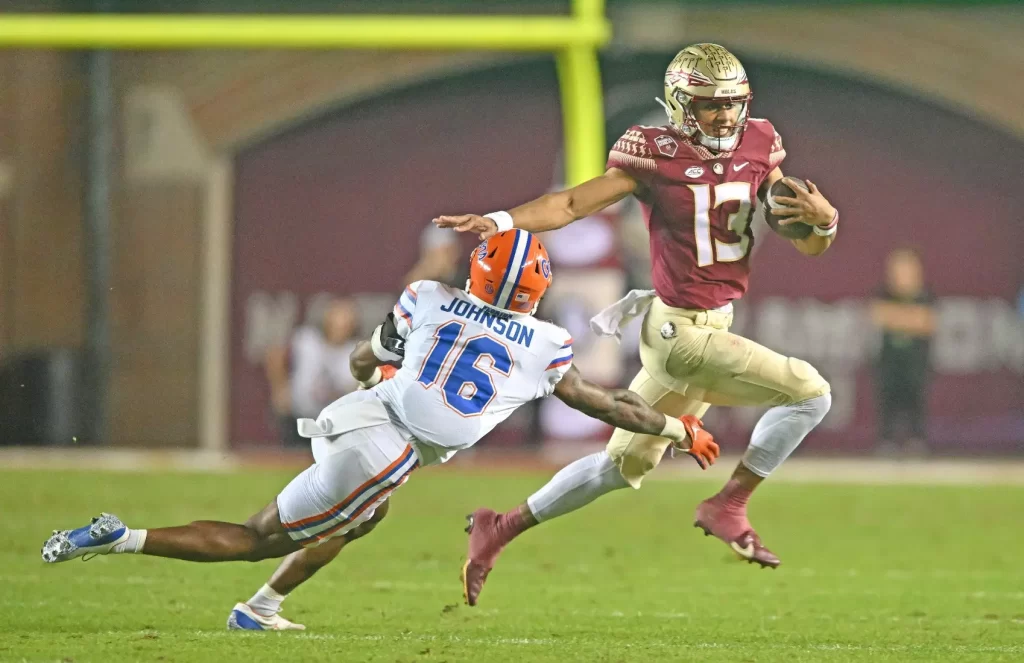 Top Teams Have Top QBs
Each of the top four teams in the poll have some of the best quarterbacks in the nation. We've already gone through Jordan Travis. But in addition, Clemson has true sophomore and former five star recruit Cade Klubnik. The number three team, UNC, is led by Drake Maye who has consistently been mocked as one of the top five picks in the upcoming NFL draft. NC State got former All-ACC quarterback Brennan Armstrong from Virginia. Armstrong struggled last year but holds most of UVAs career passing records.
(adsbygoogle = window.adsbygoogle || []).push({});