Through five games, SU football has used five different uniform combinations. Let's run through the Orange's wardrobe from worst to best. 
Side note: all of them are better than these jerseys that Syracuse wore a decade ago.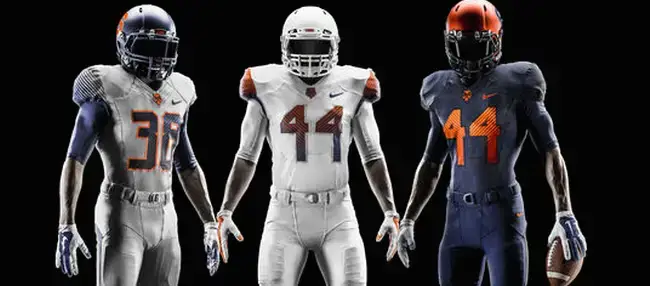 5. Orange Out (vs. Clemson)
Is putting Syracuse's all-orange uniform combo in last place heretical? Maybe so. But there's just so many better options. You only get so much credit for wearing the color of your nickname. The jerseys completely blend in from top to bottom, and somehow look neither truly classic nor modern and flashy.
4. Syracuse Broncos (vs. Western Michigan)
I like the white helmets, I really do. This might even be the best uniform to go along with them. However, they don't feel like SU jerseys. They feel like classic Denver Broncos jerseys, or something else I can't quite place my finger on. I wouldn't be surprised if these grow on me as time goes on, but for now, they're towards the bottom.
3. Classic Road Combo (at Purdue)
These are a go-to look for the Orange. The white and orange combination looks clean, and I appreciate that the blue accent color isn't completely abandoned. These feel familiar and sharp, albeit a bit safe.
2. 'Cuse Blues (vs. Army)
This uniform combination was used in the worst game possible. Otto's Army, the student section, was doing a white out. Plus, former coach Ben Schwartzwalder, who changed Syracuse's uniforms to white to make his players look bigger, was added to the Ring of Honor. However, the jersey and helmet pairing on its own is elite. Blue pants and shirts go well together, but the orange helmets add a much needed pop of color. They're monochromatic without being boring. They're beautiful. 
1. The Classic (vs. Colgate)
This feels like the classic SU football uniform combination. It seems like most modern eras of Orange football have worn something similar to this, and for good reason. This is a truly collegiate uniform that prioritizes the school's colors over throwing white on them in the name of a "clean" look. There's a good amount of orange, including the traditional Syracuse helmet. There's great contrast between the numbers/names and the rest of the shirt. There's a simple stripe on the sleeves and pants. Everything is balanced, and it results in the best possible combination SU has available based on its current options.
(adsbygoogle = window.adsbygoogle || []).push({});