On Friday night, Syracuse basketball fans got a look at what the new era could look like under Adrian Autry. The Orange Tip-Off event was confusing and hard to follow. It started off with three-point contests, but who was competing wasn't fully clear. Then, the dunk contest occurred with Judah Mintz winning. After all of these activities, it was finally time for the event everyone was there for. The scrimmage between the Orange and Blue teams.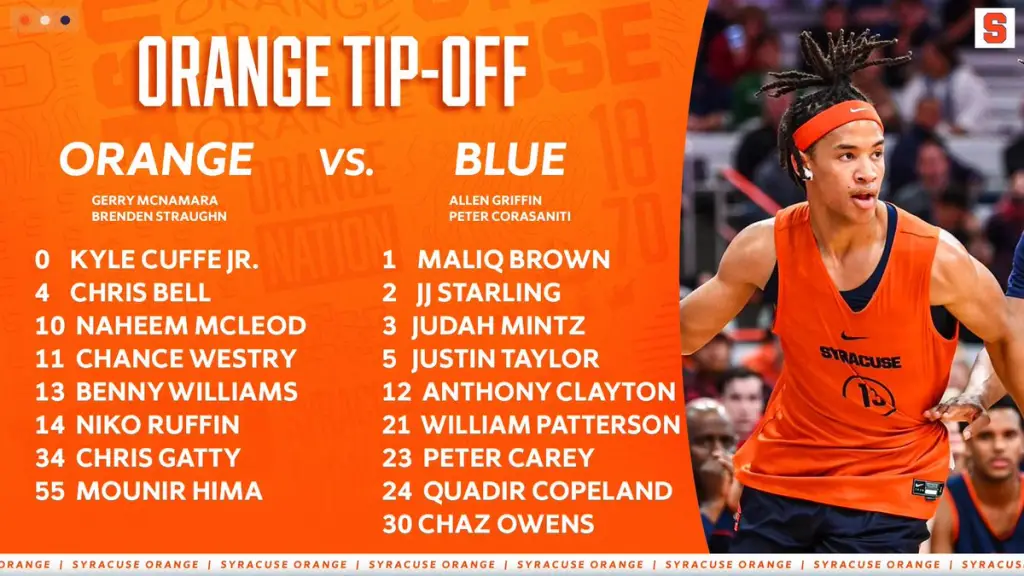 Just based on the rosters, it seemed like the scrimmage would be team blue's to lose. Being able to watch JJ Starling and Judah Mintz play on the same floor for the first time was a spectacle. Mintz picked up right where he had left off last year. The sophomore was explosive with the ball in his hands, dominant on defense and shot the ball well when he took the changes.
Another note on the blue team was how well Quadir Copeland played. He led the scrimmage in scoring and was all over the place on defense. Copeland brought the energy that we saw at times last season and proved to be someone who can be a consistent contributor to the Orange. One other note on team blue, the freshman William Patterson struggled a lot, especially with finishing. There were a couple of times where Patterson made a nice move to get an open look then just missed an easy layup.
On the orange side of things, the big stand out was Benny Williams. Back for his third season, as the most experienced and veteran player on this roster, Williams showed that his improvements at the end of last season weren't a fluke. The junior looks like he has added on a lot of muscle and used it. On a couple of occasions, Williams drove to the paint with ease and threw down monstrous dunks. If Williams can continue to look like that, and the sophomore guards as well as Copeland look how they did, the ceiling for Syracuse is very high.
(adsbygoogle = window.adsbygoogle || []).push({});