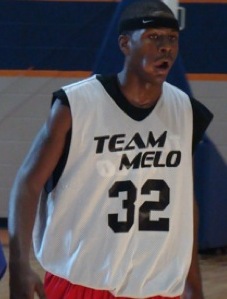 The 'Cuse stands at 25-2, alone at the top of the Big East conference, and a probable number-one seed in this year's Big Dance.
But with Andy Rautins, Arinze Onuaku, and (potentially) Wes Johnson set to leave the Orange after the season, what's the Class of '10 look like for Boeheim and co.?
The early signing period was November 11th Р18th (when Tobias spurned the Fizz and 'Cuse fans). During that time, the official signatures from C.J. Fair, Baye Moussa Keita, Fab Melo, and Dion Waiters were faxed over to Manley Field house.
That led to the 5th-best recruiting classaccording to Rivals.
Left is the late signing period, between April 14th – May 19th. That's when highly-touted Brandon Knight and Josh Selby (pictured) will announce their intentions.
So why the wait? Quite simply, the best players want to go to the best programs, but also have to make sure their playing time is intact.
Take a case like Knight: it's been widely assumed that SU is out of it because of the jam at point guard between Scoop Jardine and Brandon Triche (although The Fizz believes there's still a slight chance). That leaves, more or less, Kansas, Kentucky, and UConn.
Sherron Collins is gone as a senior, so Knight has no need to worry about P-T with the Jayhawks, but the Wildcats or Huskies? John Wall is 99% gone, but the smart money is on waiting until Wall declares so you don't have to watch 11 from the pine.
The even greater variable is Kemba Walker from UConn, who is on the cusp of the NBA, but would probably need a Jonny Flynn-esque end of season to vault his stock.
It's torturous to the fans, but you can't blame kids for wanting the most exposure before they hit the pros? Assuming the pros still exist in 2011.
(adsbygoogle = window.adsbygoogle || []).push({});