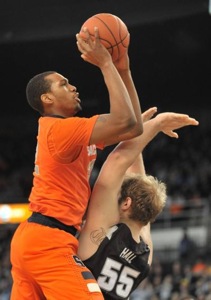 Hooray for a shootout in Providence. Sure, it was one of those defense-optional affairs, but you can't say you didn't enjoy watching it.
Getting down to business, do you think Rick Jackson had a man on him last night? Scoring 28 points looked too easy on 13-17 shooting. I don't honestly think there was anyone there next to him, and it looks like Donna Ditota doesn't either.
"Jackson said as the game wore on, his confidence continued to swell. He treated the contest, he said, almost like practice. He established position, caught the ball and 'did all my moves and it was just working.'"
Do you know who guards these players in practice? I will tell you who.This guy.
Yes, that is Couzens. He was once a team manager. In some scenarios, Couzens had to don a giant foam condom on his sleeve and pretend he weighed more than 160 pounds.
So when Jackson says he treated it like practice, what he really means is that he had unathletic, undersized guys on him trying to believe they weighed enough.
The Friars' Bilal Dixon? Same thing, at 6'8″ and under 230.
Don't forget Arinze Onuaku, who had an efficient 6-10 FG night for 12 points. He also didn't go to the line once.
Providence "know-alls" predicted a litany of fouls on the SU big men as the Friars tried to run-'n-gun. This would theoretically be the great-equalizer, as the Orange bigs shoot worse than me from the free throw line.
Fail on that one. SU 26-2.
Fail Friars. 99-85.
(adsbygoogle = window.adsbygoogle || []).push({});