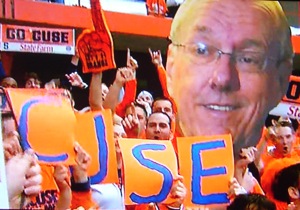 Since nothing can quite match using the biggest national platform in college basketball to strangle a Top-10 rival and biggest threat in the Big East, why don't we relive some of the magic?
Team Fizz is at it again, breaking down the momentous victory and what it will mean in the big picture for the Orange.
D.A.: "They really owned the biggest stage of the season. Not only does this team play well at home, but also on the road and neutral sites. And in the tournament it'll be all road and neutral sites."
Conroy: "They did everything right. Early in the game, 'Nova tried to stop the dribble-drive. So they went down low to Rick Jackson. There's no facet of this offense, Syracuse doesn't have down. Six players in double-figures for the Orange."
Couzens: "Everything just seems to be working so well. There's been so few things that have gone wrong for this team. This domination of Villanova just piles on that glory for the Orange."
D.A.: "They stack up great (against Kentucky, Kansas, etc). They're more than a team than some of these other top squads. Kentucky is so dependent on John Wall. For Kansas, the Big 12 is a joke. Frankly, Syracuse is much more dangerous than these other teams. They're not reliant on one guy. They're so committed on defense."
Couzens: "To know this game was not even close at the end. At the loud house, on home turf is amazing."
D.A.: "It's in front of the country, it's on a day when other potential one-seeds had lost. What Syracuse did was a statement. What college basketball fan is gonna look at this game against Villanova and say, 'this is not one of the top-four teams in the country.' It just rings so clearly."
BTW How great did Erin Andrews look in front of 34,000 screaming fans wearing Orange? Is this the season from heaven or what? Sgt. Curmudgeon Bobby Knight calling Syracuse a national championship favorite? You couldn't script this stuff.
I smell more Nova-geddon analysis brewing here at The Fizz.
(adsbygoogle = window.adsbygoogle || []).push({});