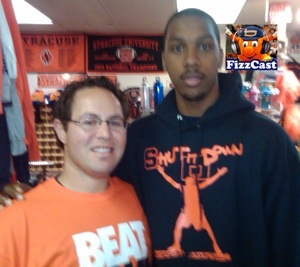 The winner of our "Fizz for a Day"contest was Scott Rappaport of Delaware. Wearing the "Beat Nova" t-shirt he won from us and the good guys over at Holy Shirt, he sent in this pic from last weekend's game.
Yeah, the guy met Kris Joseph strolling down Marshall Street middle of the afternoon, just hours before tipoff of Nova-geddon. Now, that's being blessed from above.
Great "FizzCast" icon photo-shopped in the corner. The Fizz loves this promotion so much, if you send us a picture of you holding a hand-made Fizz sign somewhere in Manhattan for the Big East tournament Рwe'll post it. This is too much fun.
I present to you, Scott Rappoport: Fizzer for a Day.
"The game was amazing, I wore the Beat Nova Shirt proudly, thank you!!!! Here is a picture of me with Kris Joseph about 6 hours before game time. Again, thank for the shirt! GO CUSE!"
– – –
I made as much noise as I could make this past Saturday in the Dome, with my "Beat Nova" shirt on. Thank you Fizz! I no longer live in Syracuse: so it is the only meaningful game I went to all season. However, I am not sure that collectively as fans, we don't all make a difference in other ways.
I have rooted for The Orange, for as long as I can remember. Over the years I have done some crazy things to will my team to win. Things that any rational person would say make no difference, but I can't get my self to stop doing them.
Earlier, in this truly amazing season, I was sitting in my car, in the middle of a blizzard of Syracuse proportions listening to the Syracuse UConn game on satellite radio because I had no power in my house in Delaware. I believed that listening helped them squeak out a W.
While I was in high school, I would wear my Lawrence Moten knee high socks every game day. The socks only got washed after a Syracuse loss. The Cuse was 85 and 36 during his career Рmy feet did not smell too good, but I believed it made a difference.
When Syracuse played for the National Championship in 2003, I started watching the game with my legs crossed. As we all know, Syracuse got out to a huge lead, and I told myself, I am not uncrossing my legs until either the game is over, or Kansas catches up. I could hardly walk when the game was over, but it felt oh so sweet!
So in 2010, I find myself doing strange things again. Every time I wash my hands at work, I wad up the paper towel, and take a shot at the garbage can. I have been doing this all season, and have only missed twice. Maybe this all does make a difference.
I promise not to miss again! GO ORANGE!
(adsbygoogle = window.adsbygoogle || []).push({});