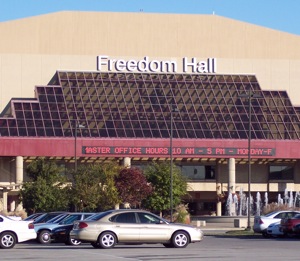 Tomorrow in Louisville is technically, a moot game. Syracuse has wrapped up the regular season Big East title, a double-bye at the Garden, and an all but assured number-one seed in the dance.
So how seriously should the 'Cuse take this road matchup with the Cards? There are two strategies.
Thoery One: Louisville beat us. It's payback time.
Reasoning. Wouldn't Jim Boeheim love to say "Freedom Hall is officially closed?" The last game at the Cards home court would make a perfect "eff you" story for fans who already hate the Orange (the Fizz-anointed "bullies of the Big East").
By the way, this is Freedom Hall? This is what Cardinals Fans are weeping about this week? It looks like the entrance to Shoppingtown Mall. How did Pitino pull any tail bringing chicks there?
Not to mention, The Fizz just spent a week analyzing the satisfaction of the number-one ranking. Why give up that vaunted top spot when you can look down on everyone else?
Theory two: It doesn't matter, rest your starters.
Reasoning: The Orange has been banged up this season. An Andy Rautins ankle, some Kris Joseph tendinitis, and Wes Johnson's obvious shooting struggles since taking "the fall," reinforce the reality that a game off wouldn't be awful.
There is also the potential freak injury out there. (See Robbie Hummel – Shaun Livingston in the worst possible form.)
And in this context, we wouldn't be talking a Reese-Resavy-Southerland-Riley-Cajuste lineup here. Just maybe some more time for the freshman/bench guys after the first half.
The fans will want to kick the crap out of Louisville in Kentucky. The team could obviously use a little rest. The Per'fesser? He's would-be Coach of the Year, so The Fizz has faith in his decision.
(adsbygoogle = window.adsbygoogle || []).push({});