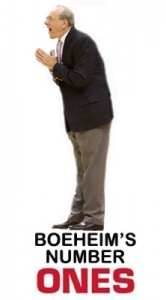 The first stop on the No. 1 train brings Syracuse back to the Dome for a second straight home game and the final regular season game in Syracuse.
Jim Boeheim's Number Ones face St. John's who, to put it nicely, has at least been paying their rent in the basement of the Big East this season (along with Rutgers, Providence and DePaul).
The Johnnies have only a few wins that catch the eye this season – back to back victories over Louisville and Notre Dame.
Now it's time to play number-one and Head Coach Norm Roberts, who may be on the chopping block after this season, is actually pretty excited.
"It's a great opportunity… Not many people get to play the number-one team in America. There's no pressure on us." .
No pressure because nobody expects St. John's to win any game, let alone this one. This no pressure isn't necessarily the best thing in the world, just a nice spin job.
And forget about not looking ahead, taking it one game at a time. Freshman Malik Stithe has had this game marked on his calendar since November.
"I've been looking forward to this game the whole year", he said.
You're probably the only one who feels that way Malik, but hey, we'll send a postcard from the NCAA tourney to let you know what it's like.
And for nervous SU fans? SJU has only toppled six ranked opponents in the Norm Roberts era (which started in '04).
It may be hard to focus on this game in the aftermath of Nova-geddon, including some nonsense with the polls, but hopefully there are no banana peels on the road for the Orange.
Closing out the home season on a high note is important primarily because it's Senior Day for Andy and Arinze (and maybe the last game for Wes at the Dome).

These next two games are just the final stepping stones to Selection Sunday.
(adsbygoogle = window.adsbygoogle || []).push({});