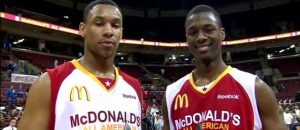 Just a few months away from getting to the Hill for good, Fab Melo hit the court last night in the McDonald's All American game.
The next Orange big man dropped only two points, but he also picked up seven rebounds, four assists and three blocks playing just 19 minutes.
There were plenty of eyes watching from all over Value City Arena in Columbus Ohio, and just about all of them were raving about Melo:
"Don't F with Fab. he dominated a sequence on defense. nice shot and handle for 7-footer and hes only been playing bball for 3 years."
ESPN: "He is ready to be an impact college center, and that fact has a lot to do with his commitment to conditioning. Melo is running the court better, and he's more bouncy."
NBADraft.net: "Fab Melo will be perfect for the middle of the Syracuse zone and could lead the Big East in blocked shots."
A.O. gone – so what? Just kidding, but this guy looks like he is going to be legit.
Height? Check.
Moves? Check.
Named after NCAA champ? Check.
As for the one Jim Boeheim is still chasing, he didn't have a great game, but he did get some pub.
Brandon Knight hit the game winning shot (even though he was definitely not being guarded Рthis is the high school equivalent of the NBA all star game).
"I saw an opening and shot it with confidence. I just had to follow through and do what I normally do, keep shooting. It's just the work I put in. I work hard every day for opportunities like that so I can have the confidence in those situations."
Knight still hasn't made a decision on where heÕll be headed next year, but he's expected to choose between Syracuse, Kentucky, Kansas, Florida and UConn within a month.
We're keeping our fingers crossed he doesn't get sucked into the Coach Cal vortex.
Keep your eyes on The Fizz for the latest with the Brandon Knight sweepstakes. We won't sleep until he decides.
(adsbygoogle = window.adsbygoogle || []).push({});