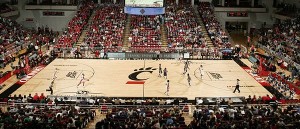 Look out Orange fans. Cincinnati basketball may not be all that far away from making itself relevant again in Big East basketball.
With news a couple days ago that Darren Savino, a lifetime assistant coach had re-joined the Cincinnati staff, eyebrows raised across coaching offices from Tampa to Syracuse.
Savino has been at Rutgers most recently where he took over after Fred Hill was fired. He's also coached at Quinnipiac, New Mexico, East Carolina and Big East stops at St. John's and Seton Hall. He knows Mick Cronin well because the two worked together at Murray State. Cronin spoke on Monday, saying all he had to do was look to his speed dial for who he wanted to bring on to his staff:
"I'm extremely excited about bringing Darren Savino back to our staff. I have tremendous respect for him as a coach. When we were at Murray State together we had tremendous success. Recruiting wise, I didn't get to reap the benefits of his contacts because it's hard to get an East Coast pipeline going to the Ohio Valley Conference. But we figure if you're a recruiter you can recruit anywhere. There's probably nobody with as many Big East ties as Darren, East Coast ties as Darren."
While we know Mike Hopkins and Rob Murphy are some of the best in the business, this could be a big move for the Bearcats. They just had Lance Stephenson for a year and will be getting the services of Sean Kilpatrick at the guard spot. (Full disclosure: he was my high school teammate.)
Cronin continues:
"It's a big recruiting year for us, we have a lot of scholarships so I told him the pressure's on. We've got a lot of work to do in that area."
They've got a lot of work to do in general, but this is big news for UC. The Bearcats get a guy who was coached by the legendary Bobby Hurley at St. Anthony in New Jersey and just came from a coaching job there. He helped lure Mike Rosario (16.7 ppg last year) and Dane Miller who played well against SU at the RAC. And look, if you can get good players to Rutgers with their current state of affairs, you have some juice on the recruiting trail.
As for the SU front, I spoke with Rob Murphy via text message on Monday to see how things were going. He's hit Atlanta, Las Vegas and many destinations in between to recruit since the spring. He said:
"Everything's good. Recruiting etc is the focus of the month. Lots of travel but overall everything's great."
Nothing new on the DaJuan Coleman front, but we'd like to think the Orange has at least a foot in the door Рif not an entire leg and torso up on the guy in their backyard.
The ante has just been upped, and since it's coming from the bottom of the conference the Big East may have another big dog in the annual recruiting battles.
Posted: Mike Couzens
(adsbygoogle = window.adsbygoogle || []).push({});