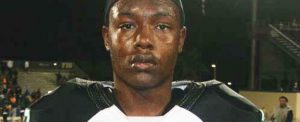 Doug Marrone has had recent success grabbing talented, athletic recruits with blazing speed from South Florida. Add another name to the list. The Orange grabs Miami Central High School star Oliver Vigille.
And after adding LeBron James last week, Syracuse has stolen away another talent from the clutches of South Beach. The implications Vigille has on the Syracuse recruiting class?
First, Vigille boosts the school's number of verbals leading into the year. It's not even August, and eight players have committed to the Orange. That's enormous, especially compared with Marrone's predecessor. It also gives the Orange a 4.6 40 guy at the linebacker position. Vigille is another burner from South Florida, adding more quickness to the class of 2011.
Marrone continues to prioritize speed. It makes a whole lot of sense. Carrier Dome turf + natural athletic speed = fun. While Groobers never seemed to understand the inherent home-field advantage, Syracuse is attempting to use it's controlled climate as an aid.
Also, the Orange out-of-state creds improve. Marrone is trying to hit Florida hard; this was very clear in the 2010 signing class, and seems to be shining through here. 'Cuse beat out USF for a South Florida product in Vigille, and that's huge. Syracuse seems to be taking an aggressive approach to it's recruiting efforts, and it is paying off.
Posted: Ted Couzens
(adsbygoogle = window.adsbygoogle || []).push({});