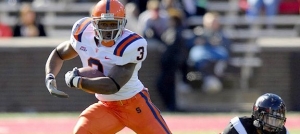 The only story on Day/2 of football training camp was the return of running back Delone Carter.
Doug Marrone announced Monday that he would be returning to the team, Carter practiced on Tuesday, and spoke to the media following the workout.
He had a brief opening statement:
"I'd just like to say that I'm grateful and looking forward to the opportunity to come back to Syracuse and earn my degree, to rejoin my teammates, and as far as what happened that's a personal matter. I'd like to put it behind me."
Obviously he would like to. Anyone that has an unfortunate public incident would like to keep those details as mum as possible. But is that possible when you're famous?
Famous is of course a relative term here Рwe're talking Syracuse famous РBilly Fuccillo, Jim Boeheim, Wegmans, etc. Not the celebrity A-list, but you get the picture.
Carter was the master of the one sentence answer on Tuesday as well.
"It hurt being away from them. I was glad to rejoin them."
What's the process of reinstatement like?
"It was just a call from Judicial Affairs. They told me my time was served and that was it."
Where were you during the suspension?
"Back home in Akron. I spent time with my son and working out."
And lastly, "I regret what happened and I learned a lot from it."
Alright, so he's not exactly a quote machine. However, if you've been dragged through all of this legal/judicial affairs mess Рmight it just be easier to say either, "Yes I punched him" or "No, I didn't"? Then it would all just be over with.
As someone who is in the public sphere, is it your duty to open up to the media? As a member of the media, I say yes.
Carter's not in a Tiger Woods type of situation, but he tightrope along the Tiger approach. Talk to the media, but don't really say anything at all. Cue Tom Rinaldi:
Tom: If it's a private matter, why issue a public apology?
Tiger: Well, I owe a lot of people an apology. I hurt a lot of people.
Tom: You said you were in treatment. The simple question is, for what?
Tiger: Well that's a private matter.
Carter was asked about his court proceedings today but said he'd rather not divulge the details. There's nothing wrong with that, but it would lead to less speculation. All we know is Tiger just played the worst round of his life last week Рjust sayin'.
So now Carter's back on the field and presumably back at the top of the depth chart.
Is the legal issue behind him? Not yet. He's still got a return date in court, but most people will forget about that with a few good games on the field.
Posted: Mike Couzens
(adsbygoogle = window.adsbygoogle || []).push({});