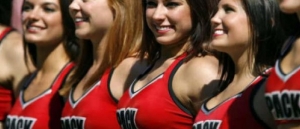 The biggest rap on SU basketball as long as the Per'fesser has held the cards has been nonconference scheduling.
"Syracuse doesn't play away from the Dome," and "who are these teams" have been central to the Bristol howling by some of Orange Nations's favorite (Gottlieb, Doug and Vitale, Dick).
Well, ladies and gents, whether Jim Boeheim is making up for his Marathon Oil AAU and Niagara home dates or not, that argument can no longer be made.
After the news Syracuse will take on N.C. State, look at the schedule for the upcoming season. Along with the Wolfpack, games against Northern Iowa, Georgia Tech and Michigan State make for a much more diverse look.
Consider since the last year SU was left out of the tournament, the Orange has scheduled or played Florida, Kansas, Memphis, Virginia, Cal and UNC.
Also, the location of the annual "Preseason Tipoff Classic Inviational" was the big debate. As great as going to MSG is every year, the Orange has changed that trend winning two tourneys in Kansas City and Tampa.
So what does it all mean? The Orange is expanding outward, and in doing so, gaining major ground on the recruiting trail.
Is it a coincidence that the next two seasons bring Christmas, Cooney, Carter-Williams and Fab into the fold?
Simply, Syracuse has positioned itself as an elite brand for college basketball. It started with the championship in 2003 the team has always been a Nike Elite member. However, when people speak of the great tradition in college basketball, the Orange is not considered a blue blood like UCLA, Kentucky, Kansas and Indiana.
Continued success in the tournament, the 'Melo Center, and the groundwork laid down by Murph and Hop are turning the 'Cuse into a bigger and more tempting choice for high school recruits across America. A decade ago does Tony Wroten, Jr. from the Pacific Northwest have The Hill in his Top-5? Does a Brazilian kid who's never been north of the equator commit to the snowbelt? All questions that don't have a definite answer. However, we know what SU is now. A dominant player.
Posted: Ted Conroy
(adsbygoogle = window.adsbygoogle || []).push({});