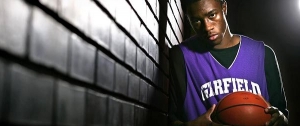 Well documented as it has been around these parts, we know that Syracuse recruit Tony Wroten is "that great player who didn't get to suit up his junior season because of a knee injury."
This summer, he cemented his status as a top-tier recruit when he traveled to Hamburg, Germany to compete in the U17 FIBA World Championships.
Apparently, he was ballin' yet again.
"He really played well," said Don Showalter, who coached the U17 team. "You never know, because he didn't play competitive basketball all last year. He came into training camp with, maybe, something to prove. He was a tremendous defender for us. He might be the best on-ball defender, along with Adonis Thomas, that we had on the team."
Defense, you say? a 6'5″ point guard who can stick to an opponent like glue? We're all in.¬†Pair him up with Trevor Cooney and you've got a lethal Class of 2011 backcourt – following a huge '10 haul.
Also, he came off the bench with no problem, so hopefully he learned something early in the whole "sacrifice-for-your-team department." That's often something that isn't even presented to a star before college, and sometimes, not even until the professional level.
Unfortunately, the Wildcats and Huskies are favorites in the team-first, long, strong top-10 recruit – who may not be taking his talents to South Campus.
"He said Washington and Kentucky are still the leaders at this point and that he could make the decision any time.

"You never know," he said. "It could be tomorrow or it could be next year on signing day. Stay tuned."
Would it be a bummer? Well, yeah. He's a great player. However, the Orange does have another lanky point guard on it's signed list in Michael Carter Williams. So the 'Cuse should be strong with or without Wroten.
Posted: Ted Conroy
(adsbygoogle = window.adsbygoogle || []).push({});