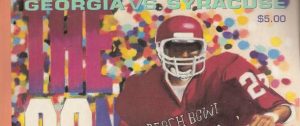 The constant chatter of bowl game around Syracuse football is inspiring. There has been an annual forlorn walk of shame since Groobers took over half a decade ago. It's nice to have optimism back (and a belief that a bowl is possible).
For the last five years, the postseason was an unrealistic pot at the end of a never-to-be-found rainbow – like a 65-degree February day in CNY. But the more Marrone and co. have spoken it aloud, the more we've begun to believe it's actually realistic.
However, does reality back up expectations? This is a team led by an unproven quarterback in his first year starting. It's been dogged by injuries – and big ones – throughout all of summer camp. It's best two players graduated or left (Jones and Williams) and their replacements haven't exactly inspired confidence.
It's impossible to correctly predict how each school will play down the stretch before we've seen any teams on the field. Who could've guessed the Orange would thwack Rutgers for its lone Big East win last year?
But if Syracuse truly is earmarking six wins to make it bowl eligible, Saturday is of massive importance. Here's the college football odds for this weekend. The Orange has to go 3-1 in its first month – the only defeat being a near impossible task of Washington and potential #1 pick in the NFL Draft, Jake Locker, in Seattle next weekend.
After that, try finding three more wins. @ Rutgers will be a bear. Pitt inside the Dome could be a game, but you'd have to pick the Big East faves. @ West Virginia is scary. @ South Florida has been hell for the 'Cuse since the Bulls entered the conference. @ Cincy is without Brian Kelly, but the Bearcats are still two-time defending B.E. champs. Boston College is once again a solid team with one of the best RB, MLB and LT in the nation.
SU has to take care of Lousiville at home. Now find two wins with UConn at the Dome, @ CIN, vs. B.C., @ USF. Is it possible? We suppose. But probable?
The preseason Fizz crystal ball says the Orange will knock off Akron Saturday, lose to Washington and begin the season with the needed 3-1 start. Pencil Syracuse in for the Louisville win and an upset special of either UConn or B.C. in November. But that's all the wins Marrone's Marauders will find. It'll unfortunately leave SU at 5-7 and just short of the bowl goal.
Posted: D.A.
(adsbygoogle = window.adsbygoogle || []).push({});