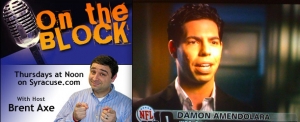 That ratty plaid sofa-couch that smells like stale Milwaukee's Best? Go put it on the porch (if it's not there already) and grab a meatball sub from Cosmo's. You need to be spending some time at the block party. Thursdays at 3p have become must-listen radio for Orange Nation. Axeman invites D.A. to chat once a week "On the Block" for the Score 1260 and it never fails to elicit some colorful Syracuse discussion.
In yesterday's segment, they debated support of the football program in the wake of light ticket sales for Homecoming this weekend.
Axe asked (or axed) whether the popularity of SU hoops could ever be toppled. Could we ever become a "college football town?"
"Right now we trust Syracuse basketball. There is a comfort level with it. It would take a Lindsay Lohan-Jamie Lee Curtis Freaky Friday-type flip where football becomes good for awhile and basketball becomes bad for awhile. It's just tough with Big East football. Cincinnati racing through the Big East the last couple of years, weren't even really competing for national championships. Even if Syracuse went undefeated in the Big East, a very important question would be, 'could they even be invited to the national championship game?' The Big East thing really hurts for getting too jacked up about football."
Is CNY filling wintry nights at the Dome against Marquette simply because the program is winning or are we truly hoops fanatics?
"I think when you go to the Dome, generally it's an astute college basketball crowd. But all of that has to do with the tradition of going to the Dome and it being important. Big East basketball is exciting, it's the best conference in America. We know Jim Boeheim, we know at the end of the season we're generally proud of the program. It's just a lot more fun rooting for a premier program. Football is king in America, it would be king anywhere if that was the program that was winning. But going to the Dome for basketball has been cool, basically longer than I've been alive."
How surprising is it that football fans are still hesitant on jumping onto the bandwagon even after the win last weekend?
"It's always been a slow burn for selling tickets to SU football. I know Darryl Gross doesn't want to hear this. Nancy Cantor doesn't want to hear this, but if you were a Syracuse football fan you were thumbed your nose at and spit on for the last five years because Greg Robinson was such a disaster. It was bad recruiting, it was bad coaching, it was a national laughing stock. It was a clown show. You naturally are feeling burned and it's gonna be tough to come out of your hole and say, 'have they gotten there yet?' Do we know if USF is any good? I understand SU fans being tepid at this point."
(adsbygoogle = window.adsbygoogle || []).push({});