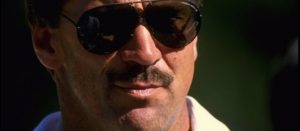 With all of the hype coming off Syracuse's win at USF, plenty of people feel like SU can beat Pitt on Saturday  - even Vegas thinks so.
The Orange hasn't defeated Pitt in six years, and the Panthers dominated over that stretch including a 27-point victory last year at Heinz Field. (Side note: If you ever want to watch a game at an amazing venue, that's your place. Jim Nantz's voice certainly makes it appealing when you're watching a random Steelers game with your family, but it gets LOUD.)
For Pitt, a 2-3 start mean this game isn'Äôt must-win like we'Äôre used to hearing, but rather a 'Äúcan'Äôt lose". Is that a jab at Syracuse? Sure. But is there any insult we¬†haven'Äôt heard over the last five years?
Bob Smiziks, who by my best estimation appears to be Pittsburgh's version of Bud Poliquin, writes:
"It will be impossible to dismiss a loss to Syracuse. This is the biggest game of the season for the Panthers. A win over Syracuse will mean little. A loss means the end of any meaningfulness to the season. A loss means the heat turns about 100 fold on coach Dave Wannstedt. It will hurt recruiting and has the possibility of sending the season spinning out of control."
Biggest game of the year? Wow. I would have guessed the game against Miami might have fit that bill. Way to go Orange. Well, at least that's what we call them in Syracuse these days.
'ÄúIn the relatively short history of the Big East, Syracuse has gone from perennial power to perennial doormat. This season they're attempting the return trip and it's off to a good start. The Orangemen, who have not won more than four games since 2004, are 4-1 and 1-0 in league play following a win at South Florida last week.'Äù
How are people still messing the nickname up? It changed like five years ago! Columnists…
So if it'Äôs a "can'Äôt lose" game for Pitt, is it a must win game for Syracuse?
Like we'Äôve said before, the culture is only starting to change, so a victory over a team that has dominated the rivalry 146-79 over the last five years can'Äôt be a "must win." It falls under the, 'ÄúWe'Äôd love to win'Äù or 'ÄúWouldn'Äôt it be really nice if we won'Äù category.
Akron, Colgate and Maine are the must-win games.
But a victory could win over even the most skeptical SU fans. Even if the Dome doesn't sell out this weekend, a win would almost guarantee a packed house for the next home game against Louisville.
Posted: Mike Couzens
(adsbygoogle = window.adsbygoogle || []).push({});