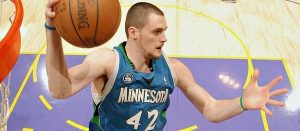 We've already has our Fizz fun this week with Kevin Love. But hey, we never look a Party Wolf in the mouth. Or the pencil-thin goatee. So, when a guy who gets blitzed at Chuck's and makes out with multiple chicks blogs about the Orange, we read.
Love is now writing for GQ and his insight into Wes Johnson is… ahem… enlightening.
"Gotta talk about the rookie, Wes Johnson. He's got this golden-boy image – and he is – but you just gotta watch him. He's quiet, and it's the quiet ones you've gotta keep an eye on. He instigates on and off the court. During games, he's the guy looking at the other bench, going, 'I'm gonna kill this motherf*cker.'"
Think Wes and the Wolves appreciate this type of honesty? It's cool that Wes is not the squeaky clean Mr. Nice guy he appears. Good to hear he's got some salt. But  is this TMI?
"He's 6-foot-7, a long, athletic, shooting guard out of Syracuse. He can really shoot the ball. We've got a bunch of characters on this team and he's definitely one of them already. He's kind of like the instigator, the guy behind the scenes making everything happen, pulling all the strings. He's sneaky. You gotta watch him. And off the court, he's always behind the scenes, saying, 'Did you hear what so-and-so said?'"
These are supposed to be compliments, right?
"Then there's Johnny Flynn. He's our hype man. He is loud. He's got a gregarious personality. When he's laughing the whole world is going to hear it. He hypes us up, wherever we are – off the court with girls, on the court in games, or during practice with the coaching staff. It's always him and Wes instigating because they're both Syracuse guys.
Wait, Jonny Ice hypes up the rest of the Wolves around girls? Like he plays matchmaker? Truly a natural-born distributor. Sets up others to finish. "What's your name girl? LeChante? Well, meet my boy Darko. He one of those bad Euro dudes who gets freaky!"    
"Michael Beasley is like he's 22 years old going on eight. When our team trainers are giving us our vitamins - Vitamin D, all that kind of stuff Рhe's like 'Oh, no, I'm not eating that. I gotta have Flinstones vitamins.' He's that kind of guy. He still loves Spongebob Squarepants. You'll be hearing a lot of crazy stories about him."
Crazy stories? Like depression and drug abuse? Yeah, those have already come out, but can't wait for more K-Love!
See, Kevin is just the gift that keeps on giving.
 
Posted: D.A.
(adsbygoogle = window.adsbygoogle || []).push({});