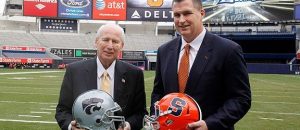 The countdown sits at 22 days until Syracuse officially grabs its balls and goes bowling for the first time since '04. Until then, the debate will rage on: "Do the Orange need a win in the Bronx to nab top level recruits?"
The consensus answer is yes and for logical reasons. Winning a bowl game is always better than losing and would solidify a season whose final four games were shaky at best. With the Pinstripe Bowl announcement, it meant SU would be facing a BCS conference opponent (Kansas State) and any victory over a Big 12 team  (and its legendary coach Bill Snyder) would have to be of enormous value.
However despite all this lovely logic, I'd beg to differ.
My argument: Reality check.
That SU is even in a bowl game is a complete and total joke. No, I'Äôm not talking about making the postseason with a quarterback apparently barking signals that all meant "Don't run very far, I'm throwing to whoever is closest to me anyway."
Greg Robinson was the coach of this program just two years ago. The same Greg Robinson who's about to lose his job (yet again) and whose very name probably caused you to throw up a little in your mouth. Sorry about that.
Last year Doug Marrone won a mere four games last year with Groober's players. The same players that a year prior got shellacked by Akron at home and gave up 30 points or more eight times.
Just the fact Marrone has this team (in just two flippin years!) over .500 and in a bowl game is miraculous. The goal at this point was to sell progress… not success. Marrone can now walk into a recruit'Äôs house and sell both.
Can he walk into a blue-chip'Äôs house (say, Ishaq Williams) and guarantee he'Äôll play in a BCS bowl game like Nick Saban or Chip Kelly can? Not without lying, but he can say he'Äôs got a team and a program on a distinct upswing in a winnable conference that has (we think) hit rock bottom (see UConn in Fiesta Bowl) and is slowly starting to crawl back up after the ACC exodus of '03 with the addition of TCU.
Is winning a bowl game going to help this? Uh, yeah.
Is winning a bowl game better than losing? See the last answer and our man Herm (HELLO!).
In short it breaks down this way:
If SU wins the Pinstripe Bowl it's a big boost for recruiting and it expedites the reassertion of SU football on the national scene.
A loss in the Pinstripe Bowl essentially means nothing. HCDM can still sell progress and he can still sell success.
Remember in Elementary School when you had spelling tests with "challenge" words. Think of a Bowl Win as a getting the "challenge" words right. Sure taking home that 105 grade to mom was nice, but are you really gonna be upset with a plain old regular 100?
Especially when you got a 20 on your last test.
Actually your last 4.
Thanks Groobers.
Posted: Craig Hoffman
(adsbygoogle = window.adsbygoogle || []).push({});